12 years of war: Syrian teenagers write powerful artworks to help process earthquakes and ongoing conflict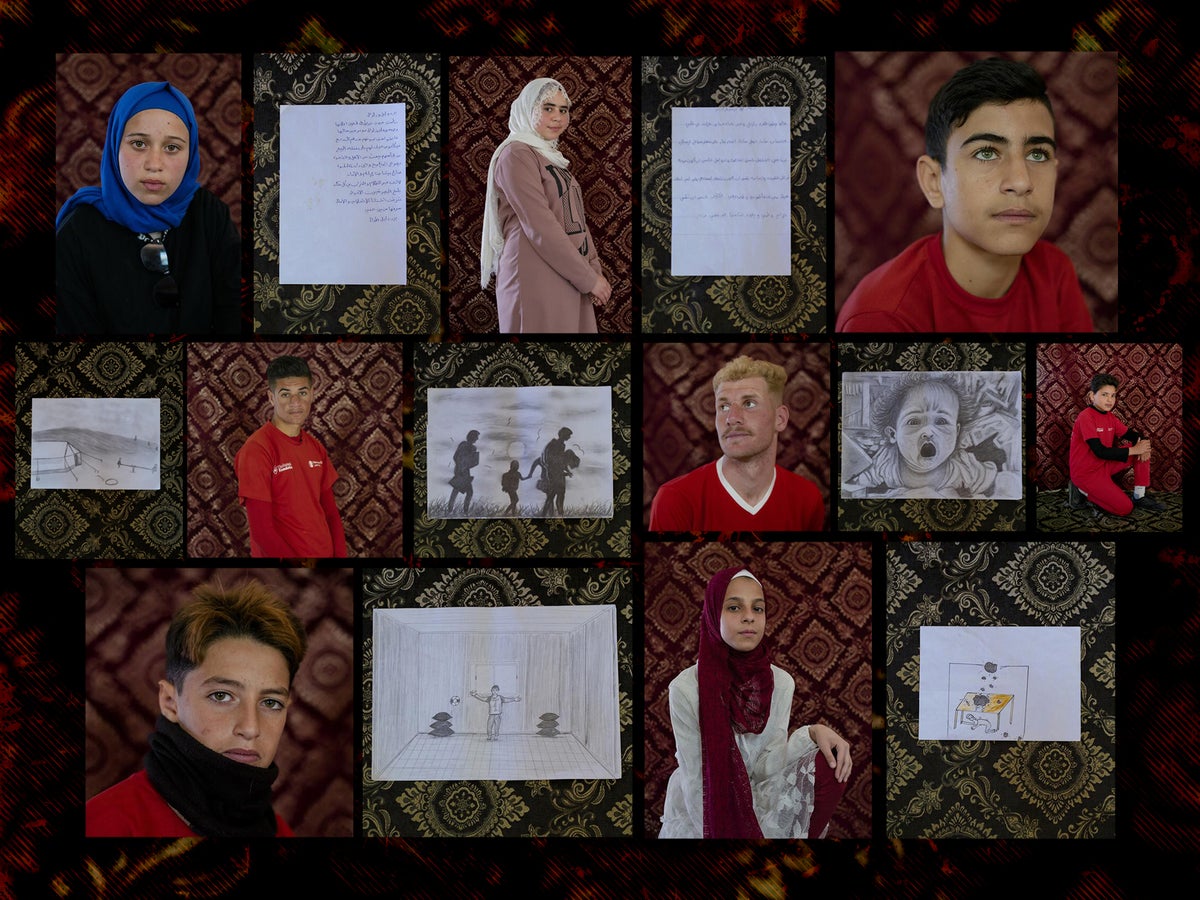 As earthquakes struck Turkey and Syria last month, killing more than 50,000 people in both countries, Syrian teenagers living in the Za'atari refugee camp watched in horror as the footage leaked on social media.
Fleeing the country's deadly conflict more than a decade ago, many have reopened old wounds as they witnessed young children being forced into shelters and struggling for access to food. Many more had to wait agonizingly to find out if friends and family still living in Syria had made it out alive.
To process the news, they began drawing what they saw and wrote poetry in support of the injured or affected children, expressing solidarity, hope and advice on how to cope with the need.
Her creativity was captured in sessions run by Save the Children and the Arsenal Foundation's Coaching for Life programme, a football program that seeks to leave a lasting impact on children displaced by the Syrian war. It focuses on supporting children's emotional well-being and mental health. The resilience modules embedded in the sessions allow children to discuss and confront difficult emotions such as sadness and anger, but also encourage positive emotions such as empathy and compassion.
Junior Coach, Yamen*, 18, said of his drawing"It reflects what happened to me and other Syrians who had to flee our country in 2013."
"When I heard about the earthquake, it reminded me of the feelings I had when I was displaced and had no home. The first thing that came to my mind was that people are going to experience the same situation that we went through."
Suha*, 13, decided to write a poem: "It's an earthquake that shakes our hearts"
All the rubble bury the children and overnight all their dreams are lost. Death is everywhere. But they will get their stolen smile back on their lips."
Suha recalls the day the earthquakes struck: "My aunt called and told us. She didn't know what was happening to her children. My cousins ​​were trapped under the rubble for 24 hours."
"Two of them got out, but the third, their son, had broken both hands and legs. My mom and aunt just cried on the phone because my mom can't reach them at that moment."
Farah*, 13, says: "For anyone who writes a poem, feelings are the inspiration. The pain I felt inspired me to write, I wanted to express my pain to show solidarity with children who are suffering."
"When I heard about the earthquake, I was worried about my uncle who lives in Idlib. He is disabled, having lost his leg in the war. I was also worried about my cousins, his two daughters."
Noor*, 13, also wrote a poem: "What can I do, what can I deliver? It was a question on my lips."
"I hope that whatever wounds my country suffers will be healed and it will be strong and rise again."
Noor says: "I found out about the earthquake on social media. It caused me pain. I felt sadness for all the children who were stuck under the rubble, for all the children who didn't make it. who died there?"
Launched in Za'atari, one of the most populous refugee camps in the world, housing around 80,000 people, more than half of whom are children, Coaching for Life focuses on supporting children and their families who have been displaced from their homes since the outbreak of the Syrian war fled in 2011.
Using a blueprint developed over 38 years by Arsenal in community work in North London, combined with Save the Children's experience in conflict and humanitarian crises, the project harnesses the power of football to build a sense of belonging and improve the physical, mental and emotional well-being of children.
For more information visit www.savethechildren.org.uk
*Names changed
https://www.independent.co.uk/world/syria-war-earthquake-turkey-photos-poems-b2301328.html 12 years of war: Syrian teenagers write powerful artworks to help process earthquakes and ongoing conflict