A man is facing charges for a racist tirade against a black female TTC driver
Get the latest from Joe Warmington straight to your inbox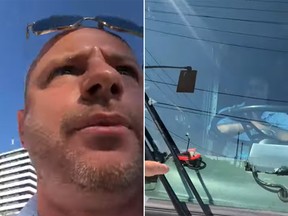 Article content
A verbal attack on a TTC bus driver that brought up slavery is now being viewed as a possible hate crime by Toronto police.
"The Hate Crimes Unit is aware of the incident and the investigation is ongoing," Toronto Police spokesperson Const. Victor Kwong.
Article content
It's a shocking video that has Toronto police already laying three criminal charges. In it, a man claiming to be from Europe is seen calling a black female TTC bus driver an "ex-slave whore" while banging on the window of her bus, which she didn't want to open the door to let him in .
Who could blame her? What happened there is disturbing.
Article content
The head of the drivers' union, ATU Local 113 President Marvin Alfred, calls it a "racist" attack on his member that is worth investigating as a hate crime.
It was disgusting! It was as hateful as can be.
This rude, rude idiot said the bus driver behind the wheel would lose her job because she wouldn't let him get on. Ironically, it turns out he has now been arrested and charged by Toronto police and is due to appear in court on Wednesday. Alfred called it a verbal attack with "racist and misogynistic language" and said his driver was "traumatized" by the horrific interaction.
If you think your job is difficult, try driving a TTC bus for a shift. The only difference this time is that the outrageous, profane and degrading attack was caught on camera – filmed by the defendant himself and posted on social media. It shows a man berating a driver for half an hour because he wasn't allowed to let him on the bus.
Article content
According to Toronto Police, this happened on Drewry Ave at 10:45 a.m. on Wednesday, September 6th. and Bathurst St. Police allege the driver was "attempting to reposition the bus before allowing passengers to board" when "a man ran across the intersection." and started hitting the bus and yelling and cursing at the driver to open the doors."
While other passengers tried to reason with the defendant, he was relentless with his antics and insults, which included alluding to slavery, using the terms "whore" and "slut" and saying she was one "Welfare recipient" while he described himself as a "taxpayer" for 25 years.
At one point in the video the man made it onto the bus, where he said the driver was a "gangster" who would later "count some drug money."
Article content
Six days after the incident, Toronto police on Tuesday charged Paul Sampalean, 38, of Toronto, arresting him and charging him with "mischief, intimidation and causing a disturbance." The allegations against him have not yet been tested in court. But this defendant was previously introduced to Sun readers in a 2016 article by reporter Maryam Shah about how he received "a series of stitches" to his forehead in a Cuban hospital after being in committed an assault and robbery at his hotel.
There are also other video rants circulating on social media. If there are mitigating medical factors in his background, these should be taken into account by the system, but there is no denying that this video shows behavior in which a minority woman who was just going about her job was allegedly harassed and terrorized . Toronto police are correct to continue to investigate this as a possible hate-motivated incident.
Article content
No one should be subjected to what this woman was subjected to.
"Like everyone, we are shocked by what this video shows," said TTC spokesman Stuart Green. "Local TTC operators provide an important public service. So it is appalling to see anyone subjected to this kind of vile abuse."
He's right. It's more than just deplorable. And because there have been so many stabbings on the TTC this year, it's also been particularly horrific for those involved.
RECOMMENDED VIDEO
"The operator was offered all available peer and advisory resources," and in response to Alfred's complaint that neither TTC security nor Toronto Police did not arrive on the scene quickly enough, Green added: "We are also reviewing our response after she contacted our transit control center."
Article content
This is currently a major problem for law enforcement. Whether TTC or police. They are few and far between and don't always have the number of shift officers needed in a city where many things are happening at once. They are all working hard on it now and taking it very seriously. There are few bigger targets these days than TTC riders, who face a lot of trouble even behind protective safety shields.
If someone were to take on the role of a bus driver for a day, it would definitely be an eye opener and a test of patience, temperament and determination. In this case, the bus driver not only gets an A+, but also sets the standard for how not to lose one's temper in the face of horrific abuse.
https://torontosun.com/news/local-news/warmington-a-hateful-racial-tirade-against-a-black-female-ttc-driver-has-man-on-charges A man is facing charges for a racist tirade against a black female TTC driver