Adam Levine and Behati Prinsloo make their first red carpet appearance at the Oscars party following infidelity rumors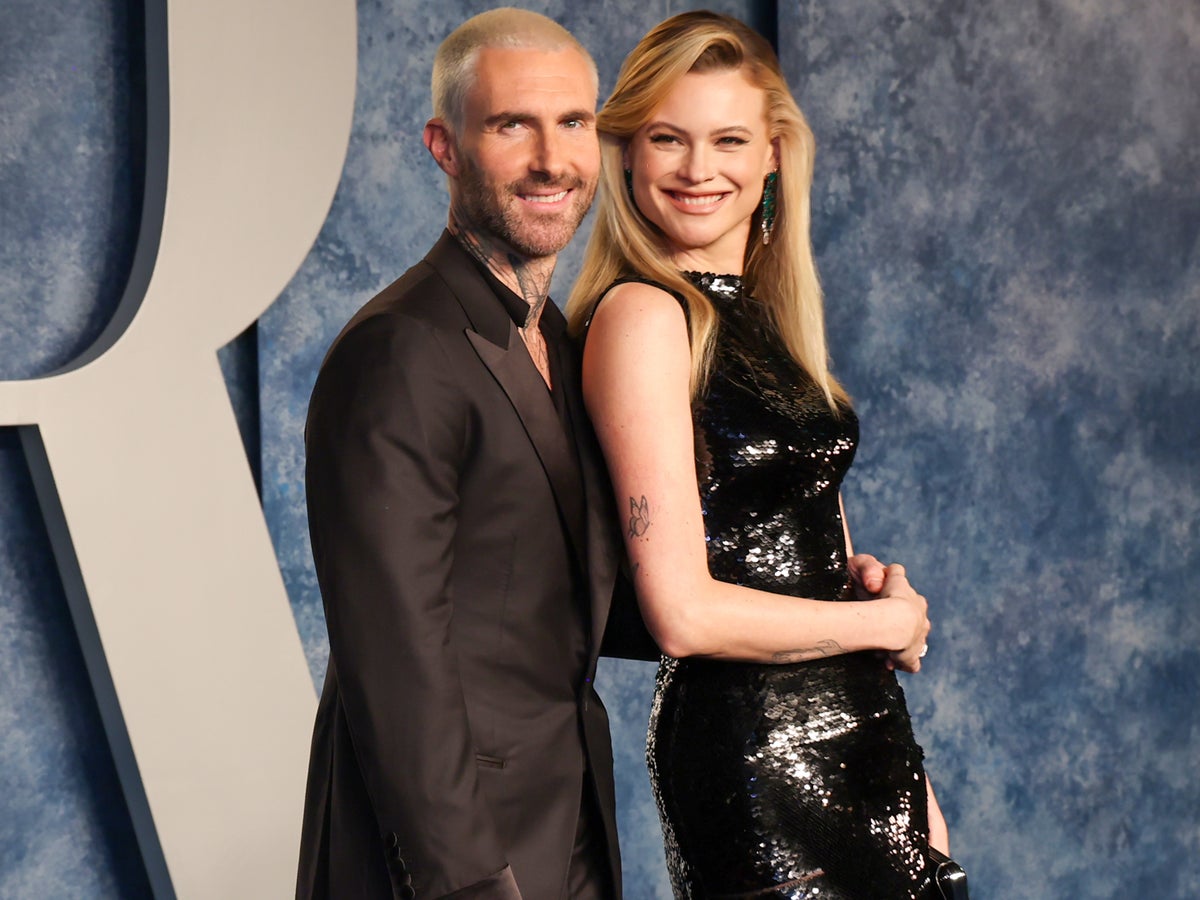 Adam Levine and his wife Behati Prinsloo make their first red carpet appearance since the singer's infidelity rumors.
The Maroon 5 frontman and Prinsloo, who welcomed their third child in January, walked the red carpet vanity fair's Oscars party on Sunday. Their joint appearance at the event also comes after Levine made headlines last year when he was accused of cheating on his then-pregnant wife with a model named Sumner Stroh.
On the red carpet, the pair shared some sweet PDA moments as Levine kissed his wife on the cheek and wrapped his arm around her waist. They were also seen smiling and laughing at each other while the pictures were being taken.
For the occasion, the couple wore matching black outfits, with Levine opting for an all-black suit and shoes. He had also dyed his buzzing hair blonde.
Prinsloo chose a black dress embellished with silver sequins. She completed the outfit with a black handbag and green and white earrings.
The pair's appearance at the Oscars party comes six months after Stroh claimed in a TikTok video that she was having an affair with Levine. She also shared screenshots of her alleged DMs, one of which read: "It's really unreal how freaking hot you are. Like it blows my mind."
She claimed in September 2022 that she and Levine had a "physical" relationship for about a year. She said she "hadn't spoken to him in months" until he allegedly texted her in June 2022, months before he and Prinsloo announced they were expecting another child. After Stroh's viral video, two other women posted screenshots of what they claimed to be texting with Levine.
Levine later addressed the allegations in an Instagram Story, writing, "I'm being talked about a lot right now and I want to clear the air. I used poor judgment when speaking to anyone other than my wife for ANY type of flirtation. I didn't have an affair, but I crossed the line at an unfortunate time in my life."
"My wife and my family are all I care about in this world. Being naive and stupid enough to risk the only thing that really matters to me was the biggest mistake I could ever make," he continued. "I'll never make it again. I take full responsibility."
Though Prinsloo didn't address the cheating allegations at the time, she appeared to show her support for her spouse. In October 2022, she was spotted backstage at one of Levine's concerts in Las Vegas while he was performing with his band.
She was responding to a joke about the rumors in January when Call her daddy Podcast host Alex Cooper dropped an episode preview, hinting that Levine would publicly address the cheating allegations on her show. Cooper later revealed this was a bit in another episode preview, sharing that the actual guest on her show was Adam DeVine.
It appeared Prinsloo was caught up in the joke as he went to the comments section of the first teaser and wrote: "LOL"
End of January, People reported that the "She Will Be Loved" singer and model welcomed their child. The couple are already parents to two daughters: Dusty Rose, six, and Gio Grace, four.
https://www.independent.co.uk/life-style/adam-levine-behati-prinsloo-oscars-party-b2299878.html Adam Levine and Behati Prinsloo make their first red carpet appearance at the Oscars party following infidelity rumors