Adele says Gerard Pique is in 'trouble' after Shakira's Jimmy Fallon performance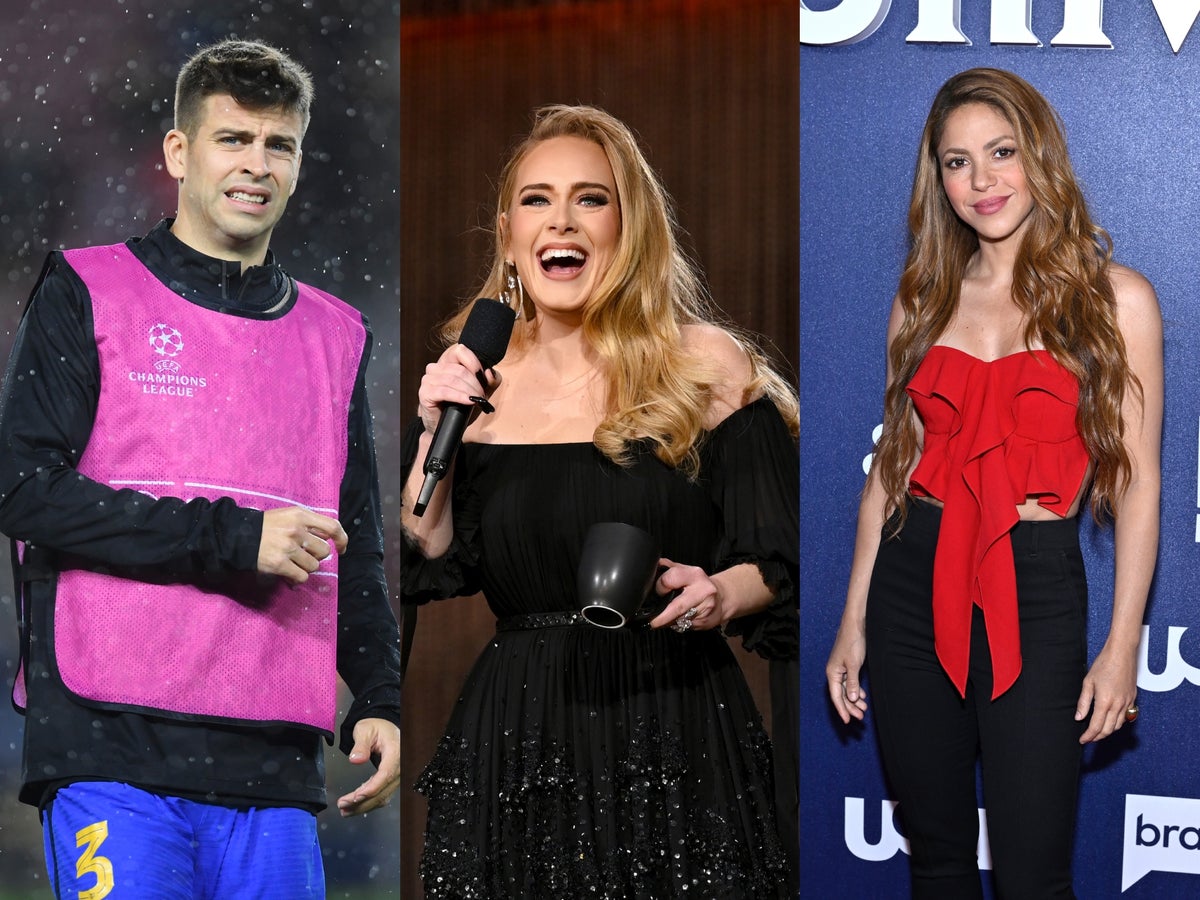 Adele has joked that ex-Spanish footballer Gerard Piqué is "in trouble" after watching his ex-partner Shakira's recent performance.
It comes after the Colombian pop star continued singing her breakup song 'BZRP Music Session #53' The Tonight Show with Jimmy Fallon last week.
During her Las Vegas residency concert at The Colosseum at Caesars Palace on Sunday night (March 12), Adele walked through the audience and asked a young fan who her favorite musician was.
The viewer told her that her favorite artist alongside "Easy On Me" singer is Shakira.
Adele responded with her signature big laugh, saying: "Oh I saw her perform on Jimmy Fallon last night… oh her ex-husband is in trouble!"
Shakira, 46, and Piqué, 36, announced their split in June 2022 after 11 years together. They share two children, Sasha, seven, and Milan, nine.
They said in a joint statement: "We regret to confirm that we are separating. For the sake of our children, who are our top priority, we ask that you respect our privacy. Thank you for your understanding."
In January, Piqué made his relationship with new girlfriend Clara Chia Marti official on Instagram when he posted an intimate selfie with the 23-year-old on his social media account.
The following month, the "Hips Don't Lie" singer released her song, which fans dubbed a "diss track" aimed at her ex.
She sings, "Seeing you with the new one hurt me."
"I have forgotten what we lived. And that offended you. And life just got better for me. You're no longer welcome here," she continues on the song.
"I saw what your girlfriend threw at me. It doesn't even make me angry, I laugh, I laugh."
After the song's release, Shakira performed in the Mexican program En Punto con Enrique Acevedo and gave an update on how she was doing after the split.
She said per The Independent's translation: "I bought the story that a woman needs a man to be complete. I had this dream of having one [nuclear] Family: A mother and a father who live under one roof with their children. Not every dream in life comes true, but life finds a way to make it up to you.
"As Madeleine Albright would say, 'There's a special place in hell for women who don't support [women].'"
Shakira previously said the breakup came at the "darkest hour" of her life.
In her first interview since the breakup, the "She Wolf" singer told ell: "It's really upsetting for two kids trying to process their parents' breakup. And sometimes I feel like this is all just a bad dream and that I'll wake up someday.
"But no, it's real. And what's also real is the disappointment of seeing something as sacred and special as I thought the relationship I had with my children's father was, and seeing it morphed into something vulgarized and belittled by the media transformed."
https://www.independent.co.uk/life-style/love-sex/adele-shakira-gerard-pique-breakup-b2300442.html Adele says Gerard Pique is in 'trouble' after Shakira's Jimmy Fallon performance