Alan Shearer joins Ian Wright in match-of-the-day boycott after Gary Lineker row with BBC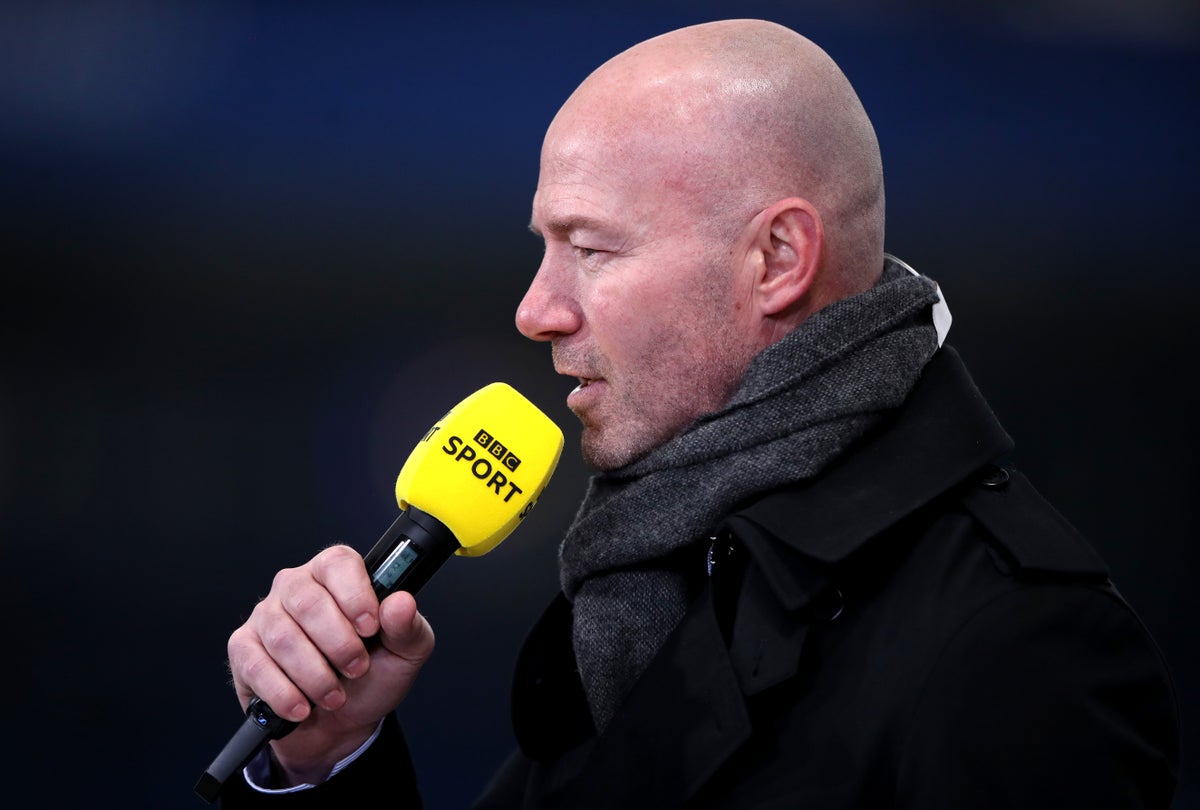 Alan Shearer has joined Ian Wright in boycotting Solidarity's Match of the Day with Gary Lineker, with Micah Richards, Jermaine Jenas and Alex Scott also opting out of appearing on the show.
The BBC said Lineker was ordered to "step back" from his presenting duties because of his use of social media.
Wright and Shearer were due to appear alongside Lineker in the highlights programme, but both pulled out following the BBC's announcement.
"I have informed the BBC that I will not be appearing on MOTD tomorrow night," Shearer said.
Wright previously tweeted: "Everyone knows what Match of the Day means to me but I've told the BBC I won't be doing it tomorrow. Solidarity."
Lineker has been embroiled in a row over impartiality after criticizing the government's asylum policy on small boats. The former England striker compared the language of government when introducing the policy to that of 1930s Germany.
Former England internationals Wright and Shearer are the two biggest names to regularly appear alongside Lineker at Match of the Day and it's not yet clear who will replace them.
Sky News reports Lineker has been pulled from the air rather than being asked to resign and other pundits are now reluctant to appear on the highlights show following the BBC's decision.
Scott, who is set to host Saturday lunchtime program Football Focus, tweeted a GIF that read: "Nah not me." Richards said: "I wasn't supposed to be working on MOTD tomorrow but if I was I would make the same decision as I did." Ian Wright and Alan Shearer."
Jenas later added: "I wasn't ready to play Match of the Day tomorrow, but if I was, I would [have] said no and stood with my fellow experts."
Former Manchester United captain Gary Neville, who works alongside Wright at ITV, tweeted his support for his decision to boycott the programme. Neville commented: "I had no doubts that Ian Wright would do that! Who the hell is going to go on now!"
Match of the Day lead commentator Steve Wilson said: "So sad that this has become a story rather than a tragedy of people struggling to find sanctuary. Gary, who has taken in refugees himself, has certainly earned the right to speak his mind. "
Former Match of the Day presenter Dan Walker, who would fill in for Lineker before leaving the BBC for Channel Five, tweeted: "It will be very interesting to see how the editors, directors and producers all react to the decision. "
A BBC spokesman said: "The BBC have had extensive discussions with Gary and his team over the past few days. We have said that we consider his recent social media activity a violation of our policies.
"The BBC has decided that he will step down from presenting Match Of The Day until we have an agreed and clear position on his use of social media.
"When it comes to leading our football and sports coverage, Gary is second to none.
"We never said that Gary should be in a free-of-opinion zone or that he cannot have an opinion on issues that are important to him, but we did say that he should stay away from taking sides on partisan politics or controversies. "
https://www.independent.co.uk/sport/football/alan-shearer-match-of-the-day-gary-lineker-b2298432.html Alan Shearer joins Ian Wright in match-of-the-day boycott after Gary Lineker row with BBC