Another bomb makes Trudeau look bad in the face of Chinese interference
Get the latest from Brian Lilley straight to your inbox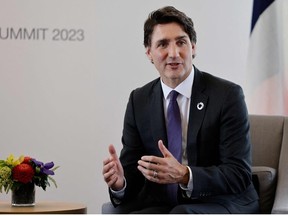 article content
Not only was the Trudeau administration aware of CSIS's concerns ahead of the 2021 election, it also balked at allowing Canadian intelligence to respond. One wonders on what other fronts they have delayed or turned a blind eye to partisan gains.
article content
As first reported by The Globe and the Mail, CSIS requested a search warrant to electronic surveillance of liberal fundraiser and activist Michael Chan in early 2021. The warrant would also have allowed the CSIS to enter his homes or offices to conduct surveillance.
article content
Any time CSIS wants to monitor a Canadian, the Secretary of Public Safety must approve it.
CSIS wanted to conduct the surveillance over concerns that Chan was too close to Zhao Wei, the diplomat recently expelled from Canada for threatening Conservative MP Michael Chong's family. Zhao Wei has been assigned to the Chinese consulate in Toronto in connection with allegations of supporting 11 federal candidates in the 2019 election.
The warrant application was approved by Justice Department lawyers, but Public Safety Secretary Bill Blair hung on for months. It was finally approved by Blair in June, weeks before the Trudeau government called the 2021 election in early August and the delay prevented the CSIS from acting ahead of the vote.
article content
Did Blair's office get involved for partisan reasons?
It's worth asking, given that in July 2021, Blair's office received and agreed to a CSIS report detailing the threats against Chong and other MPs. Blair has claimed he is ignorant of the report, as are the PM and all three national security advisers he had this summer.
The Privy Council Office, the bureaucratic arm of the Prime Minister's office, admits the report was sent to people within the PCO but they refused to say to whom. Documents of this nature are not just passed around indiscriminately, they have records of who received them, but so far PCO and the departments that received the reports have refused to release those records.
article content
In committee last week, Chong asked the Committee on Procedural and House Affairs to obtain those records while they investigate the matter.
It is simply not plausible that a report could have been sent to the PCO, Global Affairs and Public Safety, detailing threats by China against elected officials without alarm bells ringing. Someone in the Trudeau government saw this report but concluded that it would not be in the best interests of the Liberal Party to raise the issue three weeks before an election was called.
But the official line from the government is that no one knew which, if true, would mean that they are all incompetent.
Now they want us to believe that a surveillance request from a Toronto-area liberal leader has been sitting on Blair's desk for several months on grounds of principle, not partisanship.
article content
It's just not believable.
China's interference is not limited to Canada's Liberal Party. Ask anyone in the know and they will tell you that Beijing is targeting every party and every level of government. If the curtain were drawn, we would realize that this is an issue that everyone needs to grapple with.
However, the Trudeau Liberals have expressed the truth about themselves and their party with their actions.
Refusal to open a public inquiry. Spends weeks blocking testimony before a parliamentary committee. Refusal to release information to MPs or the public. Delay in approving an arrest warrant. Reports of China's attacks on MPs and their families were ignored for two years until they became public.
These are the actions of a government that has something to hide.
It's time for a public inquiry.
https://torontosun.com/opinion/columnists/trudeau-liberals-continue-to-act-like-a-guilty-party-on-china Another bomb makes Trudeau look bad in the face of Chinese interference