AP PHOTOS: Behind the catwalk glamour, there's a fashion army at work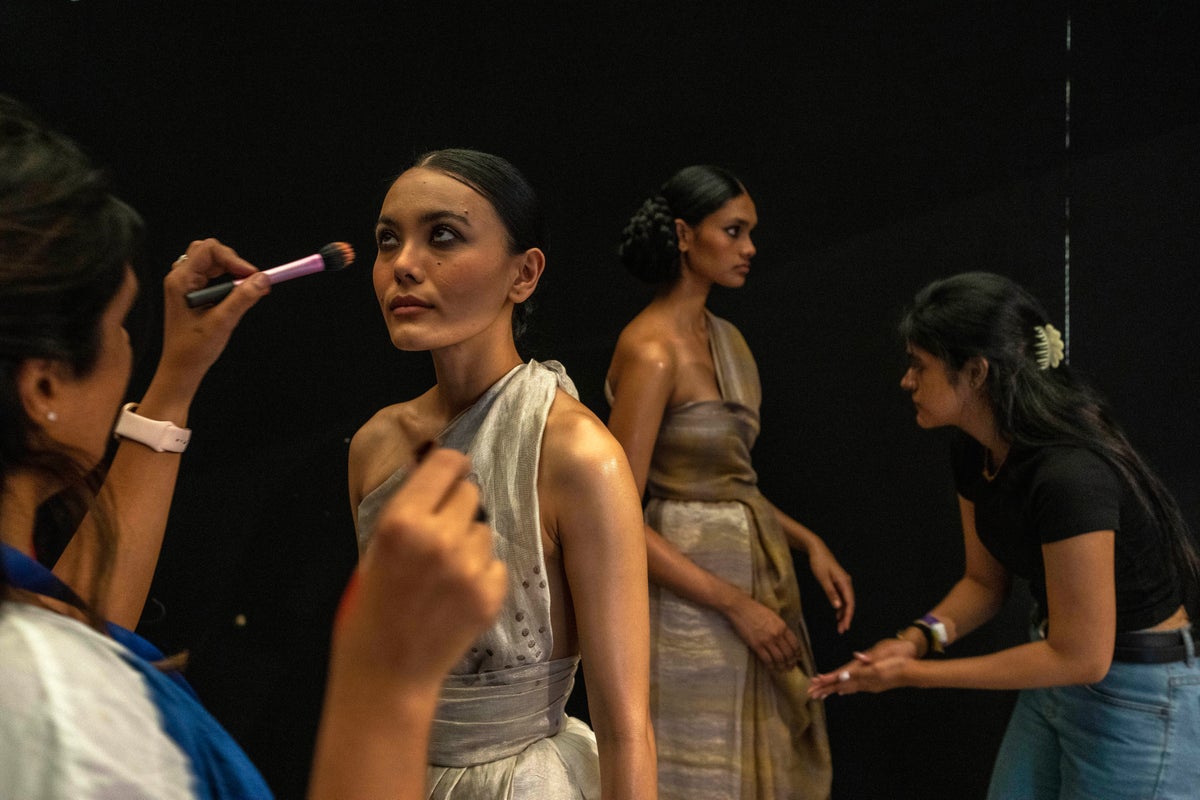 From front-row seats, a fashion show could be mistaken for a spectacular party, with models zipping down the ramp in stunning ensembles. But this confluence of fashion, designers, celebrities and buyers is hardly possible without an army of people working flat out behind the scenes to ensure the show runs smoothly.
There was a lot going on behind the scenes at Lakme Fashion Week x FDCI, India's premier fashion event, as everyone from the hair and makeup artists to the stylists and the designer competed to create the perfect look to showcase the catwalk would be noticed. Clothing and make-up were scattered, while the models fitted shoes at the last minute, and their faces and bodies were adorned with jewelry and given finishing touches.
Organizing fashion weeks can be intense and chaotic, requiring months of preparation. Concept, styling, clothes – in the highly competitive Indian fashion industry, everything is critically scrutinized.
With multiple shows lined up each day of production, there were strained nerves and tense moments as the models waited their turn.
Everything came together on the elaborately designed runway. Every movement of the garment is captured by the celebrity audience's cell phone cameras and amplified by their social media posts.
"Fashion has long served as a window to social change as it reflects and influences the cultural, economic and political climate of society," said Sunil Sethi, Chair of the Fashion Design Council of India, in a press statement.
This year's Lakme Fashion Week x FDCI had a stronger focus on sustainability and circular fashion, with designers focusing on minimal waste generation through the reuse and recycling of materials during production. Many designers are also trying to bring back traditional Indian fabrics like khadi, a hand-woven cotton fabric.
Conversations about sustainability have dominated recent discourse in the industry, with growing awareness of environmental concerns within the fashion ecosystem and the need to revitalize artisanal textiles and artisanal techniques.
The popular biennial event brings together both established industry names and emerging talent along with hundreds of brands and stakeholders. Fashion designers presenting their creations at Lakme Fashion Week in March included Manish Malhotra, Namrata Joshipura, Rahul Mishra, Nitin Bal Chauhan, Ranna Gill, Rina Dhaka, JJ Valaya, Tanieya Khanuja and Varun Nidhika.
https://www.independent.co.uk/news/ap-india-mumbai-indian-b2301073.html AP PHOTOS: Behind the catwalk glamour, there's a fashion army at work