"BBC Dad" shares a photo with grown children as he reflects on a viral interview six years later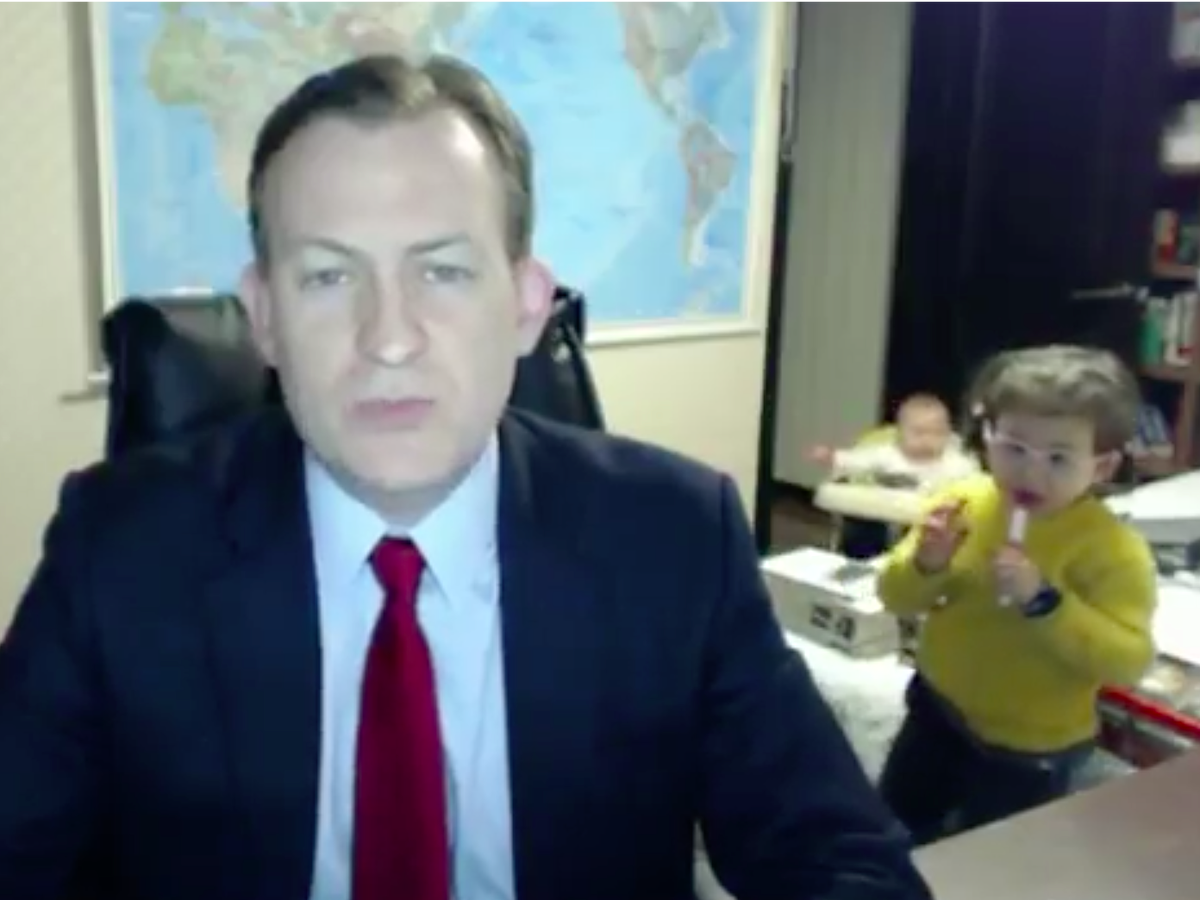 It's hard to believe that six years have passed since the viral moment when a father was photo bombed by his wife and two children during a live interview.
Now Professor Robert Kelly has shared a photo with his children and wife to celebrate the anniversary of the hilarious video.
"Some BBC Dad content since the 6th anniversary of the original video was last Friday," he tweeted on Tuesday.
"Marion had a singing gig last weekend so we got some nice family photos. Thanks again to everyone who follows me bc of the video. My family and I were flattered by your kindness," he said.
In 2017, American professor Kelly was being interviewed by the BBC from his home about South Korean politics when his daughter Marion walked into his office. The bespectacled four-year-old stormed the door and danced into the room as Professor Kelly tried to push his child away.
She was then joined by her nine-month-old brother, James, who was in a baby walker. They were quickly followed by Kelly's wife, Kim Jung-a, who rounded up the children and did her best not to be seen on camera. The mother-of-two was spotted on her hands and knees as she dragged her out of his office, but the adorable damage had already been done.
The interview immediately went viral when viewers voted it possibly the best video of the year.
"Today is the sixth anniversary of the BBC Dad video," he said tweeted on March 9, 2023. The father of two cited a 2022 thread from last year's BBC Dad video anniversary, in which he shared news about his now 10-year-old daughter Marion and son James, 7.
"Thank you for all the kind feelings about our family over the years," he added.
In the Twitter thread marking the fifth anniversary of last year's viral interview, Kelly shared that he and his wife "remain deeply grateful for all of the kindness towards our children over the years."
The political science professor at Pusan ​​National University in South Korea also took the time to address some rumors that the viral interview was staged. "If you're a 'BBC Dad Truther' who still thinks we staged it to get famous, we didn't," he wrote.
Along with the thread, Kelly shared several family snaps over the years, including two recent photos of his children. "Thank you again for all your kind words over the years," he said.
Speaking to the BBC shortly after his family's viral appearance, Kelly said he was "flattered" by the positive reaction to the video. The professor, along with his wife and two children, said at a news conference in South Korea that he was "happy that our family mistake – our family mistake on TV – brought so many people laughter".
Kelly revealed that he spotted his daughter in the reflection on his computer screen as she walked in. "I was hoping that maybe my daughter would sit down and read a book or something, even for 30 seconds, until we could just cut the interview, but when my son came in on the little roller, it was kind of … I couldn't do anything." do," he told the BBC.
He also admitted he was concerned the moment had hurt his career, adding: "We [he and his wife] were humiliated. We assumed that no TV station would ever call me to speak again."
https://www.independent.co.uk/life-style/robert-kelly-bbc-news-children-viral-interview-b2301117.html "BBC Dad" shares a photo with grown children as he reflects on a viral interview six years later