News
BIBI'S BOY: As thousands show up to fight, Netanyahu Jr. relaxes in Miami
Get the latest from Brad Hunter delivered straight to your inbox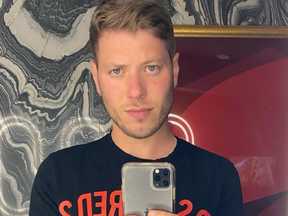 Article content
Gaza or Miami were apparently not a difficult choice for the son of Israeli Prime Minister Benjamin Netanyahu.
Article content
Yair Netanyahu chooses to let others fight while he enjoys the sun and sand of South Florida.
Article content
Accordingly The Times of London, the 32-year-old is criticized by his fellow reservists for staying out of the way. Israel has called up 360,000 reservists since the war with Hamas began on October 7.
Unlike thousands of others who have returned to fight, Yair keeps his powder dry. And it doesn't go down well with his fellow reservists.
"Yair is enjoying his life in Miami Beach while I am at the front," said one soldier, a volunteer serving on Israel's northern front The times. "We are the ones who leave our jobs, our families, our children to protect our families at home and in the country, not the people who are responsible for this situation."
Article content
He added: "Our brothers, our fathers and sons are all going to the front, but Yair is still not here. It does nothing to build trust in the country's leadership."
The scion has been in Florida since April last year, when his father told him to stop making inflammatory posts on social media. Yair has been sued multiple times for defamation after expressing his thoughts.
Instead, he was seen packing aid packages for IDF soldiers fighting in the Holy Land.
Another soldier serving on the Gaza border told the British newspaper: "I flew back from the States where I have a job, a life, my family. There is no way I can stay there at this critical time and abandon my country, my people. Where is the Prime Minister's son? Why isn't he in Israel?"
Article content
He added: "It is the most unifying moment for us Israelis in our recent history and every single one of us should be here now, including the prime minister's son."
For Americans who came of age during the Vietnam War, Netanyahu Jr., safely settled in Miami, is an eerie reminder that the sons of the rich and powerful managed to escape service.
According to the Daily Mail, Yair studied theater and did his military service as a spokesman for the IDF. In Israel, military service is compulsory from the age of 18. Men must serve for 32 months and women must serve for two years.
Most remain in the reserves until the age of 40 and can be called up in national emergencies.
But not Yair, who hosts a right-wing podcast from the safety of Miami. Two days before the Hamas terrorist attack, it was revealed that he wanted to stay in the US permanently but feared the Biden administration would not grease the wheels.
Earlier in his podcast, Yair came under fire when he referred to hundreds of thousands of Israeli protesters outraged by changes to the country's Supreme Court as "terrorists." He was also forced to pay $40,000 to a woman he claimed was having an affair with one of his father's political rivals.
In early 2023, a judge ordered him to pay $18,000 to an Israeli politician. Yair called the woman "ugly."
Eight years ago, he came under fire for dating a Norwegian communications expert named Sandra Leikanger, who is not Jewish. He moved on to Israeli-Danish model Lee Levi.