Camilla Queen Consort arrives for Cheltenham Ladies' Day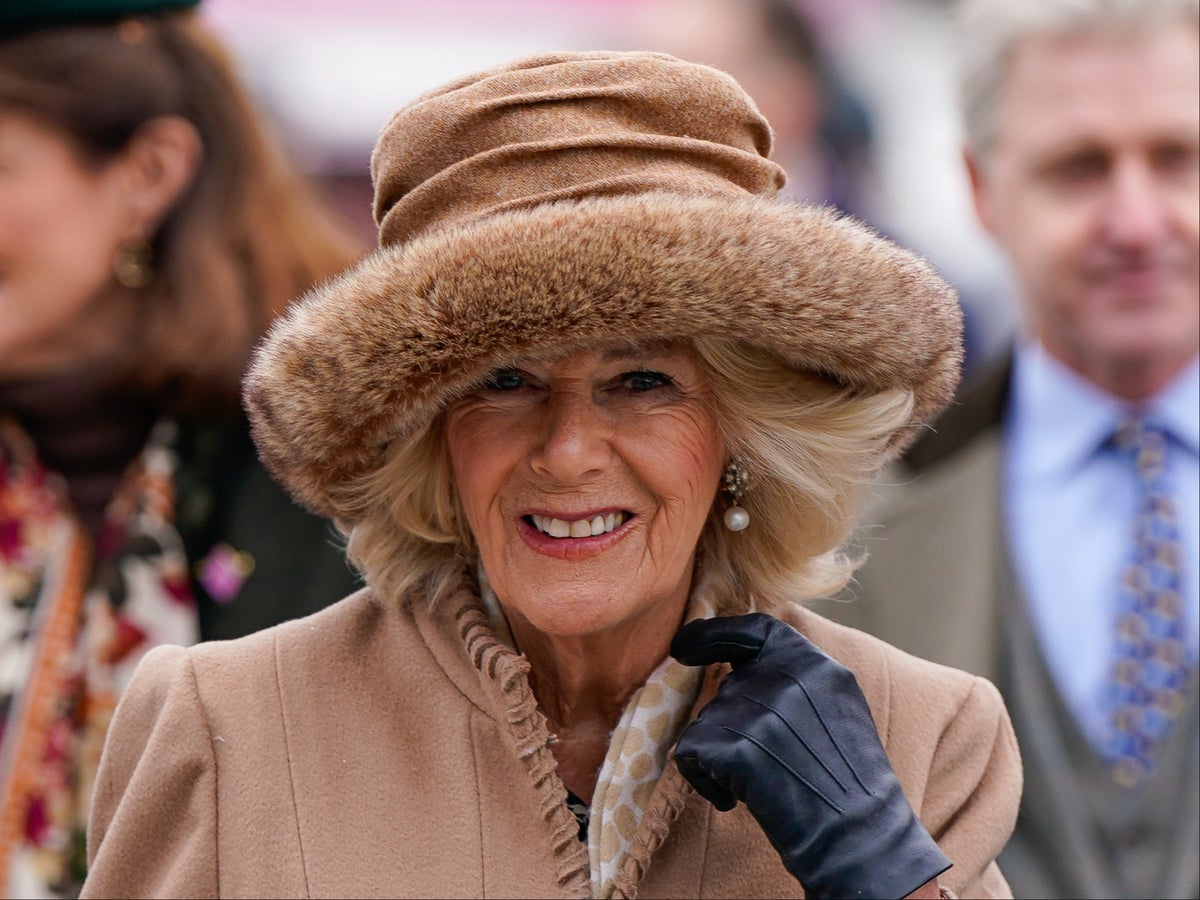 Queen Consort Camilla has arrived on the morning of day two of the annual Cheltenham Festival racing event.
The 75-year-old, who is an honorary member of the Jockey Club, wore a camel wool coat and fur-trimmed hat for the occasion. It is unconfirmed if the king wears faux fur.
The Independent has reached out to their representatives for comment.
Camilla has a keen interest in horse racing and is associated with several related charities including The British Equestrian Federation, The Brooke Hospital for Animals and Ebony Horse Club.
During the visit, Camilla toured the paddock and presented the trophy to the victorious owner of the annual Steeple Hunt.
This year's appearance comes after the royal was absent from last year's events due to illness.
Also present at today's events is media personality Carol Vorderman, who was seen with Matt Hancock at the event just months after months after Vorderman slammed Hancock's performance I'm a Celebrity, Get Me Out of Here! and called him a "c***".
Camilla has made a series of public appearances in the run-up to her coronation with King Charles on May 6th. On Monday (March 13) she appeared at the Commonwealth Day celebrations and attended a service at Westminster Abbey to mark the event. As royals arrived at the religious building, they were greeted by anti-monarchy protesters chanting "Not my King" and protesting at public money being spent on the upcoming coronation event.
It was recently revealed that King Charles, who was the sole beneficiary of the Queen's £650million estate in her inheritance, did not split the sum with his siblings.
His siblings Princess Anne, 72, and Prince Edward, 59, and Prince Andrew, 63, have not inherited anything from the Queen and are said to share "some resentment" as a result.
Meanwhile, the Duke and Duchess of Sussex are yet to confirm whether they will attend the King and Queen's coronation ceremony on May 6, after representatives for the Sussexes revealed they had received email correspondence from the King .
The Independent recently named Camilla Queen Consort as the most influential woman of 2023, coinciding with International Women's Day last week. The list featured 50 women who excel in areas such as politics, culture, sports, business, social media, health and the environment.
https://www.independent.co.uk/life-style/royal-family/queen-camilla-ladies-day-cheltenham-b2301341.html Camilla Queen Consort arrives for Cheltenham Ladies' Day