Canada's Top Doctor Says 'Bring Back Mask Requirements' – Here's Why She's Wrong.
No, we should not reinstate widespread masking as COVID and flu season is upon us again, despite what Dr. Tam says.
Get the latest from Brian Lilley straight to your inbox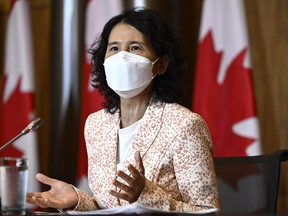 Article content
Are you ready to wear a mask everywhere again? Canada's chief public health officer, Dr. Theresa Tam thinks you should.
Article content
"Now is the time to prepare your masks," Tam said during a news conference Tuesday.
Article content
Tam appeared again on Tuesday alongside a host of other doctors and health experts to announce that Canada had approved Moderna's latest COVID-19 vaccine.
"Preliminary clinical data has shown promising immune responses," Tam said of the new COVID vaccine, which she said should be viewed as an annual flu shot rather than a booster shot.
When Tam and the other doctors attended the press conference, it was noticeable that they were all wearing masks and sitting very far apart. It looked like something right at the end of 2020, before we had vaccines, before we knew what we were doing now.
When asked why she was wearing a mask, Tam explained that it was due to the recent spike in cases and hospitalizations and encouraged others to dust off their mask collection.
Article content
"It's a layer of protection," Tam said. "We as humans have developed the habit of being able to use masks when necessary during the respiratory virus season, not just during COVID."
So is it Canadian policy, according to the country's chief medical officer, to wear masks every year and every fall as flu season approaches?
Is she saying that we should wear masks again in the supermarket, on the bus or subway, in the office, in schools and maybe even in restaurants when we go to and from our tables? (But of course not if you sit in front of it.)
Tam's recommendations are essentially performance theater. Their aim is to create the impression that something is being done.
We are no longer in the depths of the pandemic. We have vaccines. We have widespread immunity in this country from both infection and the incredibly high vaccination rate, which means their decision to require masks and social distance during the press conference is a matter of optics, not reality.
Article content
"Recommending masking at the community level looks like we are doing something to curb the spread of the virus, but there is no clear evidence that it works," Dr. Neil Rau on Tuesday in an interview after watching Tam's press conference.
Dr. Rau said it was problematic to require widespread masking at the community level as public policy and questioned when it would stop.
"One variant follows the other, we will do that all winter and spring," said Rau.
LILLEY: It's time for the mask requirement to end in Ontario hospitals

LILLEY: Ontario doesn't need mask mandates and COVID is not the problem in children's hospitals
He said it's understandable for those who are immunocompromised or at greatest risk of contracting COVID to consider masking as a personal layer of protection, but disagreed with Tam's call for widespread use.
Article content
This view is supported by several studies on the effectiveness of masking, including a study conducted earlier this year on the effects of a mask requirement during the worst phases of the pandemic in a major London hospital in the United Kingdom.
"Surgical mask wearing requirements in a major London hospital during the first 10 months of Omicron activity (December 2021 to September 2022) had no discernible impact on reducing hospital-acquired SARS-CoV-2 infections." says the study.
RECOMMENDED VIDEO
Write in National Post earlier this weekDr. Shawn Fulford, the former president of the Ontario Medical Association, questions the validity of imposing new mask requirements, even in hospital settings.
In early 2020, we called COVID-19 the novel coronavirus because it was new and we didn't know much about it. We now know a lot, including about who is most likely to be affected: older people and people with weakened immune systems or people with numerous underlying illnesses.
We can and should protect vulnerable people, just as we have done in past flu seasons, but that does not mean we have to turn our lives upside down again because a virus has become endemic and is not going away.
If you want to wear a mask in public most of the year, fill your shoes, but don't expect the rest of society to follow you.
https://torontosun.com/opinion/columnists/lilley-time-to-mask-up-again-dr-tam-can-pound-sand Canada's Top Doctor Says 'Bring Back Mask Requirements' – Here's Why She's Wrong.