News
Canadians are not divided when it comes to informing parents about gender changes in school
Most people believe that parents should be involved and that children should be protected. Let's not let radicals destroy this.
Get the latest from Brian Lilley straight to your inbox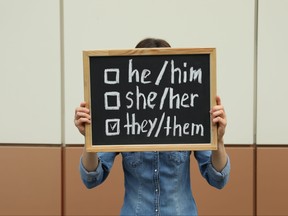 Article content
If you want evidence that too many people talk past each other without paying attention to facts or considering the other side in the gender/school debate, consider Spark Advocacy's latest survey.
Article content
The survey is used by CBC and Liberal supporters say Canadians are divided on whether parents should be informed if a student wants to change their name, gender or pronouns at school.
Article content
Despite everything, this is not entirely correct Spark Advocacy wants you to think after publishing their survey.
As I have previously documented, when asked directly whether parents should be informed when a student tells the school that they want to change their name, gender, or pronouns at school, the majority responded, "Yes, parents should." knowledge".
The strange idea that parents should not be informed arose as policies were implemented in school districts across the country in recent years, often without debate or without notifying parents of the change.
Article content
Recommended video
"A school should never disclose a student's gender nonconformity or transgender status to the student's parents/guardians/caregivers without the student's express prior consent. This applies regardless of the student's age," says the Toronto District School Board's long-standing policy.
Note the reference to this being the "regardless of student age" policy, meaning a four-year-old can change their gender at school and excluding parents without permission of a child who cannot decide have to do something else in their lives. Policies like these have spread across the country, and as some parents noted, they have begun to push back against them.
Back in May, before this became a major media topic, a A Leger survey found that 57% agreed with the idea that parents should be informed before schools change a child's gender or pronouns. After months of media coverage of the issue and Prime Minister Justin Trudeau denouncing parents who felt they should know, support increased to 78% who believe parents should be informed before changes are made, such a Angus Reid poll in July.
Article content
Even the latest Leger survey showed increased support for informing parents, 63%; Although it was not as high as Angus Reid's results, it still represented an increase over May's poll results.
Both the Leger and Angus Reid polls asked simple questions and tested whether Canadians believe parents should be informed or not. The Spark survey does not ask a simple and direct question.
The survey asked whether teachers should be required to inform parents if a child "wants to identify as transgender at school," or whether there should be teacher discretion "if there is a credible risk that." telling a parent could endanger the student." Risk."
When asked, Spark found that 51% of respondents believed the teacher should be given discretion and 49% said parents should always be informed. That led to Spark releasing its survey with the headline: "Canadians are divided on school pronoun rules."
Article content
Not really. While Spark founder Bruce Anderson – through his commentary in the poll – tried to convince Canadians that parental information policies are not supported, particularly in Saskatchewan, where Premier Scott Moe is pushing through laws with the derogation clause, his poll found the opposite.
Policies in Saskatchewan and New Brunswick, the two provinces at the forefront of this issue, allow discretion if teachers believe the student is at risk. Every province already has policies and processes in place to deal with situations like this. It was thought about and planned.
The Spark poll does not show that Canadians are divided, but shows that they support actual policies that neither the media nor Spark accurately reflect.
It's easier to bash straw men than to fight actual policy, especially one that is widely popular.
When we discuss this issue in polls or elsewhere, we should at least talk to each other – not past each other – and discuss what each side really believes, rather than making claims that are not based in reality.
Recommended by Editorial
LILLEY: Scott Moe's school pronoun policy is anything but controversial

LILLEY: Scott Moe is not attacking the Charter by invoking the notwithstanding clause