News
CHARLEBOIS: Ideology should not drive the plastic elimination agenda
Policy should aim to create a level playing field for all while being based on scientific evidence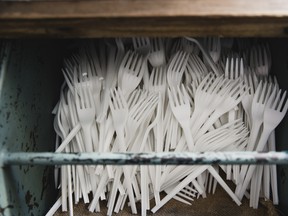 Article content
A federal judge recently declared the federal government's decision to classify plastic items as toxic as both "unreasonable and unconstitutional." This ruling has created further regulatory uncertainty for the food industry as it struggles with its reliance on plastic.
Article content
While waste disposal is primarily a provincial responsibility, the classification of plastic items as toxic played an important role in allowing the federal government to move forward with banning certain single-use plastic products. These regulations, set to take effect on December 20, will effectively ban the sale of plastic checkout bags, utensils, food service items, stirrers and straws in Canada.
Article content
In the decision published last week, the Federal Court found that federal law could not apply a generic toxicity label to a broad category of products made from plastic because it was considered overly broad. Essentially, this ruling highlights the diversity of plastic materials, as not all plastics are the same.
Article content
For Environment and Climate Change Canada (ECCC) and Minister Steven Guilbeault, this ruling is a lesson in the consequences of allowing doctrine to guide Cabinet decisions. As a result, an appeal is likely to take place.
However, the food industry's battle to reduce its reliance on plastic is far from over. The industry recognizes the need for change and adaptation to align with our shared sustainability goals. However, many noted from the outset that the federal government's approach to climate and plastics not only exceeded provincial jurisdiction, but was also ideologically motivated and often lacked practical logic.
The impact of phasing out plastics in the food industry could be profound, particularly in terms of our access to fresh produce. Canada imports about $7 billion worth of fruit and $3.5 billion worth of vegetables annually. International trade plays a critical role in ensuring affordable food for Canadians. While we export our food worldwide, we also rely on global markets for our livelihoods. Therefore, the economics of food packaging are of enormous importance both domestically and internationally.
Article content
Surprisingly, many foreign suppliers supplying products to Canada are not yet aware of our political orientation and its potential impact. Over the years, several food manufacturers, including Nestle, have exited the Canadian market for various reasons, leading to the withdrawal of some brands. Our policies could further alienate key suppliers that support our health and sustainability goals.
A few years ago, a comprehensive analysis led by Dr. Martin Gooch, a well-known supply chain management and food waste expert in Canada, said ineffective packaging could potentially lead to an increase of nearly half a million tonnes in food loss and waste compared to current levels. This would be worth $2.5 billion. It is important to emphasize that this forecast is on the conservative side.
Article content
Recommended by Editorial
GUNTER: The straw that brings back plastic?

Federal court overturns cabinet decision on which the ban on single-use plastic is based
The greatest losses are particularly likely for perishable goods that are prone to damage or require special packaging. Plastic packaging plays a critical role in extending the shelf life of products that are sensitive to ethylene, a natural ripening agent produced in fruits and vegetables. Take carrots, for example, which can be affected by ethylene emitted from neighboring produce, resulting in reduced shelf life, altered appearance and diminished flavor. A decline in the attractiveness of products at the retail level ultimately leads to lower consumer interest.
Article content
Replacing plastics won't be easy, but it can be done. A comprehensive approach to eliminating plastics takes into account the diversity of plastic materials and requires the active participation of provinces and cities in this endeavor. The federal government's approach was controversial and, more importantly, it was patronized and frowned upon by various interest groups that wanted to make a positive contribution to environmental efforts.
Furthermore, the government must recognize that our food industry operates within a larger system that includes partners outside our borders. Significant changes to our packaging policies can and will impact our nation's food security. Plastics have made it easier to transport food over long distances, ensuring freshness and safety while minimizing waste. While all companies strive to make a positive contribution to the environment, they also value competitiveness. Policy should aim to create a level playing field for all while being based on scientific evidence.
Especially at a time when food prices are a major concern for many, ECCC must proceed with caution. While eliminating plastics from our lives is a laudable goal, it is important to treat industry stakeholders and Canadians with respect and recognition of their intelligence.