News
CHARLEBOIS: The St. Lawrence Seaway: An Overlooked Gem
The St. Lawrence Seaway, a crucial element of our logistics, is currently paralyzed, underscoring the vital importance of the food chain to our economy.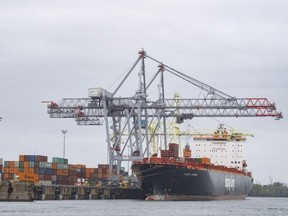 Article content
The ongoing strike that has brought the St. Lawrence Seaway to a standstill poses a major challenge to the agri-food sector, particularly in the eastern region of the country. Notably, this is the first time the Seaway has faced such a disruption since 1968. Grain farmers are calling on the Canadian government to ensure the uninterrupted movement of grain through the St. Lawrence Seaway during this year's harvest season in light of the recent strike by Seaway workers.
Article content
Approximately 40% of all trade through the St. Lawrence Sea Route is agricultural products. Every year, ships on the Great Lakes-St. Lawrence Waterway. Most of this trade typically occurs this time of year and involves grain from the United States and Canada destined for international export. These grains include wheat, corn, soybeans, barley, oats and flaxseed. If the strike continues, it could cause significant disruption to these important trade flows.
Article content
RECOMMENDED VIDEO
It is important to recognize that agri-food logistics works both ways. Food processors, particularly in Ontario and Quebec, will also be negatively affected as they rely on the timely delivery of key ingredients to maintain their operations. Accumulating production delays could pose a complex challenge for the entire agricultural and food supply chain.
Article content
The impact of this strike on the St. Lawrence Seaway could be more severe for our agriculture and food sector than the strike that affected British Columbia ports earlier this year. This is primarily due to the timing as we are currently in the harvest season, making these disruptions even more damaging.
It is often overlooked that waterways are the most cost-effective and environmentally friendly means of transportation, primarily due to their energy efficiency. As we collectively focus on decarbonizing the economy, the St. Lawrence Seaway, which opened in 1959, is showing its age. Replacing sea transport with land-based alternatives would not only be daunting, but would also have a significant environmental footprint.
Article content
However, given the significant political influence of some unions, the St. Lawrence strike should come as no surprise. Now two more strikes are impacting the agricultural and food sector in Canada. The first began on September 28 at the Lantic-Rogers sugar factory in Vancouver, while the second is underway in Toronto, where a Sobeys distribution center has been idle since October 15. Undoubtedly, workers have rights and deserve to be heard, but it is crucial to recognize the far-reaching impact of a labor dispute on our logistics chain, which extends far beyond our borders.
Recommended by Editorial
CHARLEBOIS: The trick-and-treat of shrinkflation

CHARLEBOIS: Lower food inflation alone will not ease the food industry's crisis of confidence

CHARLEBOIS: Is the "ozempic phenomenon" a threat to the food industry?
Article content
This situation not only risks damaging Canada's reputation, but also jeopardizes the quality of goods in transit. The St. Lawrence Seaway strike underscores the importance of viewing food logistics as a vital national service, as conflicts surrounding railroads and ports continually remind us. It is unacceptable that fewer than 400 employees are able to hold thousands of farmers and businesses hostage, especially today given the prevailing market uncertainties.
We often only realize the importance of essential elements when they become scarce or present an urgent problem. Many Canadians frequently pass through this waterway without realizing its crucial role. The St. Lawrence Seaway is indeed a jewel of our logistics infrastructure and the fact that it is currently affected by a labor dispute is a cause for concern.
Our food supply chain is the backbone of our economy, period. It is imperative that we recognize this importance and look for solutions to prevent future disruptions in our agri-food logistics that threaten our economy and our international reputation. We cannot afford for this labor dispute to drag on indefinitely.
—Dr. Sylvain Charlebois is senior director of the Agricultural and Food Analytics Laboratory and professor of food distribution and policy at Dalhousie University