CITY QUESTIONS: The latest from some of Toronto's brightest mayoral candidates
article content
Here's what the key candidates for the Toronto mayoral by-election on May 23 are up to:
article content
Josh Matlow: Matlow, a city councilman, introduced a culture, creativity and community plan that includes directing the Toronto Arts Council to advocate for a federal basic income guarantee for gig workers in the arts industry. His plan also calls for increasing the city's per capita spending on arts and culture by 2% annually, or $13.5 million, over the next three years. He would pay for it by reducing the city's spending on consultants. Matlow also pledged to use a new 2% increase in hotel taxes to invest in arts and culture.
article content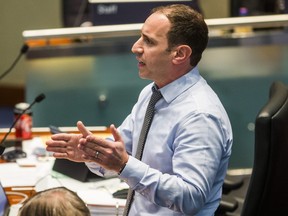 Featured Video
Ana Bailao: Bailao would like to encourage the construction of "missing middle" housing on a scale between condominiums and single-family homes. Their plan envisages the construction of 285,000 new homes – including 57,000 purpose-built rentals – by legalizing walk-in apartments on back roads and introducing "rental zones" to ensure sites are dedicated solely to rental units.
article content
Mark Saunders: Saunders unveiled a mental health and addiction plan that requires the province to waive tuition fees for residents pursuing a certificate as a mental health, addiction or supportive housing worker at a Toronto college for the next three years. He wants to hire up to 100 of these graduates to work in various city agencies that deal with addicts and the mentally ill. Saunders also promises to hire additional public health nurses and negotiate with builders of new rental buildings to include support units in their projects.
Mitzie Hunter: Hunter announced a four-point transportation plan — with a budget of $54 million per year through 2025 — that will increase snow removal budget by 10%, doubling the amount spent filling potholes each year and measures to make roads safer and to reduce congestion.
article content
Anthony Furey: Furey announced a congestion relief plan that includes developing a traffic management and security system for inner-city drones to take delivery trucks off the road; Conducting competitions with technology and engineering companies for innovative shutdown solutions; Completion of Ontario Line and long-stalled Eglinton Crosstown LRT before commencing major new transit projects; and no further concrete partitions or cycle paths to be installed on the main roads.
Olivia Chow — Chow, who polls say is leading the race, held back Tuesday even though she was due to open a campaign office at 349 Bloor St. W. at 7 p.m
Brad Bradford: Bradford announced nothing new, but went on the offensive, insisting that the city council must impose a whopping 20% ​​property tax hike to fulfill Chow's campaign promise.
https://torontosun.com/news/local-news/city-issues-the-latest-from-some-of-torontos-top-mayor-candidates CITY QUESTIONS: The latest from some of Toronto's brightest mayoral candidates