DAVIS: As Mayor, I'm going to put the statue of Sir John A back on display
Facts aren't always pretty, but let's face them and accept their challenges instead of erasing them from our collective memory.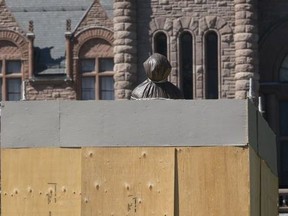 article content
If I am elected mayor on June 26, I will create a new home for Sir John A. Macdonald's controversial statue – in a permanent collection of rejected, offensive and politically incorrect statues in Queen's Park, the 5-acre park north of the Legislature from Ontario.
article content
I respect and value the views of those who see Macdonald's connection to our colonial past and his damage to our indigenous peoples as something we need to address. But why hide or tear down our history when we can learn from it? Why should a boxed statue be a thorn in the side of the legislature when we can repurpose it to do something innovative and creative for the greater good?
article content
Across Ontario — and actually Canada — hundreds of statues of questionable historical figures are fueling controversy and tearing communities apart. I will solve these problems in one fell swoop by bringing these objects of mockery and division together in one place to create a fantastic learning opportunity for our young people and a unique attraction for tourists and history buffs.
article content
The Sir John A. Macdonald Historic Statuary Collection will be a rogue's gallery of characters from our past who have fallen into disrepute and disfavor in today's world. Is there a statue of a now-famous slave trader in your town that protesters keep spraying? Submit it here! A sculpture of a colonialist who stole from our First Nations and keeps getting thrown to the ground? We'd be happy to take it off your hands!
Today, Queen's Park isn't exactly an urban oasis — it's Toronto's most abandoned and underutilized park. U of T students trudge through to class, dog handlers and joggers come and go, a few office workers eat lunch on the benches. It is a place without purpose, without character, isolated and ignored.
article content
But it's also a perfect walking park, criss-crossed by cobbled pathways that can be lined with statues and sculptures, each accompanied by an information board that lays out the history of each theme and explains the controversy that brought it here.
With the Macdonald statue collection as its centerpiece, Queen's Park will be brought to life and transformed into a popular destination to rival its neighbor the Royal Ontario Museum. Every schoolchild on a field trip to Toronto should pay a visit.
This collection will be a place for truth to emerge and not hide behind a plywood facade, languish in a storage room, or rot in a scrap heap.
Facts aren't always pretty, but let's face them and accept their challenges instead of erasing them from our collective memory.
article content
OWEN: Toronto's next mayor needs to work with Ford, not against it, to improve the city

DAVIS: As mayor, I will ban Airbnb and put 20,000 units back on the rental market
There is precedent for my plan that shows exactly how well it will work. In Moscow, Muzeon Art Park is home to more than 1,000 Tsarist, Communist, and Soviet statues and sculptures recovered from communities that had rejected them over the past century.
Muzeon has become one of Moscow's most popular tourist attractions, where history is not destroyed but preserved and used for information and education.
Launching my mayoral campaign on February 28, I presented a sign for Dundas Street and vowed to reverse the City Council's plan to spend $21 million renaming Dundas and other streets to try to to leave the past behind.
Perhaps some of that money should be used to build and run the Macdonald Statuary Collection.
And I'm happy to donate my Dundas Street sign to make it a unique and informative display piece.
— Rob Davis is running for Toronto's first black mayor. He served three terms as a councilman and initiated and directed the city's gun buyback program, which took 10,000 firearms off the streets.
https://torontosun.com/opinion/columnists/davis-as-mayor-ill-put-sir-john-as-statue-back-on-display-in-landmark-collection-of-controversial-statuary DAVIS: As Mayor, I'm going to put the statue of Sir John A back on display