DE RUGY: To fight climate change, stop fighting China over electric vehicles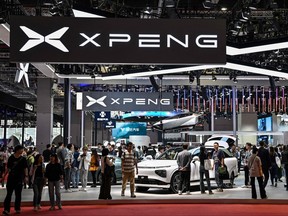 Article content
Many of the rumors about the rise of China's electric vehicle industry and its impact on the global economy are misleadingly alarming. When our government engages with such narratives, it questions the seriousness of its claim that electric vehicles are essential to an existential fight against climate change. If China's push succeeds, the world will have cleaner cars and non-Chinese automakers will be forced to improve their own products.
Article content
A common concern among government officials is that while China faces strong headwinds, the country may have what it takes to consolidate its position and assert its dominance as an electric vehicle manufacturer and exporter. Such concerns are not limited to US officials. Governments around the world are joining forces to shut China out of the electric vehicle market.
Article content
I find it bizarre. We are constantly reminded of the importance of investing in green technology as the world faces an urgent need to reduce carbon emissions and combat climate change. By handing out gargantuan subsidies to boost the production and purchase of electric cars in the US, the Biden administration wants to send a clear message to American voters that it takes climate change seriously and that more electric vehicles are part of the answer.
Article content
We should be excited about China's increased focus on electric cars, which reflects the global shift toward cleaner and more sustainable transportation. Better yet, Chinese EV makers appear to have moved beyond simply imitating American and European automakers. Chinese automakers are now producing vehicles that can compete with leading Western rivals, largely because their cars are so much cheaper.
Of course, the question arises as to whether China can maintain its dominance in the production of electric vehicles. For one, their dogged approach, known as industrial policy, has never improved a country's overall economy. A variety of subsidies and support measures for the Chinese electric vehicle industry could ultimately harm it by making it less flexible and vulnerable to misinvestment or overinvestment. Aside from a self-inflicted economic slowdown and major fiscal and demographic problems, China is also facing increasing hostility from abroad, which could cause real problems for its electric vehicle industry.
Article content
Still, the question remains: is China's current dominance of the electric vehicle market really hurting us? Finally, China is now producing cheaper, good quality cars for consumers who, unlike Chinese citizens, do not have to bear the costs of the subsidies that support the industry. If anything, Americans should be upset that their access to these electric vehicles is being hindered by a 27.5% tariff on Chinese-made cars imposed by the Trump administration and maintained by President Joe Biden.
The growth of China's electric vehicle industry does not represent a threat to national security, but rather an opportunity for global innovation. His involvement in the industry contributes significantly to the international exchange of ideas, technology and expertise. Cross-border collaboration can accelerate the pace of innovation and benefit not only China but the entire global electric car ecosystem. Innovators from the US, Japan and Europe have been doing this successfully for decades, but have not yet brought enough affordable, clean vehicles to market. This approach is far more constructive than viewing China's progress as a strategic problem and resorting to protectionist measures.
Article content
Furthermore, any associated national security concerns are often based on misconceptions about the technologies themselves. It is important to distinguish between civilian and military technologies. Electric vehicle manufacturing is primarily civilian technology and is not expected to have a significant impact on national security. The focus should instead be on improving international cooperation and dialogue to ensure that technologies with security implications are appropriately managed.
Finally, for all the alarmist talk from politicians about the threat of China's EV dominance, many of their own policy inconsistencies make it unlikely that we will truly turn away from these vehicles. EV batteries require a lot of lithium. While the US has huge reserves of lithium, new mining here is frowned upon by local communities, so there is only one active mine left in America, producing a whopping 1% of the world's lithium production.
Article content
Even if it wasn't an uphill struggle to mine even more, it would never be enough to satisfy all of our needs. Therefore, we will likely continue to depend on some Chinese lithium batteries. China is also a manufacturing hub for many Western brands that rely on exporting to the rest of the world. All of this means that decoupling our economy from China is unlikely, even if it were desirable.
There are many reasons why treating China's growing electric vehicle industry as a strategic issue is a narrow and counterproductive perspective, especially when we claim that fighting climate change is a priority.

— Veronique de Rugy is the George Gibbs Chair in Political Economy and Senior Research Associate at the Mercatus Center at George Mason University.
https://torontosun.com/opinion/columnists/de-rugy-to-fight-climate-change-stop-fighting-china-on-electric-vehicles DE RUGY: To fight climate change, stop fighting China over electric vehicles