News
Despite Singh's efforts, the NDP's ongoing anti-Semitism problem is growing
Jagmeet Singh has done a good job in curbing anti-Semitism, but it keeps coming back.
Get the latest from Brian Lilley straight to your inbox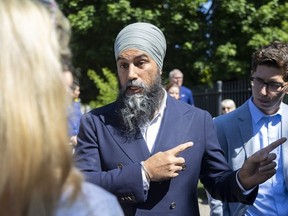 Article content
The New Democratic Party clearly has an anti-Semitism problem.
Article content
Over the weekend, the NDP held its national convention in Hamilton and faced calls from its radical fringe that it should ally with Hamas. This was not the party's official position and leader Jagmeet Singh has made statements condemning Hamas as a terrorist group, but that did not stop the activists.
Article content
The activists demanded that the party declare Israel an apartheid settler colony, wash away what Hamas has done by claiming "Palestinians have a moral and legal right to violently resist colonization," and that the party give its support for the liberals unless they side with Palestine. which in this case they seem to equate with Hamas.
The NDP did not take any of these actions, but as the protesters making these demands outside the convention hall were dealt with by police, there were NDP supporters inside cheering them on.
Article content
Ironically, last weekend's convention was held in the seat of Hamilton Center NDP MPP Sarah Jama. Unlike other political parties, the NDP operates as a federated party with provincial and federal wings under one roof.
Recommended video
That's why Ontario NDP Leader Marit Stiles, in response to comments Jama made online over a week ago, appealed to federal policy as a policy that all members must abide by.
Jama's online comments did not adhere to this policy as she published statements blaming Israel for Hamas' terrorist attacks and declaring that the violence was "rooted in settler colonialism." Stiles ordered Jama to retract her statement and apologize, but instead the new MPP defied their leader, offering a half-hearted non-apology and refusing to retract her statement.
Article content
Of course, Jama has yet to be taken to task by their leader, the other parties at Queen's Park or the media outside The Toronto Sun for participating in a Thanksgiving march in downtown Toronto. Billed as a march in support of the Palestinian people, the march featured a Hamas flag, and at one point the sound of an Israeli air raid siren rang out as protesters chanted "Zionists are hiding" and of course "From the river to the sea." a call to wipe Israel off the map.
This was not a peace rally or even a rally in solidarity with the Palestinian people, but rather a march in support of the brutal terrorist attacks that had taken place just two days earlier. No elected official should attend an event like this where horrific terrorist atrocities are supported by people who encourage further violence and revolution.
Article content
Still, Jama remains in the NDP caucus.
Recommended by Editorial
LILLEY: Supporters of Hamas' barbaric actions must be avoided

LILLEY: Jagmeet Singh has a million reasons not to oppose Trudeau
Allied unions such as CUPE have issued statements not only expressing support for the Palestinian people, but also supporting Hamas. CUPE 3906, representing academic staff at McMaster University in Hamilton, wrote: "Palestine rises, long live the resistance."
This tone-deaf post shared a video of Hamas terrorists invading Israel to carry out their attacks and was shared by CUPE Ontario President Fred Hahn.
Hahn then published more images online, including graphics with the anti-Semitic slogan "From River to Sea." He later expressed outrage that anyone would think he could advocate violence just because he praised the "resistance" while Hamas' terrorist attacks continued.
While Singh has done a good job curbing anti-Semitism at the federal level, he needs to talk to his counterpart and allies in Ontario who clearly aren't on board.