Don Cherry says there's no need to 'blow up' the Toronto Maple Leafs.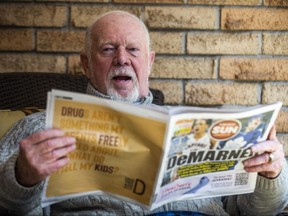 article content
You won't hear Don Cherry join in the chorus urging the Toronto Maple Leafs to "blow everything up" and start over.
article content
"I'm against it," the hockey legend said Monday in a segment we're calling "Cherry's Corner."
article content
We were hoping that the last time the Grapes came into play after the Maple Leafs' playoff run, there would have been talk of them winning the Stanley Cup. Instead, they were eliminated in five games in the second round against the Florida Panthers.
fans are disappointed. The players are disappointed. And there is a call for big changes in those who govern, train and play on the ice.
But not from Cherry.
While he loved that Toronto SunOn the covers of Blow It Up and De-Marner, he said he understood the emotionality of what she said and believed that he didn't think this was the right time to do so.
"There are always different opinions. As for me, I wouldn't blow everything up at all," Cherry said. "I would keep trying to raise a family to win the Stanley Cup. I said it in my grapevine Podcast, I'll say it here and I'll say it again and again: You can't do this by constantly bringing new people in."
article content
He said this team needs to evolve and build to achieve higher goals.
"I would never separate them. It makes no sense. You have to have a family. It has to feel like family," he said. "I would give them another year. If it doesn't work, you can blow it up. But I wouldn't do it now."
Grapes reminded that players are mostly in the prime of their careers.
"You don't give up on people at 26," he said. "They are great hockey players. The Stanley Cup is hard to win."
He knows it because when he coached the Boston Bruins he ran into a Montreal Canadiens team that formed a lineup each year with Guy Lafleur, Ken Dryden, Larry Robinson and Serge Savard and Scotty Bowman as coaches. But no matter what, he said, you don't give up on yourself or your teammates.
article content
Auston Matthews, Mitch Marner, John Tavares, Morgan Rielly, Ryan O'Reilly, Luke Schenn, William Nylander and a host of others, he said, need to take this loss, learn from it and do it again next season.
"I would bring them all back," Grapes said. "You can't blow up a team that has had a season of 50 wins and 111 points. Just make sure you have a team that's ready to win in the playoffs because the regular season doesn't mean anything."
While he understands and agrees that they are "ashamed" of losing in the second round after such a good season, he would also bring back coach Sheldon Keefe, general manager Kyle Dubas and team president Brendan Shanahan.
"People are upset, but that will calm down in a few weeks," he said. "You don't keep changing coaches and management. You just work on it for next season."
article content
RECOMMENDED VIDEO
However, before the start of the playoffs, Cherry reiterated that you can't just rely on NHL playoff scorers.
"It's a different game. I said from the start that I played Wayne Simmonds. The Panthers had five guys like him. It won't hurt you on the ice. He scores goals and makes great plays, but he also plays physically."
The Leafs were pushed around by Florida.
"The punching and grabbing of Jake McCabe and Mitch Marner wouldn't have happened if Simmonds had been in the lineup," Cherry said.
As he trained, he recalled dressing tough guy John Wensink even though he was injured.
"John couldn't skate, but I didn't care. I put him at the end of the bench and the other team didn't mess with our guys. It worked. You saw him there."
The Maple Leafs should copy the Raptors' playbook by dishing out Marner and firing Keefe

SIMMONS: To shoot or not to shoot – the case for and against Maple Leafs President Brendan Shanahan
Grapes said a prime example is what happened to freshman Matthew Knies, who was targeted and eventually kicked out of the game with a concussion. "I like the boy and he scored a nice goal. But I would have played Simmonds."
However, he would definitely have Knies in the lineup next year and re-sign O'Reilly and Schenn.
"You're part of the family."
Grapes believes that as a family, you lose and then you win.
https://torontosun.com/news/local-news/warmington-grapes-says-nows-not-the-time-to-blow-up-maple-leafs Don Cherry says there's no need to 'blow up' the Toronto Maple Leafs.