News
Dubious government investments affect our standard of living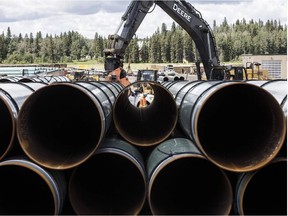 Article content
While government policies can benefit society and the economy, they often lead to the opposite result.
Article content
The latest concerns highlight Canada's worrying trend toward dismal productivity growth and growth prospects, with multiple international bodies predicting minimal growth in Canadians' real (inflation-adjusted) personal income over the year next 30 years (an entire generation).
Article content
To counteract this drop in productivity, governments have pursued different strategies.
One strategy focused on workers' skills, with authorities advocating for young people to pursue marketable technical careers rather than traditional university degrees.
Another strategy was to promote a broader, more intensive and robust innovation ecosystem combined with venture capital and institutional investor financing. Another approach is to remove approval barriers and other regulatory obstacles.
Article content
Yet despite the potential of these strategies, ongoing actions by both federal and provincial governments pose a challenge to productivity growth. Notably, these governments often allocate large amounts of taxpayer money to projects with minimal return on investment.
RECOMMENDED VIDEO
Over the years, provincial utilities such as BC Hydro, Manitoba Hydro and Nalcor (an umbrella company of Newfoundland and Labrador Hydro) have experienced significant overruns. The financial commitment to these projects, such as Site C Dam, Keeyask, Bipole III and Muskrat Falls, far exceeded initial projections.
A staggering $43.2 billion was spent, compared to initial expectations of $23.9 billion, to produce just a few gigawatts of "cheap" electricity – just enough for a million homes. In the future, the same resources could have flowed into nuclear energy to generate more electricity and put less strain on the environment.
Article content
In addition to these massive mistakes by the provincial government, the federal government wasted $35 billion in tax breaks on just three electric vehicle (EV) battery factories. According to the federal parliamentary budget officer, two of these systems could be paid off "in" 20 years.
The culmination is the purchase and expansion of the Trans Mountain pipeline by Ottawa, where government-related regulatory obstacles continue to cause costs to skyrocket. Ottawa has now spent a staggering $30.9 billion on pipeline expansion, almost six times the original estimate of $5.3 billion. It will be impossible to even come close to recouping the expenses. For more than eighty percent of its route, the new, parallel Trans Mountain line follows the existing line: an additional enormous expense caused by massive mismanagement.
Article content
A common thread running through these projects is the government's willingness to finance projects that initially seemed economically questionable. State-owned companies often put political motives ahead of profitability – a theme evident in the decisions surrounding electric vehicles and Trans Mountain. Maybe the famous work "How Great Things Get Done" In Canada, the title "How Great Things Get Botched" would be more apt.
Ultimately, a nation's economic vitality depends on the collective performance of its companies and people. Investing in underperforming projects yields minimal returns. The consequence of such political spending is reduced productivity and reduced welfare per individual.
Unfortunately, our children will bear the brunt of these decisions and will likely face compromised living standards.
Ian Madsen is the senior policy analyst at the Frontier Public Policy Center