Eddie Howe says dying win at Forest feels 'a big moment' of the season at Newcastle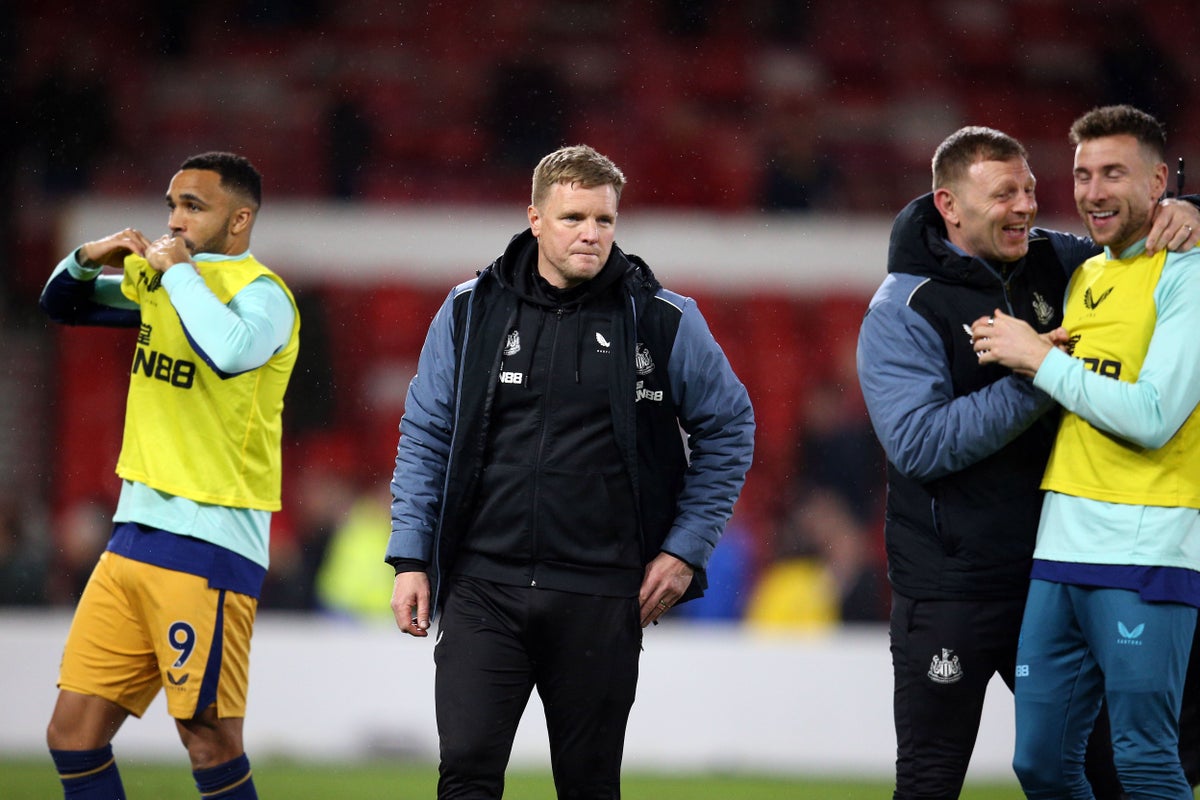 Eddie Howe believes Newcastle's late win at Nottingham Forest could be a pivotal moment in his side's pursuit of Champions League football next season.
Alexander Isak converted an added-time penalty to win 2-1, moving them a game down from fourth-placed Tottenham by a point.
Forest had put the club ahead in the 26th minute through Emmanuel Dennis' first goal, but Isak equalized brilliantly just before half-time, volleying home.
A second half of frustration unfolded for Howe's side as they searched for a winner, not least when they had a goal that was controversially ruled out by VAR.
But Isak had the final say from the point after Moussa Niakhate's handball to keep the dream of a top-four finish firmly alive, building on last weekend's win over Wolves.
"Back-to-back wins, back-to-back wins are hugely important in this division," Howe said. "The quality of the teams, the strength of the opponent (it) is so difficult to do.
"A big moment in our season and we managed to dig deep and find a winner.
"We don't know (how important it could be) at this point, but it felt like a big moment in the end.
"We've been through a number of games centered around the cup final, which have been tough games and have been against top opponents. Unfortunately we were beaten three times and it was a real test of character how we reacted to that.
"Full credit to the players, it was a huge win."
The points might have been wrapped up before injury time had it not been for Elliot Anderson's goal being ruled out for offside during the build-up, a decision that left Howe "no idea" what was going on.
"The VAR gate is a good place to start, I'm not sure what happened there," he said. "I have no idea so I have to sit down and see what happened.
"I was surprised to see the referee go to the VAR screen and make that decision and that call.
"But it was what it was and the important thing is that the players reacted really well to it."
There was some bad news for the Magpies, however, as Miguel Almiron is out for six weeks with a hamstring injury sustained in training.
"Miggy pulled a hamstring in training and unfortunately a pretty bad one, it's going to take six weeks," Howe said.
Forest also had problems with referee Paul Tierney and it is understood that the club's owners were furious at the official's performance.
The main bone of contention was Tierney's decision not to award a free-kick ahead of Isak's half-time equaliser.
Boss Steve Cooper, who was called into Tierney's dressing room at half-time along with Newcastle assistant manager Jason Tindall, said: "I'm not going to get too deep on the fact but it's a foul on Andre (Ayew) in the building. high.
"The referee made a bad decision and so did we. We cannot contest the handball for the penalty."
Former Newcastle midfielder Jonjo Shelvey suggested his old team-mates may have influenced the referee.
"Honestly, I didn't think they would complain as much as they do on the pitch," he told Sky Sports.
"To be fair there are a lot of whiners on their team and I'm telling them that in a joking way now.
"But I hope they come to Europe, I only have positive words to say about the whole club, the people there, the staff there… I've made a lot of friends and I'm happy to see them pushing further up the league.
"But I represent this club now. As soon as I cross the white line, I'm there to win. We didn't do that today, but we'll be back."
https://www.independent.co.uk/sport/football/alexander-isak-eddie-howe-newcastle-jonjo-shelvey-magpies-b2303341.html Eddie Howe says dying win at Forest feels 'a big moment' of the season at Newcastle