News
EDITORIAL: AG says outdated IT threatens Canadians' benefits
The IT systems used to deliver CPP, OAS and EI benefits are disasters waiting to happen, says Karen Hogan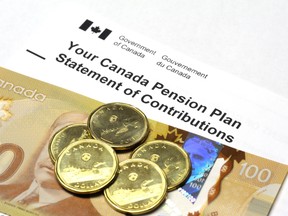 Article content
Federal Auditor General Karen Hogan warned Thursday that outdated information technology systems that provide more than 10 million Canadians with Canada Pension Plan, Superannuation and Employment Insurance benefits were a disaster waiting to happen.
Article content
"Canadians rely on these payments to meet their daily needs, such as buying groceries or paying rent," Hogan wrote in her report.
Article content
"However, the information technology systems that support the delivery of these benefits are decades old and at risk of failing…The government should not need a crisis to understand the importance of rapid action."
The situation is so dire, she said, that it could lead to a system-wide collapse, depriving Canadians of government benefits to which they are entitled, on a scale similar to the ongoing Phoenix pay scandal involving federal officials were underpaid. have been overpaid or not paid since this system was introduced in 2016.
"Progress to modernize the systems that deliver benefits to Canadians has experienced delays, cost increases and staffing issues," Hogan wrote. "All the benefits are still running on systems that are 20 to 60 years old.
Article content
Recommended by Editorial
EDITORIAL: The Phoenix wage debacle underscores the need for change

Majority says Justin Trudeau should go as his approval ratings plummet: poll

EDITORIAL: Canadians stuck in hard times – PBO
Hogan said when the government's plan to modernize those systems was launched in 2017, it was supposed to have cost $1.75 billion.
This rose 43% to $2.5 billion in April 2022 and "is likely to change again given further delays and challenges," while "no benefits have been migrated to the new platform at this time."
Using pension insurance payments as an example, Hogan said that the move to a modern delivery program was supposed to happen as early as this year, but has now been postponed until December 2024 and there is a significant risk that it could be delayed again to December 2025.
Article content
RECOMMENDED VIDEO
In another report that takes a broader look at the state of IT systems across government, Hogan found that at least two-thirds of 7,500 applications needed to be modernized, including 562 of 1,480 "essential to health, safety or economics." Wellbeing of Canadians."
"It has been more than 24 years since the government first identified aging systems as a significant problem, and the Treasury Department of Canada Secretariat still does not have a strategy in place to advance modernization," Hogan said, resulting in "an old and "outdated infrastructure" resulted in costly, resource intensive and unsustainable."