Family hope song in support of Gary Lineker sparks talks about impartiality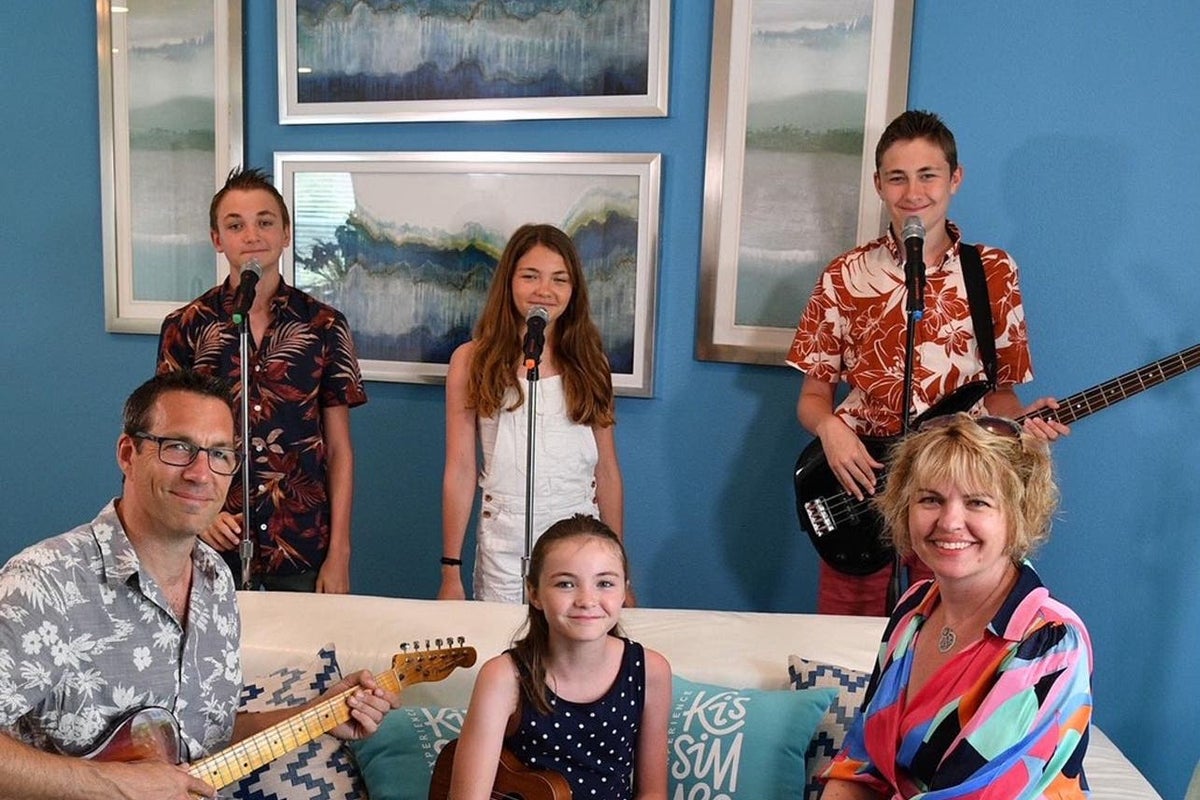 A family who wrote a viral song that uses the tune "Match Of The Day" to show solidarity with Gary Lineker hopes it sparks "worthwhile" discussions about impartiality.
History lecturer Ben Marsh, 46, his wife Danielle, 45, an administrator, and their children – Alfie, 16, Thomas, 15, Ella, 13, and Tess, 11 – posted a video of their song to Twitter on Friday using the hashtag #IStandWithGary .
The video, which was uploaded to Twitter Friday night and has more than 600,000 views and over 12,000 likes, features Ella playing trumpet, Alfie on bass, Thomas on drums, Tess on triangle and Mr. Marsh on guitar plays; while most of the group sings the lyrics, including their Alaskan Shepherd Monty.
Mr Marsh told the PA news agency that the BBC's decision to ask Lineker to step down from presenting Match Of The Day (MOTD) on Friday night acted as a "trigger" for the song.
"We thought it was overkill anyway," said Mr Marsh, who lives with his family in Faversham, Kent.
"But we felt it was worth saying something about what's happening internally."
The ex-footballer was embroiled in a dispute over impartiality after a tweet in which he compared the language used to introduce a new government asylum policy to 1930s Germany.
Ms Marsh added that after learning of the BBC's decision regarding Lineker at 5pm on Friday, she told her husband, who had been missing for a while, and then sent a text with texts.
Some of the lyrics include: "We all just watched a chicken game on the BBC / They kicked Lineker with no apology" and "They backed into a corner and tried to park the bus.".
Mr Marsh added that after he sent his message he got a message back from downstairs which read: 'The lyrics look great but what's the tune?
"And [Danielle] I didn't see that the song was inspired by the Match Of The Day song.
Mrs. Marsh replied as her husband came down the stairs, "Ella and I sang the lyrics to the tune."
Mr. Marsh said it took him about an hour to write the lyrics.
"The Lineker issue was buzzing around in my head and then there was this other news about Attenborough and a wildlife program," he said.
"People on Twitter were saying: They're quitting Attenborough, they're quitting Lineker, but then on the other hand there's the issue of impartiality and figures like Laura Kuennsberg and Fiona Bruce within the BBC."
"We decided that we wanted to make the song not just about Lineker, but also about the issue of people's biases."
It took about half an hour to record the song after the first lyrics by Mr. Marsh, with the second of third attempts being uploaded to Twitter.
Mr. Marsh said that the "key" part of the song was Ella "bringing the trumpet on board."
He added: "That was quite difficult to learn.
"The first take we did she got it wrong and then we tried it two more times, neither of which were very good.
"But she was happy to use it, even though she screwed it up."
When asked why, Ella told PA: "I think it was funnier because when I made a mistake and Monty cried, everyone just had a little bit more fun with it."
The family have previously written songs on other contentious political issues, including a sea shanty about Suella Braverman's dramatic resignation as Home Secretary last October – and have been dubbed the "Von Trapped" family by the New York Times.
Ms Marsh said that while the song was "not perfect", she wanted it to highlight why impartiality is something that should be on people's minds.
"It's a song that was done in a couple of hours – it's not meant to be perfect, it's not meant to be the most brilliant thing we've ever done, but sometimes music speaks things and makes people think about their opinions. " She said.
"You might not agree, you might not even have read the story, but we felt impartiality was such an important issue and we wanted others to think about it."
Mr Marsh added: "It almost feels like something of value could come out of the whole Gary Lineker episode because it's ridiculous for the media and everyone to be so obsessed with a prominent athlete figure and not the essential issue migration policy, that should have been a lot more airtime.
"But now it feels like we've gotten the Lineker thing over with — almost to a broader set of discussions about the public."
Plenty of sports pundits and high-profile figures have supported the ex-footballer, including Ian Wright and Alan Shearer, who declined to present MOTD in Lineker's absence – and Alex Scott, who tweeted that she would not be presenting to Football Focus on Saturday.
Mr Marsh added that it was "really moving" to see athletes who are not often associated with politics showing solidarity.
He said: "There is a lot of power in that kind of emotion.
"I don't know what Alan Shearer's or Ian Wright's politics are – and I don't particularly care, but I think it's cool that they and others stood up for Gary Lineker."
https://www.independent.co.uk/news/uk/gary-lineker-twitter-tess-thomas-bbc-b2298974.html Family hope song in support of Gary Lineker sparks talks about impartiality