Free childcare is a "big win" for women, but campaigners warn more money is needed to make it work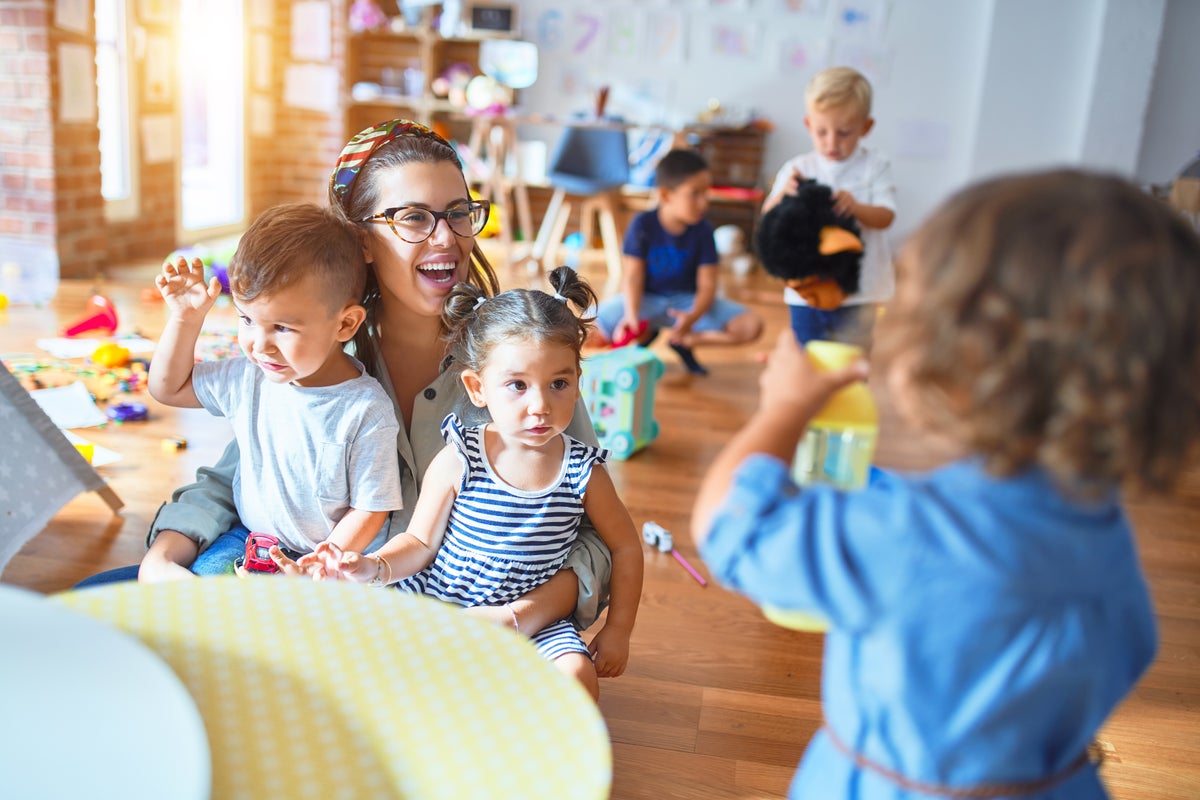 Activists have raised concerns that the government has not pledged enough money to properly implement new childcare policies unveiled in the spring budget.
Jeremy Hunt announced 30 hours of free childcare for everyone under the age of five from the time maternity care ends for those entitled to it.
One mother said the move would give her "freedom", while others warned the policy would not help everyone and questioned whether there were enough services to meet demand.
Joeli Brearley, executive director of Pregnant Then Screwed, a leading campaign group, said the announcement shows how much childcare has climbed the political agenda.
However, she also expressed concerns that "the promised money is not enough to reduce the costs for the parents in the long term".
She added: "Without a staffing plan, providers will continue to be forced to close and increase quotas [of workers to children] will be detrimental to staff retention, what they need is better pay, which will come from significant investment in the sector and the roll-out of the time off scheme.
"The Confederation of British Industry estimates it will cost £8.9 billion, not £4 billion, to do what the Government is planning. So we need to see exactly how that money is being allocated and we need to know that the government is investing in these new systems based on the real cost of delivering them."
Ms Brearly said that "free childcare from nine months is brilliant" but this is only possible if there is enough childcare available.
The activist said: "Just three years ago we were talking to ministers about childcare and they looked at us as if we were speaking Klingon. Those in power didn't care.
"Moving from there to childcare as the main event in the spring budget shows the power of collective action and we are delighted to hear that the childcare sector will now receive a significant investment.
"Parents of young children felt ignored but this will restore their faith in democracy so we thank ministers for hearing our cry and bridging the gap for mothers after maternity leave ends to be supported to get to work to be able to."
The Organization for Economic Co-operation and Development (OECD) found that Britain has one of the most expensive childcare systems in the world. While a disturbing study conducted by Pregnant then Screwed last year found that six in 10 women who have had an abortion say the cost of childcare in the UK has put them off getting pregnant.
Lucie Driver, who has an eight-month-old daughter named Luna, shared The Independent the childcare announcement would grant her "freedom."
The 26-year-old, who lives in Penistone in Sheffield, added: "That's the only way I can describe it. Free to make a choice and not take that choice away or have that choice there in the first place.
"Without choice, as human beings we feel lost or stuck. I have suffered from postpartum depression since Luna was born and with that comes extreme anxiety. For the past eight months, which should have been a comfortable time in our lives, I've been constantly looking for jobs and worrying about what will happen when my maternity leave is over."
Ms Driver, who previously worked as a manager at a coffee shop, said she felt there was a "ticking time bomb and one that needs to be escaped".
She added: "When you are left with the thought that childcare is so expensive, you are left with anxiety, sleepless nights and horrible thoughts about how you are going to survive on one person's wages – especially in the current state of the country. With this news, I can now contribute financially to our lives."
But another mother-of-three, who didn't want her name used, recounted The Independent The announcement would not help her or other women who are unable to work due to health reasons, as applicants must work at least 16 hours a week to qualify.
"I don't have access to specialized mental health care because I don't have childcare and I can't interview to get a job for the same reason," said the woman, who is classified as severely disabled due to mental health issues.
"My family is not from the area and I don't get any support to find a job. By the time I can take advantage of the 15 hours of free childcare, I will be unemployed for four years."
https://www.independent.co.uk/news/uk/home-news/childcare-women-jeremy-hunt-budget-b2301526.html Free childcare is a "big win" for women, but campaigners warn more money is needed to make it work