Gary Lineker returns to Match of the Day, makes no apologies and tweets about small boats again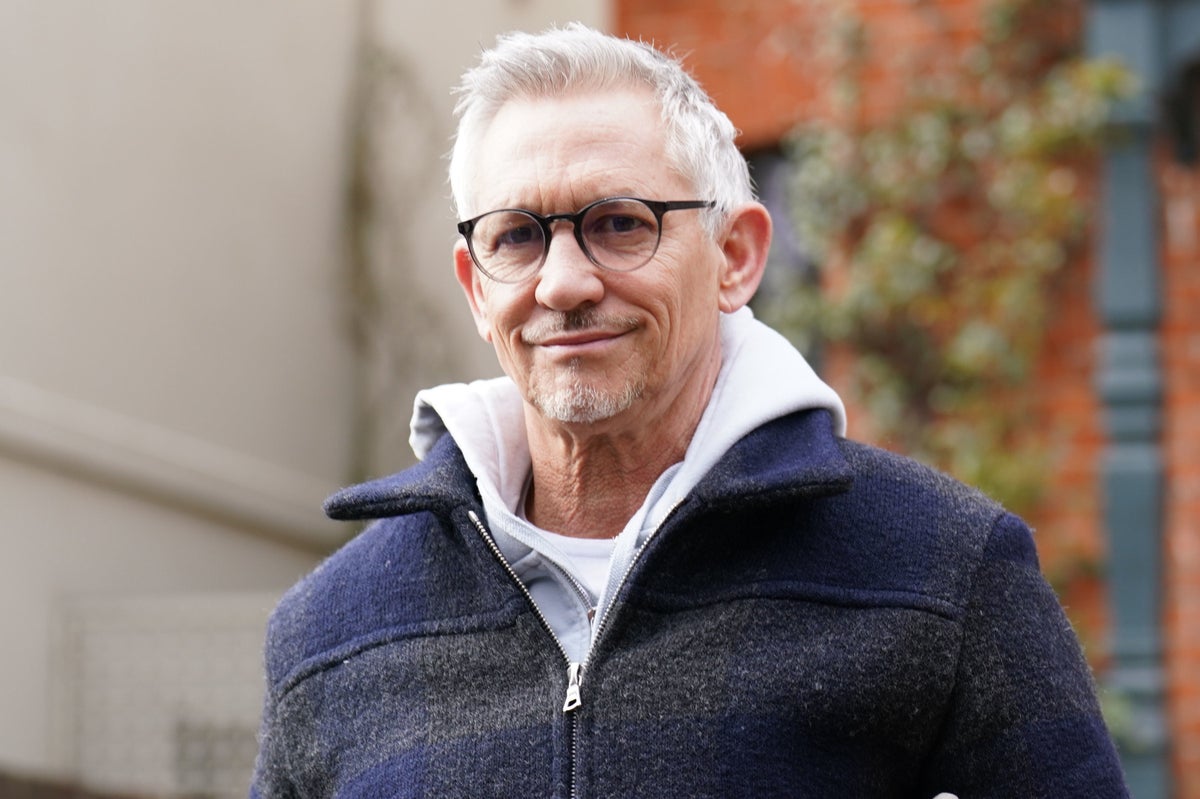 Gary Lineker will return to his game of the day Submit duties after the BBC apologized for suspending him in an impartiality dispute that has rocked the company.
Lineker was allowed to keep his job but didn't apologize for his tweet comparing the language used to launch a small boat asylum policy to that in 1930s Germany – and tweeted within minutes of her reinstatement again on the plight of refugees.
BBC Director General Tim Davie confirmed Lineker's return, saying he recognizes "the potential confusion caused by the gray areas of the BBC's social media guidelines" and said the presenter will "adhere to editorial guidelines". , pending an independent review of the BBC's social media policy is complete. The BBC denied there had been any relegation.
It comes as:
• Sir Keir Starmer said Richard Sharp, the chairman of the BBC, should resign as he is also being investigated for impartiality
• Conservative MPs suggest the company has backed down
• Senior Tories take on Rishi Sunak to oppose his small boat bill
In his statement on Monday, Mr Davie said: "Everyone recognizes this has been a difficult time for staff, contributors, presenters and most importantly, our audience. I apologize for that.
"The potential confusion caused by the gray areas of the BBC's social media guidelines, introduced in 2020, is recognised. I want to clear things up and get our sports content back on the air."
But Mr Davie insisted he had done "the right thing" by asking Lineker to step down from presenting duties and said he "respected the views" of the presenters and pundits, who had left in solidarity with the former England striker .
The BBC board said it welcomed the agreement between Lineker and the broadcaster and said it was "the right time" to review its social media policies.
Lineker broke his silence, thanked his supporters and described the past few days as "surreal" – but he was soon tweeting about small boats again.
He wrote: "As difficult as the last few days have been, it is simply not comparable to having to flee your home from persecution or war to seek refuge in a country far away. It is heartwarming to see the empathy of so many of you for your plight."
Lineker hosted game of the day since 1999 and earned around £1.35m in 2020-21, making him the BBC's highest paid star.
It comes as furious Tory MPs expressed outrage at the channel's about-face, saying the move to reinstate the presenter gives Lineker "carte blanche" to say what he wants.
Craig Mackinlay, MP for South Thanet, said The Independent: "The descent of the BBC with an apology and carte blanche to do as he pleases on social media is remarkable."
He added: "His 8million Twitter followers are on the back of his enduring notoriety due to his BBC contract – he can now seemingly advance his highly political anti-government agenda and offend many with impunity. I don't know of any other employer who would allow this."
Shipley MP Philip Davies said The Independent that the "pathetic capitulation" would hasten the end of license fees. "The BBC can no longer claim that it believes in political impartiality and, more importantly, it has proved it doesn't have the guts to enforce it."
He added: "His epitaph will read 'Gary Lineker – the man who destroyed the BBC royalty'. This is a turning point."
And Tory MP David Jones said: "That says more about the weakness of the director-general," arguing Lineker's reinstatement without "an enforceable commitment to stop engaging in political tweets" would disappoint fee-payers.
The trio and a few dozen other Tory MPs from the Common Sense Group have signed a letter demanding an apology from Lineker and the BBC – and urging the company "not to cave in" on its suspension.
Lucy Powell, Labour's shadow culture secretary, said Lineker's return was welcome but "much bigger questions remain about the BBC's impartiality and independence from government pressures".
The dispute has also put increasing pressure on the BBC over the position of its leader Richard Sharp, who is himself being investigated for impartiality after it was revealed he helped former Prime Minister Boris Johnson secure an £800,000 loan.
Sir Keir Starmer said on Monday that Mr Sharp's position was "increasingly untenable".
"I think most people seeing the complete mess of the past few days would say how on earth is he still in position and Gary Lineker got taken off the air?
"This is a mess made by the BBC themselves, they need to fix it and do it fast," Sir Keir said.
As investigations into his appointment continue, the Prime Minister refuses to explicitly endorse the presidency.
Mr Sunak has distanced himself from the Lineker dispute, saying the issue is not a government matter, but said on Monday he was "delighted" the dispute had been settled.
However, the prime minister has been unable to dodge opposition to his new immigration policy, prompting backlash from some within his own party.
Caroline Nokes was the first senior Tory to say she would vote against the new law, arguing that the plans – under which anyone arriving on small boats would be held in immigration centers – were an "absolute horror".
Ms Nokes told Times Radio: "I cannot vote for it. I may be an outsider in my party, but I think we have an absolute duty to treat people humanely and keep people safe. I have an absolute horror of the prospect."
Tory MP Chris Skidmore later said he would not vote for the bill when it went to the second reading on Monday. "I am not willing to break international law or human rights conventions which the UK has a proud history of playing a leading role in establishing," he tweeted.
Former Tory Justice Secretary Robert Buckland suggested he would back the bill despite his unease at the plans, but warned of an impending Tory rebellion with major changes needed.
Senior Tory Tobias Ellwood, chairman of the Defense Committee, said The Independent MPs want to amend the bill "to meet our international obligations to prevent child detention," adding, "Without these changes, I suspect the bill will not pass Parliament."
https://www.independent.co.uk/news/uk/home-news/gary-lineker-bbc-match-of-the-day-row-b2299927.html Gary Lineker returns to Match of the Day, makes no apologies and tweets about small boats again