News
GHERSON: Ontario's reemergence as an automotive powerhouse
Manufacturing in the Toronto area is not dead, but it does need support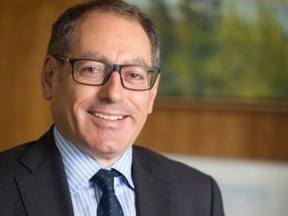 Article content
For 30 years we have heard that manufacturing in Ontario is dead and has long since moved to cheaper jurisdictions. To paraphrase Mark Twain, reports of his death are greatly exaggerated. Production is back in action on a large scale – particularly in the Toronto region.
Article content
Both the pandemic and Russia's invasion of Ukraine have exposed vulnerabilities in the global supply chain network and led to a push for greater security, flexibility and a revival of manufacturing across the continent. If we look south we see the boldest example.
Article content
A Current report stated By the end of the year, there will be more than 400,000 new jobs in American manufacturing, meaning the US will have regained 40% of them Manufacturing jobs previously relocated abroad. Ontario's manufacturing industry is also growing, with more than 820,000 jobs across the province, and employment has been increasing steadily since 2008.
This is great news for the Toronto region. As Canada's largest manufacturing hub, Toronto is responsible for approximately $13.1 billion in monthly manufacturing sales. Ontario's emergence as a top location for technology, automotive manufacturing and electric vehicle (EV) battery production in North America is a much-needed boost to these sectors.
Article content
Earlier this year, Premier Doug Ford said: "We are building a supply chain ecosystem that connects northern resources and workers to the future of clean steel and electric vehicles, ensuring the cars of the future can be built in Ontario from the start." to be completed by Ontario workers."
The Toronto region has one Automotive ecosystem unlike anywhere else in the world. It is the second largest automobile manufacturer in North America and the only jurisdiction where Toyota, Honda, GM, Ford and Stellantis operate within its borders. Unlike the scattered assembly plants across the eastern half of the United States, our automobile manufacturers are strategically concentrated along a 350-mile corridor of major highways. Each is supported by a parts supply chain that includes more than 700 companies and 500 tool, die and mold makers.
Article content
Anchoring this manufacturing corridor is the continent's fastest-growing innovation hub, home to major multinational and Canadian technology companies. Proximity to shipping and delivery locations allows companies to reduce their overhead and logistics costs, shorten supply chains and gain access to global markets.
In addition, we link an end-to-end battery supply chain to the existing manufacturing ecosystem. The province's abundant supply of essential minerals is fueling our transformation into an electric vehicle battery powerhouse. In fact, Ontario has the only cobalt refinery in North America, which is expected to produce enough battery-grade material to support the manufacturing of 250,000 electric cars per year.
Article content
A battery supply chain, an established manufacturing cluster and a rapidly growing technology center have made our region an attractive location for OEMs seeking efficiency and stability.
However, the picture is not entirely rosy. Ontario's manufacturers must invest in productivity to attract and retain new businesses. Across Canada, investment in labor has fallen from about 79 cents per worker for every dollar invested in 2014 to just 55 cents in 2021. Over the past 20 years, Canada's business investment per worker has increased by only 24.5%, compared to 70.5% in the United States.
The Toronto region is on track to become a manufacturing supercluster, supporting talent and assets across Ontario's manufacturing ecosystem. Governments, businesses and institutions must capitalize on emerging trends and invest in productivity to ensure Toronto's regional competitiveness.
Manufacturing in this region is not dead, but it needs support. We are best positioned to leverage our advantages to increase productivity, drive innovation and revitalize Toronto's economy. Major automakers are shifting their focus to North America and the province's famed manufacturing ecosystem must seize this moment to invest or risk turning this glimmer of hope into another false dawn.
– Giles Gherson, President and CEO, Toronto Region Board of Trade