Gio Reyna in USMNT March Nations League roster but Tyler Adams out with hamstring injury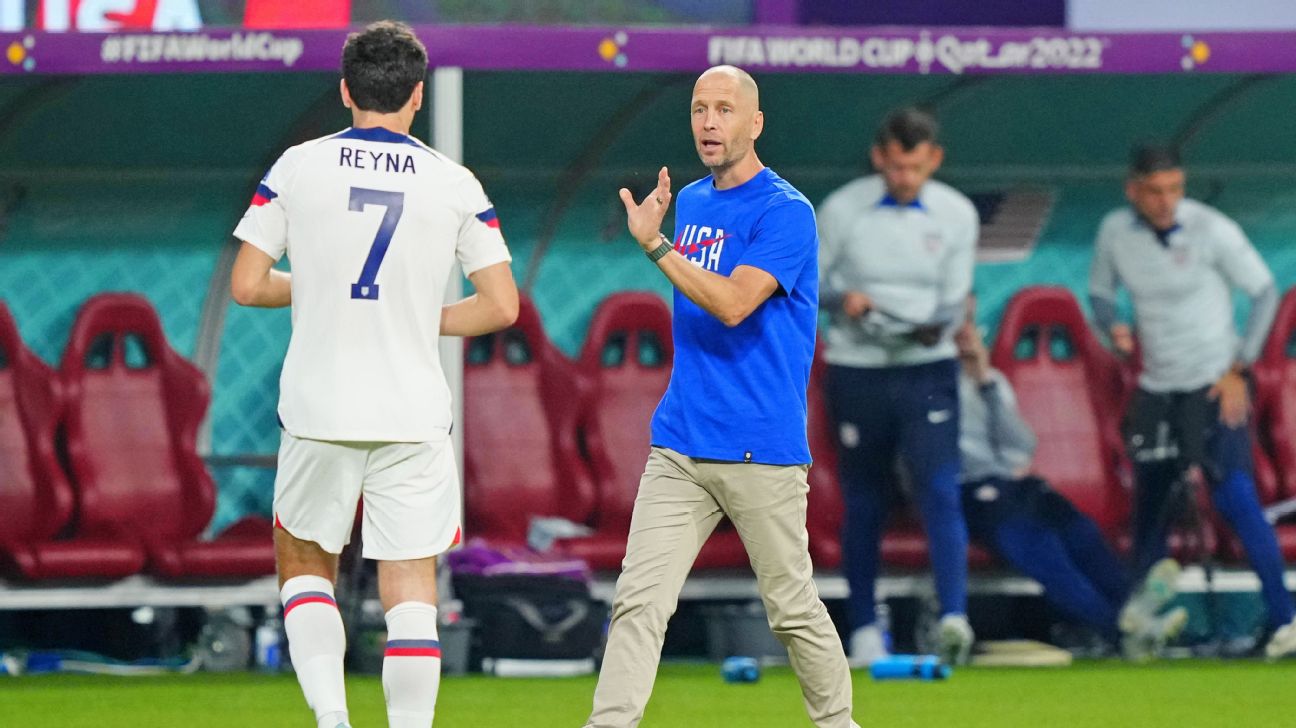 The United States men's national team will play March's CONCACAF Nations League games without injured Leeds United midfielder Tyler Adams but with Borussia Dortmund winger Giovanni Reyna along with 12 other players from European clubs, the US said Soccer on Wednesday with.
The games in Grenada on March 24 and against El Salvador three days later in Orlando, Florida are the first in the post-World Cup FIFA international window for the USMNT.
This will also be the first post-World Cup recording for Reyna, who has been the subject of the recent US soccer controversy between his parents Danielle and Claudio Reyna and out-of-contract coach Gregg Berhalter. Reyna was not included in the January camp 24-player roster.
Interim manager Anthony Hudson said the decision to bring Reyna on was a decision to "go forward".
"It's gotten a bit more complex in the months since the World Cup, but for us Gio is part of our program," said Hudson. "He's a good guy and a top talent and he's rated like any other player. We've made squad decisions based on what gives the team the best chance of winning those games, and we brought him in because we think he can help us. "Do this."
US Soccer said Monday that Berhalter may run for the open USMNT coaching job following an investigation into allegations of domestic violence against him made by Reyna's parents.
The investigation also found that US Soccer "needs to reconsider US Soccer's policies regarding appropriate parental behavior and communication."
Adams sustained a hamstring injury, a USMNT spokesman said. Adams played 90 minutes in Leeds' 2-2 draw with Brighton & Hove Albion last weekend and the club confirmed the injury in a statement, saying: "The midfielder will remain at Thorp Arch for further assessment."
Hudson said the decision on injured players was "made in the best interests of the player and to do our best to ensure they are available to us this summer".
Chelsea's Christian Pulisic leads all players in the squad with 56 caps and is one of 13 World Cup returnees from European clubs. The squad also includes Fulham players Tim Ream and Antonee Robinson, and Leeds players Brenden Aaronson and Weston McKennie. Luca de la Torre, Sergiño Dest, Ethan Horvath, Yunus Musah, Joe Scally and Matt Turner were also there.
Dual national Alejandro Zendejas was added to the squad a day after his move to the USMNT for Mexico.
The 25-year-old forward made his US debut on January 25 in a clash against Serbia but was still able to appeal to FIFA for a one-off move to Mexico.
"I think it's great for the team," Hudson said of Zendejas' inclusion. "Alex certainly brings more quality and depth to the squad. He really impressed us all in January and we obviously saw a lot of him playing for his club. We are very pleased that he has agreed to join us. We see it as a great addition to the future team."
Atlanta United centre-back Miles Robinson is making his first return to the USMNT after recovering from a torn Achilles tendon sustained last May.
USMNT BOX BY POSITIONS (CLUB/COUNTRY; CAPS/GOALS)
GOALKEEPER (3): Ethan Horvath (Luton Town/ENG; 8/0), Zack Steffen (Middlesbrough/ENG; 29/0), Matt Turner (Arsenal/ENG; 24/0)
DEFENDERS (8): Sergiño Dest (AC Milan/ITA; 23/2), Mark McKenzie (Genk/BEL; 10/0), Tim Ream (Fulham/ENG; 50/1), Bryan Reynolds (Westerlo/BEL; 2/0), Antonee Robinson (Fulham; 33/2), Miles Robinson (Atlanta United; 20/3), Joe Scally (Borussia Mönchengladbach/GER; 3/0), Auston Trusty (Birmingham City/ENG; 0/0)
MIDFELD (6): Brenden Aaronson (Leeds United/ENG; 28/6), Johnny Cardoso (Internacional/BRA; 4/0), Luca de la Torre (Celta Vigo/ESP; 12/0), Weston McKennie (Leeds United/ENG; 41/ 9), Yunus Musah (Valencia/ESP; 23/0), Alan Soñora (Juarez/MEX; 2/0)
FORWARD (7): Taylor Booth (Utrecht/NED; 0/0), Daryl Dike (West Bromwich Albion/ENG; 8/3), Ricardo Pepi (Groningen/NED; 12/3), Christian Pulisic (Chelsea/ENG; 56/22) , Gio Reyna (Borussia Dortmund/GER; 16/4), Tim Weah (Lille/FRA; 29/4), Alex Zendejas (Club America/MEX; 1/0)
https://www.espn.com/soccer/united-states-usa/story/4901485/gio-reyna-on-usmnt-march-nations-league-roster-but-tyler-adams-out-with-hamstring-injury Gio Reyna in USMNT March Nations League roster but Tyler Adams out with hamstring injury