News
GUNTER: We will always pray for those who fought for us
Get the latest from Lorne Gunter straight to your inbox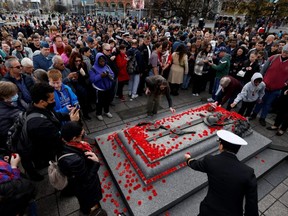 Article content
If you attend an official memorial service at your local cenotaph or Royal Canadian Legion branch next month, you may be surprised to hear the Chairman of the Armed Forces offer a prayer.
Article content
That's right, you should be shocked when an Army, Navy or Air Force padre says a prayer. At a memorial service.
Article content
According to an exclusive report by online news service The Epoch Times, a memo sent by Chaplain General Brigadier General Guy to all military chaplains on October 11 instructs them to avoid religious prayers at all official events.
"While the dimension of prayer is important to some of our members, we do not all pray in the same way," Belisle explained. "For some, prayer plays no role in their lives. Therefore, it is critical for chaplains to take a sensitive and inclusive approach when publicly addressing service members."
So when you head to a Memorial Day commemoration, don't expect to call upon the Almighty to honor those who fell defending our country. References to "paying the ultimate price" are probably fine, but I bet "making the ultimate sacrifice" is taboo. "Sacrifice" is so – yuck – religious.
Article content
So why do our armed forces even need chaplains? Why not just hire a few life coaches or pets? Without faith, a clergyman is simply a nice person with a neat outfit and a pleasant demeanor.
However, I wonder why sensitivity and inclusivity only work in one direction. How about some sensitivity for Canadians, especially veterans, whose spiritual lives include a little prayer?
Why do only the feelings of those who don't pray matter?
I accept that we have probably fought our last war for God and our country. And it is probably not wrong to no longer view our armed forces as defenders of a faith and a nation.
RECOMMENDED VIDEO
But as the old saying goes, "There are no atheists in the trenches."
Article content
I know dozens of military, police, firefighters and other chaplains of various faiths – Jews, Muslims and Christians. The one common trait they all had in common was a deep respect for the faith of each member, regardless of what faith they belonged to. These included atheism, agnosticism and general indifference.
Even to be selected to serve as chaplains, candidates must go through a selection process that focuses on their willingness to minister to members of all faiths in the armed forces. Once selected, training includes basic rites of various religions.
Perhaps the Canadian Armed Forces needs more chaplains from non-Abrahamic faiths, but that is different than instructing chaplains not to offer prayers on Remembrance Day.
Article content
Previously, individual chaplains were judged based on how well they served members of all faiths. The Islamic elements in the multifaith chapel I visited at CFB Suffield in southern Alberta were the project of a Christian clergyman.
Our armed forces are obsessed with DEI – diversity, equity and inclusivity. Last year, a panel examining allegations of systemic racism in the armed forces recommended that no Catholic or evangelical Christian chaplains be hired because Catholics would not allow women to serve as priests and evangelicals reportedly had a problem with soldiers who practice polytheistic religions belong to gods).
The panel found no evidence that Catholic or Protestant clergy denigrated the faith of soldiers, sailors or Air Force personnel, but they blamed "Christian religious leaders" for the genocide of Indigenous students in boarding schools and insisted that "some churches" harbored "sexist views." "preached.
Religious freedom and the right to pray to a god of one's choice (or not) are among the values ​​our soldiers have long fought for.
I guess that doesn't count for much with today's "woke" armed forces.