Harry and Meghan get "the cold shoulder" from royals when they attend the king's coronation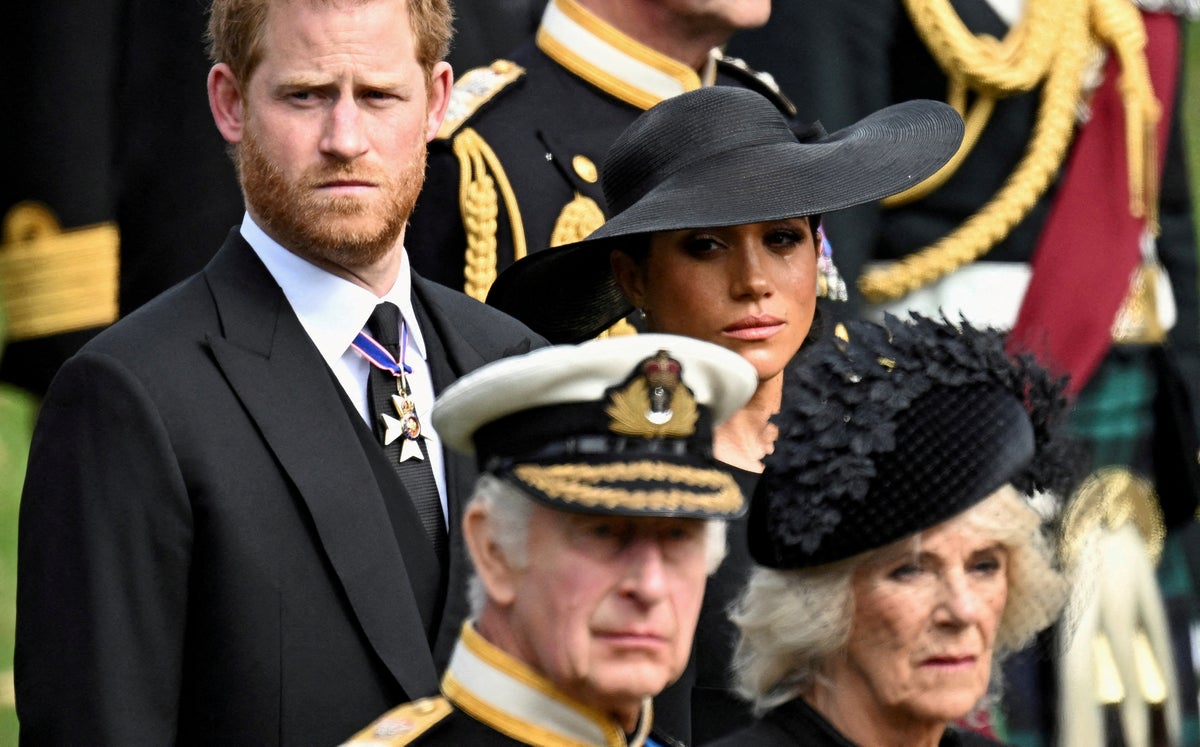 The Duke and Duchess of Sussex could face a "cold shoulder" from senior members of the royal family when they confirm their attendance at the coronation this spring.
Prince Harry and Meghan Markle have said they have "email correspondence" about King Charles III's coronation. and Queen Consort Camilla on May 6, but have not announced their decision on whether to attend.
However, when they make the journey from California to London for the ceremony, a source has indicated their reception will be chilly.
It has been reported that following the release of Harry's telltale memoir, some family members "do not want to have any contact with the couple". spare part and their Netflix documentaries, Harry and Megan.
A source close to family told the Daily Mail: "You will be cold-shouldered by many relatives. One said to me: "I hope they will sit in Iceland".
"A lot of the family just doesn't want anything to do with them anymore. If they need to see them at the coronation, so be it, but they don't want to get in touch with them."
It comes over as a separate report The Telegraph hinted that Harry and Meghan's children, Prince Archie and Princess Lilibet of Sussex, have yet to receive their coronation invitations.
They were reportedly informed that Archie and Lilibet's inclusion would be discussed if the couple confirmed their own attendance. Buckingham Palace staff have been instructed to make preparations on the assumption they will be present.
Harry, who recently appeared in a livestreamed interview with trauma expert and author Gabor Maté to discuss his book, spoke candidly about the lack of physical affection he received as a child.
He wrote about the lack of hugs he received from members of the royal family spare partand previously said his father, the king, "always seemed like he wasn't quite ready for parenthood."
The Duke also said that one of his main criticisms of his father was that "too often your interests are sacrificed to his interests, especially when it comes to the press". Harry accused the royal family of "leaking" and "planting" certain negative stories about Meghan in order to divert the press and public from unwanted attention to other royals.
He is understood to be seeking an "apology" from the King and Prince of Wales before committing to attend the coronation.
It emerged last week that the King had asked Harry and Meghan to vacate their British residence, Frogmore Cottage, and reportedly offered the keys to the disgraced Duke of York instead.
The move sparked more questions about whether the couple will attend the coronation. The ceremony also falls on the same day as Archie's fourth birthday and it's unknown if the Sussexes will choose to stay home in California to celebrate or the family will fly to the UK.
It has been reported that Charles offered the family a number of rooms at Buckingham Palace, previously owned by Prince Andrew, so they would have somewhere to stay when they travel to London.
The Independent has reached out to Buckingham Palace for comment.
https://www.independent.co.uk/life-style/royal-family/harry-meghan-royal-family-coronation-b2299621.html Harry and Meghan get "the cold shoulder" from royals when they attend the king's coronation