Lifestyle
Holy bodies, holy hungers: Pumping breast milk during the Pope's pizza party for Mother Teresa
A device sucked milk from my breasts while my newborn slept next to my hospital bed and the Pope canonized Mother Teresa on TV.
He must have carted in homeless people from Milan, Bologna, Florence and Naples while my nipples filled with colostrum as thick as mozzarella. In St. Peter's Square he blessed the chefs who prepared pizzas over ovens placed in the streets.
The hungry were fed. My child would also be fed.
And so, earlier that day, nurses rolled in a pump and showed me how to use it. I remember the whistle of the machine, the relief when it was pulled out, the way I lined up those little bottles with the yellow lids like an Aesop's animal storing food for the winter.
I almost slipped in the shower one morning as milk spurted out like a double-barreled squirt gun.
Weeks before labor I woke up to cream beading on my nipples. I almost slipped in the shower one morning as milk spurted out like a double-barreled squirt gun. Despite my ready body, I was surprised when my waters ruptured on the second day of a fall semester while I was teaching college students how to write theses.
In high school I had written a paper about Mother Teresa a year before she died, a year before I learned how to give myself an orgasm. I aspired to be selfless, feeding the hungry, French kissing, and groping for passion without baring my breasts.
Mother Teresa believed that every life matters, and as a teenager, I wanted to believe that too. Put me on a plane to India I prayed. Never make me wish against pregnancy.
Mother Teresa hated birth control. My mother gave it to me when I was 14. She said it's to regulate my period. I think it was in case I slip, in case sex makes me dumb and hungry.
The doctors called me "geriatric" because I got pregnant in my late thirties. Mother Teresa might have been happy if I had become a teenage mom instead. At least then ecstasy would have served a purpose. I wouldn't have pushed and trembled and clung for lost opportunities.
On hospital TV, a cadre of cooks were firing up wood-burning stoves on the cobblestones, and I gave my partner a withering look. He saw the bold machine slurp my skin and winced. We made a pact back then: He would change diapers—as many as he could through the baby and toddler years—and I would stretch and strain my body for that child.
We had been in love for over a decade and for most of that time had decided not to have children. I would take meandering train trips to southern Virginia or Quebec City to visit friends and write in the doldrums of the railroad. He set out to photograph weddings and current events. We met between the hustle and bustle of crossword puzzles and long, naked mornings.
When the Pope came to Philadelphia a year before our son was born, my partner found himself on the tarmac with a press badge and a patch. He chatted amiably to the leader of the local high school band, who had decided at the last minute to bring his entire family to see the Pope, including his son Michael, who suffered from severe cerebral palsy.
The Pope greeted the crowd from afar, then climbed into his Fiat and sped away. Most of the press stayed behind, but my husband followed on foot. Suddenly the Fiat stopped. The Pope emerged a hair's breadth from my partner where he reached out to Michael and touched his forehead, holding his palm there, skin to skin.
My husband took a picture of this blessing and it went viral.
Three months later we stood in the hallway of our home, staring at the cane in disbelief and crying in anticipation of what we hadn't even known we wanted.
But before all of that — before news outlets called and friends sent us clippings, before we had dinner with Michael's family and learned they had adopted all three of their children, Michael was the twin the agency said they "don't have to." take them if they didn't want to" — my husband got on the press bus and cried. And then he called me and cried, told me the story, told me how close he had gotten to the saint.
Three months later we stood in the hallway of our home, staring at the cane in disbelief and crying in anticipation of what we hadn't even known we wanted.
Now, as the nurses changed shifts, gleaming pizza ovens filled the piazza. I could almost taste the dough, yeasty and full as an afterbirth.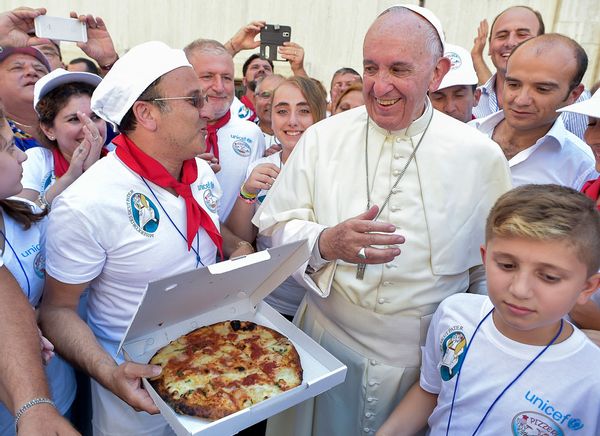 Pope Francis invited 1,500 homeless people to a pizza party to celebrate Mother Teresa at the Vatican on September 5, 2016. (MAURIX/Gamma-Rapho via Getty Images)
Our son was born five weeks early. The nurses said it might have been Hurricane Hermione creeping up the east coast with its drop in barometric pressure. Maybe it was the gentle orgasm I'd given myself the night before to relax my tense body that had tightened into sciatica. Maybe it was mother's milk, waiting to be fed.
But our child was born prematurely, and we had to accept our new reality much sooner than expected. Friends built our crib. Others installed a car seat. Someone brought the baby blanket home for the family dogs so they could get used to the baby's smell. And of course people delivered food.
Perhaps that's why Mother Teresa was canonized—not for a chaste space of absence, but for the places of saturation she created, where starving people gather around pizza ovens, crib-building instructions, and torn nipples.
Benedizioni a Leiwhispered the Pope, reminding us how close our bodies came and came and came again to the saint.
---
Want a daily roundup of all the news and commentary Salon has to offer? Subscribe to our morning newsletter Crash Course.
---
More essays on pregnancy and motherhood:
https://www.salon.com/2022/04/16/holy-bodies-holy-hungers-pumping-breast-milk-during-the-popes-pizza-party-for-mother-teresa/ Holy bodies, holy hungers: Pumping breast milk during the Pope's pizza party for Mother Teresa