How Trump's team plans to launch a "smear campaign" against the Manhattan Attorney's office over a hush money investigation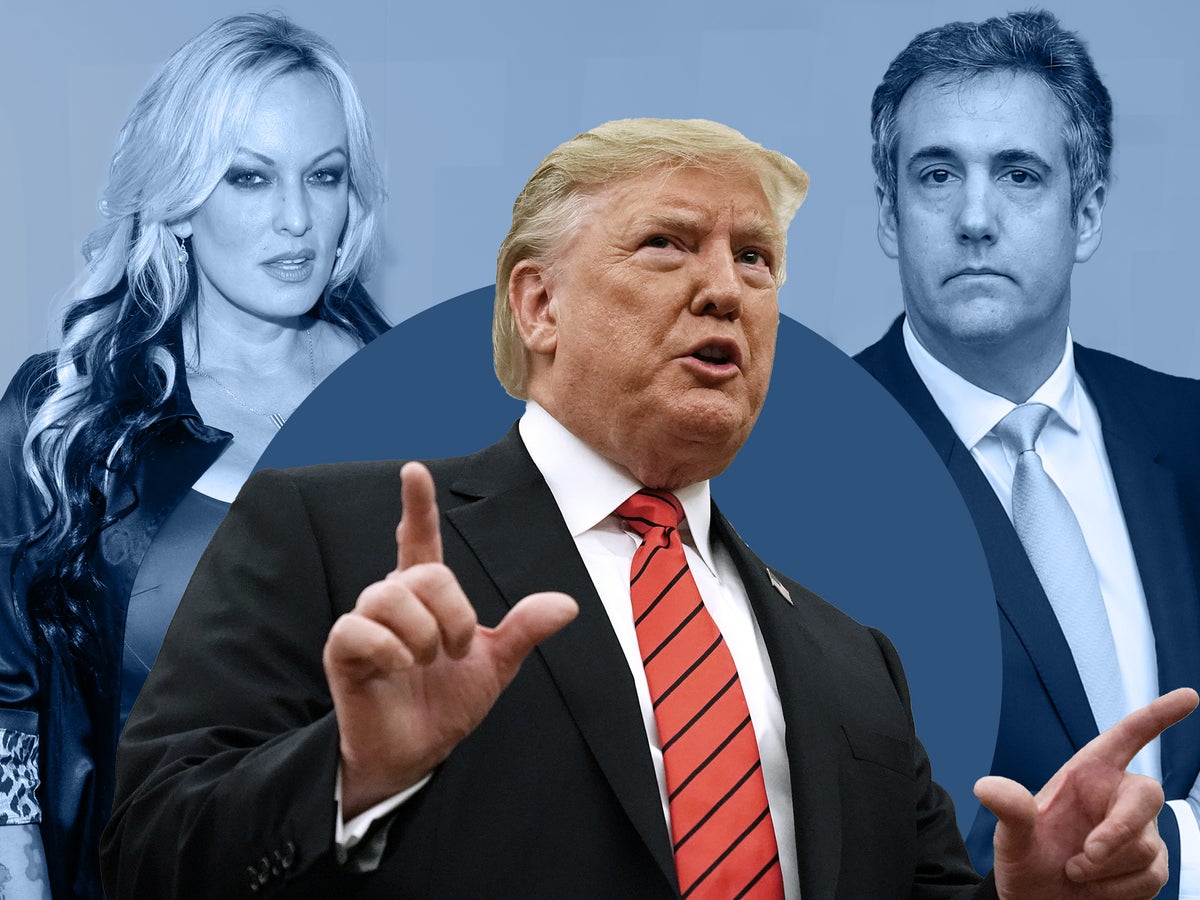 Donald Trump's camp is reportedly planning a smear campaign against Manhattan DAs in response to a possible looming criminal indictment against the former president.
Two of Mr Trump's political allies said so The New York Times that his campaign is preparing for a "political war" if or when prosecutor Alvin Bragg's office indicts the former president for paying adult movie star Stormy Daniels hush money.
This attack will focus on claiming that the indictments are merely the work of a politically motivated attack by the Democratic Party – with a particular focus on the goal of tying Mr. Bragg to President Joe Biden.
In preparation, insiders said Mr Trump's campaign has brought more staff on board and has compiled a database of everyone — including members of Congress, media figures and legal experts — who have so far expressed doubts about the strength of the case.
The revelation comes as Mr Trump could soon become the first former president in American history to be prosecuted.
Manhattan prosecutors have been investigating whether Mr. Trump falsified the Trump Organization's business records when his former attorney and "fixer" Michael Cohen made a $130,000 payment to Ms. Daniels days before the 2016 election.
Prosecutors allege the money was used to silence Ms Daniels over an alleged affair with Mr Trump. Mr Trump has long denied having an affair with the adult film star.
This week, the investigation intensified when Ms. Daniels and Mr. Cohen both appeared before the grand jury to testify in the inquest.
DA Bragg's office also invited Mr Trump to testify this week – an invitation he unsurprisingly declined.
While it was an invitation he was unlikely to accept, it was the clearest signal yet that he could face criminal charges over his role in the payments.
Under New York law, a person has the right to appear before a grand jury before a prosecutor requests the grand jury to indict them on charges.
Mr Trump's camp already appears to have started his campaign against the prosecutor's office, with his attorney Joe Tacopina conducting a media blitz this week in which he slammed the investigation and insisted his client was innocent of any crimes .
In one particularly heated exchange, Mr. Tacopina tumbled across the table to get papers from an MSNBC host during an on-air interview.
Then on Thursday, Trump's campaign spokesman Steven Cheung released a statement criticizing DA Bragg's office for an alleged "witch hunt" against the single-term president.
"President Donald J. Trump is completely innocent, he did nothing wrong, and even the biggest and most radical left-wing Democrats make that clear," Mr. Cheung said.
Ron DeSantis calls for a grand jury to investigate the Covid vaccine
"From Russia, Russia, Russia to the Mueller Hoax to Impeachment Hoaxes 1 and 2 and even the illegal Mar-a-Lago raid, Democrats investigated and attacked President Trump before he was elected – and they all failed Time."
Mr. Trump's campaign went on to claim that DA Bragg was "making a different kind of political donation to Joe Biden."
"Americans will not tolerate radical left-wing Democrats turning our justice system into an injustice system to influence a presidential election," the statement said.
"Our country will not allow that."
While Mr Trump has repeatedly attacked the New York investigation on his platform Truth Social, the lengthy official statement suggests his camp is increasingly concerned that a criminal indictment could be just around the corner.
It also appears to be the start of the "political war" Mr Trump's allies have been talking about.
The two allies told The New York Times that the plan is to try "to present all charges as part of a coordinated offensive by the Democratic Party against Mr. Trump."
Unlike Mr Bragg's political party, it is unclear how they intend to enforce this claim.
Other political allies also told the newspaper that Mr Trump's team will be watching how his Republican rivals, such as Florida Gov. Ron DeSantis, react to an indictment — if it turns out.
The Manhattan Inquiry is just one of the investigations Mr. Trump is currently facing.
Others include investigations into his efforts to overthrow the 2020 presidential election and the discovery of a trove of classified documents at his Mar-a-Lago home.
https://www.independent.co.uk/news/world/americas/us-politics/trump-hush-money-manhattan-stormy-daniels-b2302999.html How Trump's team plans to launch a "smear campaign" against the Manhattan Attorney's office over a hush money investigation