Influencer breaks down in tears after fellow YouTubers slammed baby's unusual name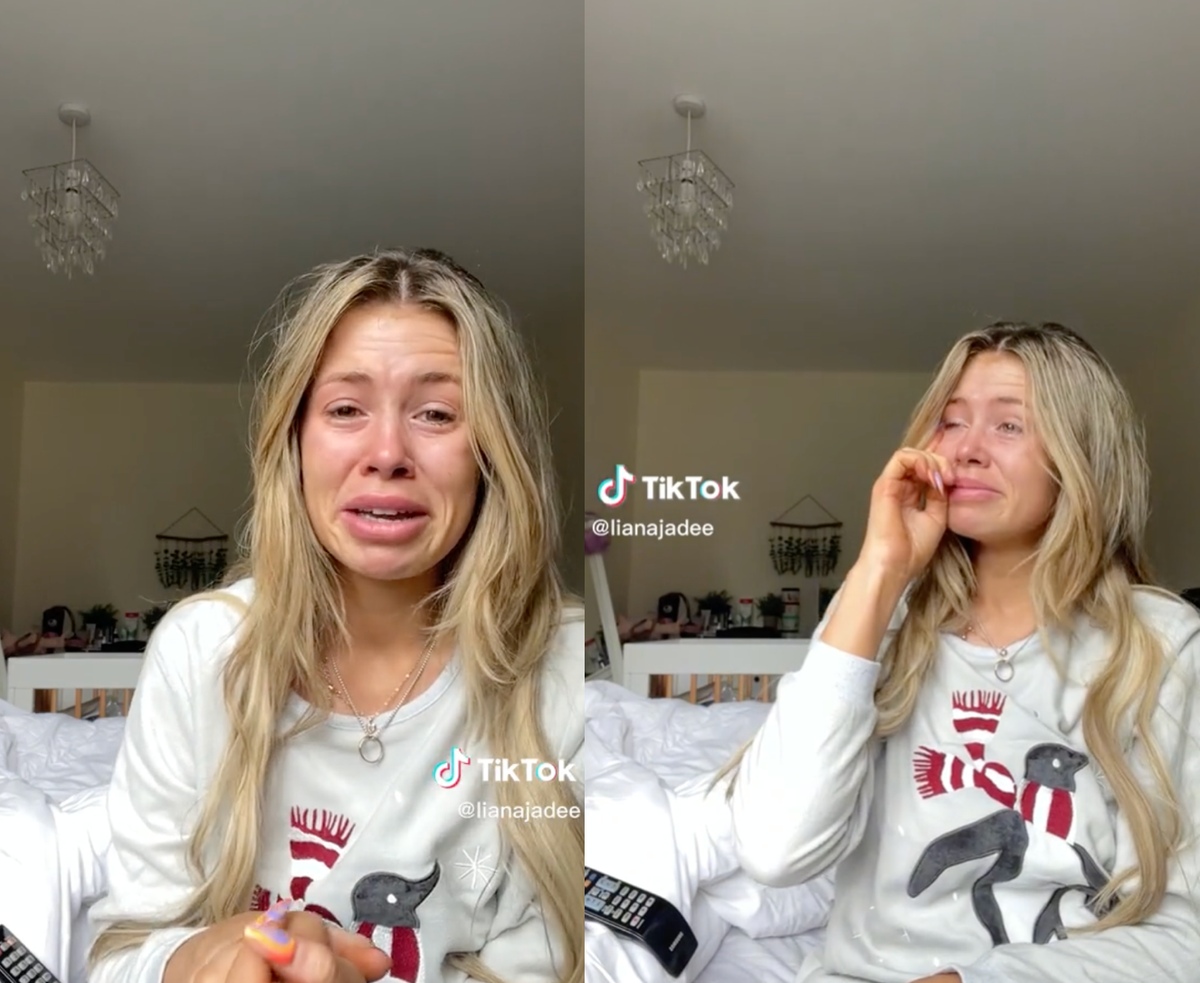 Influencer Liana Jade has shared her emotional reaction with fellow YouTubers who have recently poked fun at unusual baby names.
Jade and her partner Connor Darlington have more than two million subscribers on YouTube, where they frequently post videos about their relationship and family. In July the couple announced the arrival of her sonKoazy, whose name is pronounced like "Cosy".
In a recent video posted to her TikTok, Jade addressed some of the backlash she's faced over her son's name, calling out YouTubers Matt and Abby for a recent episode of The unplanned podcastwhere they talked about baby names.
"No hate, but you may have seen the couple Matt and Abby," she said tearfully. "They talked about people giving their kids new, original names… They said how ridiculous some of these new, unique names were."
While the couple didn't specifically mention the name Koazy, Abby claimed in her video that some of the baby names that are "out there today" kind of "annoy" her, to which Matt agreed. Abby also claimed giving a child a name that had never been used before "couldn't be the Flex [people] think it is" and could be "a red flag".
In her TikTok video, Jade tearfully elaborated on how her child's name came about.
"Basically, our baby's name is Koazy, and I know it's not for everyone," Jade explained. "But people kind of pulled our context that we called him Koazy because he was cozy in the womb. No, it was a name we already had."
Admitting that the name felt even more appropriate during her pregnancy, the influencer explained, "When I got so heavily pregnant, people were like, 'Oh, it's cozy in your tummy.' And it kind of confirmed to us that we should call him that. Because we already had that name and people were pronouncing it."
After noting that it felt like her son's name was "intended," she also admitted that she "didn't try to name him anything for a flex." She then shared that she was "really upset" when viewers "ripped up" their baby's name in the comments of Matt and Abby's video.
"I knew not everyone would love the name, so I'm not going to sit here and defend it," Jade added. "Everyone has the right to their own opinion. But it's just different when this comment section is open to a video from such a big influencer where people, adult adults, are just sitting there slandering my baby's name."
She ended her video by highlighting what she would have considered if she ever posted her opinions on baby names.
"I think it's pretty cruel," added the influencer. "And if I was posting this video in person and I was voicing this opinion that I had, I would be very careful who is being credited and how that might affect other people."
Matt and Abby have now disabled comments on the TikTok video of their podcast where they discussed how "baby names are out of control in 2023".
As of March 14, Jade's video has more than six million views, with TikTok users in the comments showing their support for her and praising her son's name.
"Hey Liana Koazy is such a cute name don't worry the clan family probably loves the name lots of love to you Conor and Koazy," one person wrote.
"All that matters is that you and your partner love the name," he added island of love star Molly-Mae Hague, who recently gave her newborn daughter an unusual name: Bambi.
A third wrote: "I was teaching someone named Koazy and everyone absolutely loved it! I think it's super unique."
Other viewers continued to slam critics who made rude comments about Liana's baby name choice.
"You just said full grown adults. If they can't be an adult and respect your child's name, they're not worth the attention!!" one wrote.
"I really don't know how people can attack babies!! I LOVE unusual names and I think Koazy is such an adorable name!!" added another.
The Independent has reached out to Jade and Matt and Abby for comment.
https://www.independent.co.uk/life-style/health-and-families/unusual-baby-name-tiktok-boy-b2303126.html Influencer breaks down in tears after fellow YouTubers slammed baby's unusual name