News
Jama escalates the insult to the Jewish community and challenges Stiles
Get the latest from Brian Lilley straight to your inbox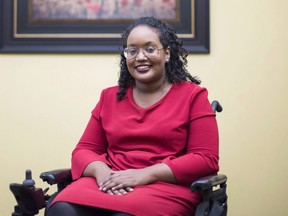 Article content
Sarah Jama should never have been elected to the Ontario legislature or any other elected office, but here we are.
The Hamilton Center NDP MP reiterated her anti-Semitic comments following the brutal Hamas terror attacks in Israel by pinning the post to the top of her page on X, formerly known as Twitter.
Article content
These are the comments that blame Israel for the Hamas attacks, the comments that called on NDP Leader Marit Stiles Jama to back off.
Instead of retiring them, she left them for the final week and pinned them early Wednesday to give them a more prominent place. B'nai Brith Canada said Jama's behavior showed how insincere her original apology was, while the Center for Israel and Jewish Affairs said Jama showed her apology was "nothing but empty words."
Article content
This is a direct challenge to Stiles and her leadership; These are Jama and those within the NDP who support Hamas and tell Stiles they will not be silenced.
"I don't even know what it really means," social media expert Stiles said with a laugh when asked if Jama pinned her post.
She tried to downplay the seriousness of the issue, claiming that any concerns raised were simply because the government wanted to divert attention from the Greenbelt story.
Recommended video
It's a nice dodge from Stiles, but it doesn't stick. At the start of the question period, she asked more than half a dozen questions about the Greenbelt. The government has been confronted and answered with Greenbelt questions by the media for months.
It is possible to look at two issues at once: the problem of Sarah Jama and her ongoing anti-Israel and anti-Semitic behavior, which deserves to be investigated and condemned. On Thanksgiving Day, she took part in a parade that raised the Hamas flag, where participants played the sound of the Israeli air raid siren warning of incoming missiles while chanting "Hide Zionists" and chanting anti-Semitic slogans Main streets were chanted in Toronto.
Article content
Again and again at this rally, which I followed firsthand, there were chants such as "There is only one solution: the Intifada revolution" and "From the river to the sea, Palestine will be free." The first chant is a call to violence just two days after the terrorist attacks, the second is an anti-Semitic slogan calling for Israel to be wiped off the map in order to achieve Palestinian freedom.
These are the words, slogans and actions that Jama condoned by participating in the march. These comments, chants and the like were not fringe elements of the march, they came from the organizers and were warmly and loudly supported by the participants.
If you stand with people who call for genocide against a group of people because of their religion or ethnicity, you do not belong in elected office at any level. This is what Sarah Jama did and this is what Marit Stiles is trying to demean and dismiss.
Article content
The next day, she published her statement on
"Especially against this background, the news from Israel and Palestine is deeply worrying. "For 75 years, violence and retaliation rooted in settler colonialism have cost far too many lives," Jama wrote.
This violence, these bloody attacks, well, according to Jama, the Jews expected it. That's the core of what she wrote and why so many people are upset.
Stiles asked Jama to retract that statement, but she didn't. She defied her leader and let the matter stand, and then when the Legislature began debating a motion to censure Jama for her comments, she upped the ante and placed the statement at the top of her page.
Stiles failed her leadership test last week and was pathetic and weak when questioned from the press box on Wednesday.
She loses control of her group to the NDP faction that practices anti-Semitism.