News
JK Rowling would "gladly" go to prison for transgender views
"Take the case to court," says the best-selling author, defending his position on the use of incorrect pronouns
Get the latest from Mark Daniell straight to your inbox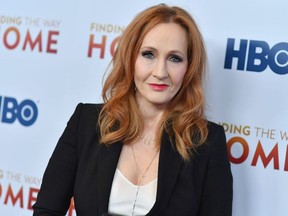 Article content
Harry Potter Author JK Rowling says she would "happily" be in prison than change her views on transgender women.
Article content
The best-selling author who is outspoken about transgender issues, shared a photo with Xwhich read: "Repeat after us: trans women are women," to which she replied "No."
Article content
One follower commented: "Vote Labor, get a two year extension!" seemingly referencing a report in the Daily Mail that intentionally calling someone the "wrong" gender pronouns could become a hate crime, punishable by a prison sentence in the UK.
"I'm happy to do two years if the alternative is forced speech and forced denial of the reality and meaning of sex," Rowling replied to X.
Article content
"Open the court case, I say. It will be more fun than ever on a red carpet," she continued, adding that she already knows which prison tasks she would be best at. "I'm hoping for the library, of course, but I think I could do just fine in the kitchen. Laundry could be a problem. I have a tendency to accidentally shrink/color things pink. However, I guess that won't be a problem if it's mostly gowns and sheets."
Rowling first faced backlash over her beliefs in 2020 when she criticized an opinion piece published on the website Devex that used the phrase "people who menstruate."
"I'm sure there used to be a word for these people," Rowling said tweeted. "Someone help me. Wumben? Wimpund? Woomud?"
Article content
Rowling then shared her beliefs when it comes to biological identity.
"If sex isn't real, same-sex attraction doesn't exist," she tweeted. "When sex is not real, the lived reality of women worldwide is erased. I know and love trans people, but erasing the concept of sex deprives many of the opportunity to meaningfully talk about their lives. It's not hate to tell the truth."
Rowling's posts drew the ire of Harry Potter fans and immediately found her at the center of a debate about identity politics.
In response, potter Star Daniel Radcliffe published an open letter about this Trevor Project website in which he proclaimed: "Transgender women are women."
"To all the people who now feel that their experience with this [Harry Potter] books have been tarnished or diminished, I am deeply sorry for the pain these comments have caused you. I really hope you don't completely lose what was valuable to you about these stories," he wrote in part.
Article content
Earlier this year, Rowling was removed from the Museum of Pop Culture in Seattle because of her views.
"There is a certain cold, heartless, joy-sucking being in the world of Harry Potter and this time it's not actually a Dementor," project manager Chris Moore wrote in one blog entry. Moore went on to criticize Rowling for her "support of anti-Semitic creators, the racial stereotypes she used when creating characters, the incredibly white wizarding world, the fat-shaming, the lack of LGBTQIA+ representation, the super-chill attitude towards bigotry and otherness" of those who don't fit into the standard wizarding world, and much more."
But Rowling says she didn't upset everyone with her comments.
"I have to tell you, a lot potter The fans were still with me," the author said on an episode of The JK Rowling witch trials Podcast. "And actually a lot potter The fans were grateful that I said what I said."
Article content
Rowling admitted that time will tell whether she was right or wrong in her beliefs.
"All I can say is that I thought about it hard, hard and for a long time and, I promise, I listened to the other side. And I am absolutely convinced that there is something dangerous about this movement and needs to be challenged."
She also said she wasn't worried her words would tarnish her legacy.
"I don't walk around my house thinking about my legacy," she said in a separate episode. "You know, what a pompous way to live your life, walking around thinking, 'What will my legacy be?' Whatever, I'll be dead. I'm interested now. I care about the living."
Recommended by Editorial
'Lost City's' Daniel Radcliffe on his role as a villain, his role as Weird Al and his return to 'Potter'

'I'll be dead': JK Rowling doesn't care that her 'transphobic' comments impact her legacy