Joe Cecchini leads the Sliding Team's new core coaching staff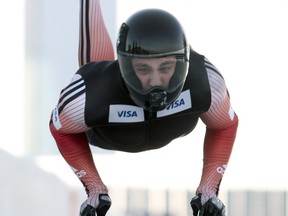 Article content
A new crew of coaches will guide Canada's best sliders head first down the hill and to the podium.
Article content
Bobsleigh Canada Skeleton announced Monday that Joe Cecchini will serve in the dual roles of head coach and technical director for the national skeleton program, with Kevin Boyer and Micaela Widmer taking on the role of assistant technical coach was appointed team manager and technical coach for the North America Cup Development Team athletes.
Article content
Cecchini was a member of the Canada national development team from 2006 to 2012 and represented Italy at the 2018 Olympics in PyeongChang.
"Skeleton is a unique and exciting sport, but we've been lacking qualified coaches and leaders in Canada lately," Cecchini said. "I am striving to change that and I will use my skills, experience and ongoing education to create stronger leadership, remove barriers, increase access and continually seek creative ways to further develop our sport ."
Article content
Boyer who was a member of the national team for a decade, will work with athletes in the World Cup, European Cup and North American Cup and will take on the duties of head coach for the 2024 Youth Olympic Games.
"As a recently retired athlete, my goal is to share what I've learned and experienced throughout my career to support the development of younger athletes and our elite athletes to excellence," Boyer said.
Widmer, who competed for Canada and Switzerland and is a past president of the Alberta Skeleton Association. He will coach and provide logistical support to Cecchini and Boyer. She worked with Cecchini for five years as program manager for all basic driving schools at the Whistler Sliding Center in British Columbia.
Article content
"We know from our own history that Canadian skeleton athletes can compete and win with the best in the world while enjoying their journey," said Widmer. "Working with the high performing staff and this coaching staff, my goal will be to instill in this new generation of athletes and coaches the belief in the system that they too can achieve their performance goals at all levels."
The new coaching staff will begin building their talent pool this fall through a series of recruitment camps, beginning September 16 in Ottawa. Camps are also planned for Calgary on September 30th and Richmond, BC on October 17th. All interested athletes please apply to Widmer at mwidmer@bobcanskel.ca.
The recruitment process is for athletes aged 14 and over who will be assessed on a series of physical test exercises including short sprints, standing long jumps and medicine ball throws.
dbarnes@postmedia.com
Check out our sports section for the latest news and analysis.
https://torontosun.com/sports/other-sports/joe-cecchini-heads-new-skeleton-crew-of-coaches-for-canadas-sliding-team Joe Cecchini leads the Sliding Team's new core coaching staff