Kate Middleton praises the Irish Guards' "glory sense of humor" during their St Patrick's Day visit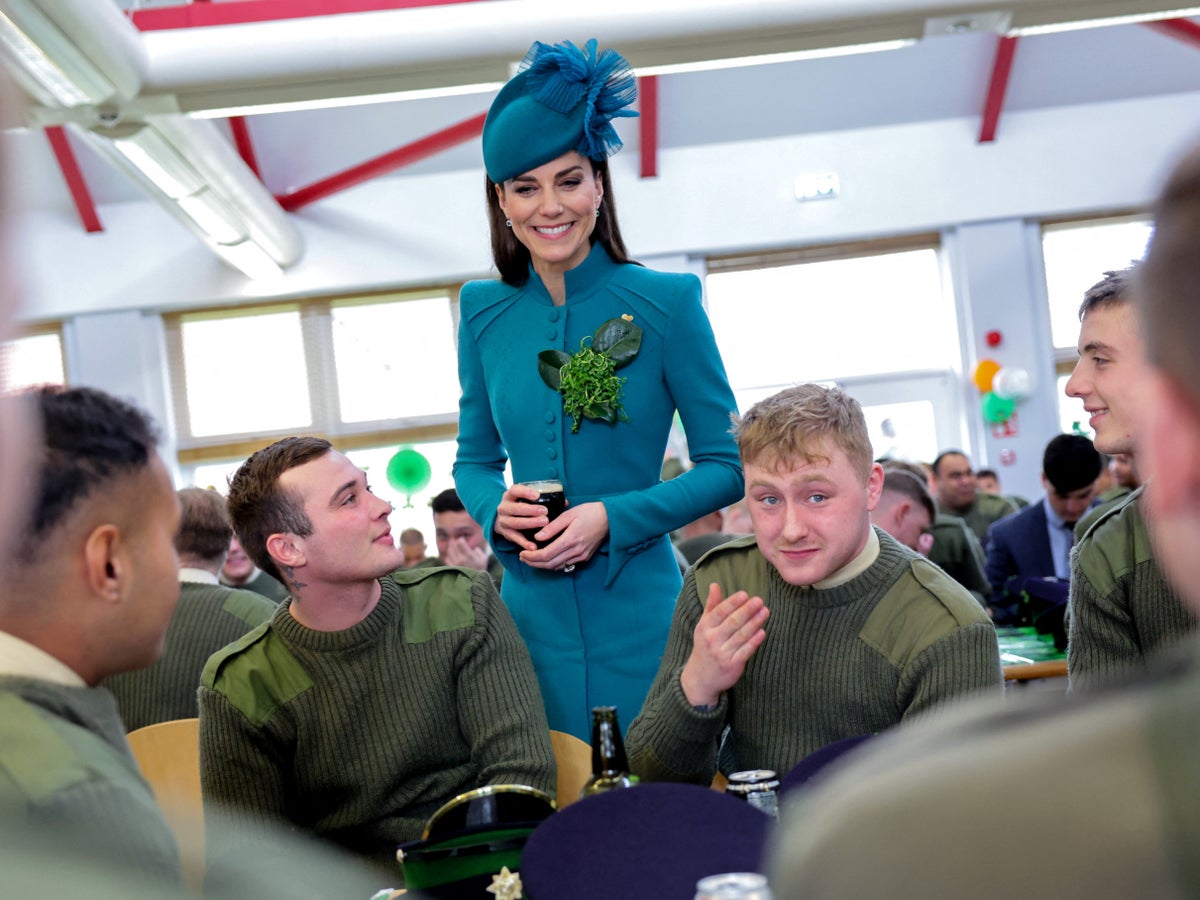 The Prince and Princess of Wales celebrated St Patrick's Day alongside the Irish Guards, with Kate hailing their "boundless, irreverent, glorious sense of humour".
William, who said he was "incredibly sad" to mark the end of his time as the regiment's colonel, was joined by Kate, who officially became colonel on Friday.
The couple took part in the St Patrick's Day Parade at Mons Barracks in Aldershot, Hampshire.
Kate, appropriately dressed in an emerald green outfit with matching heels, presented shamrock branches to the officers and guardsmen, as well as the Irish Wolfhound Regiment's mascot, Turlough Mor, aka Seamus.
As rain pelted the parade ground, the Irish Guards band played tunes including music from Bill Whelan's Riverdance.
In a speech, William said: "While I am delighted to be here to celebrate St. Patrick's Day with you once again, I am incredibly saddened to deliver this speech as it truly means that my time as yours Colonel expired is the end.
"It was one of the greatest honors of my life to hold this title; I'm proud of everything it stands for – just as I'm immensely proud of each and every one of you."
He added: "It's also no secret that during my time at Sandhurst I had a potential officer visit in the Irish Guards, an experience that has placed this battalion high on my personal wish list.
"Operational reasons alone prevented me from spending my years on the front lines with The Micks.
"I have, however, enjoyed every opportunity to visit you – I only wish the opportunities had been far more frequent.
"From practices and range days here in the UK to training sessions abroad – like Kenya did in 2018 – I have such vivid memories of witnessing what you do so brilliantly on the field."
Of his wife, the prince said, "I may step aside, but in Colonel Catherine you have a dedicated, focused, and already incredibly loyal 11th Colonel.
"As you serve together in the years to come, know that I will continue to watch you with great pride to have been one of you."
Kate followed William to the microphone and said: "I really couldn't be prouder to be standing here in front of you today. "It really is a true honor to be your Colonel. I'm here to listen to you, to support you, and to support you in everything you do—it's a responsibility I don't take lightly.
"Last week I took the opportunity to visit some of you on Salisbury Plain to see your inspiring work for myself.
"The day was bitterly cold and while showing off your skills to another visitor was probably the last thing either of you wanted, all I saw was enthusiasm, pride and incredible dedication.
"I was very impressed by your insistence that nothing is as bad as it seems and most importantly by your boundless, irreverent, delightful sense of humour. That's what makes you who you are and that's what makes the Irish Guards unique.
"I look forward to spending more time with you and your families and seeing your commitment to duty and service in all you do. Before I close, however, I would like to thank Colonel William. He always spoke of his passionate pride in this regiment. I know he will continue to support us all in our work."
The parade ended with a royal salute and a parade where Kate, as the new Colonel, accepted the salute. After the parade, the princess was presented with flowers by Aoife Wigley, six, and her sister Alice, four.
The couple also met the Irish Guards Association, made up of former members of the Irish Guards.
The visit ended indoors in a crowded hall, where William took a pint of Guinness and Kate drank half a pint. The pair mingled with the Irish Guards and chatted about life in the army and Saturday's big rugby clash between Ireland and England.
https://www.independent.co.uk/life-style/royal-family/kate-middleton-irish-guards-st-patricks-b2303065.html Kate Middleton praises the Irish Guards' "glory sense of humor" during their St Patrick's Day visit