News
KINSELLA: Enough with Canada allowing the open promotion of terrorism
This has gone on too long and it's only going to get worse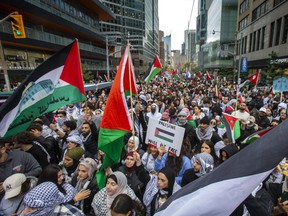 Article content
It "brings progress."
Article content
That's what a Canadian union leader said the day after Hamas massacred hundreds of Israeli men, women and children. "Progress."
Article content
Three student unions at a major Canadian university described Hamas' terrorism as "a strong act of resistance" – and called Israel a "so-called" country. "Resistance."
Hamas is being celebrated in street protests across the country. In Toronto they waved the flag of Hamas, a listed terrorist group in that country. Someone else brought the flag of the Taliban – in the fight against which 158 Canadians lost their lives not long ago.
They played recordings of the sounds of Hamas rockets landing and made fun of "Zionists." They sang joyfully about an ancient massacre of Jews.
Yes, there were rallies in support of Israel and its people. But since Hamas' mass murder of more than 1,300 Israelis on October 7, there have been too many clear expressions of support for terror. Here in Canada.
Article content
Because of murder.
Elsewhere you are not allowed to advocate murder and genocide. Britain's Home Office has drawn up plans to expel students and others who express support for Hamas. France's interior minister has banned all public demonstrations in support of Hamas.
In Canada, apart from a few newspaper editorials and performative condemnations from politicians, we have done nothing. Zero. Instead, we have allowed the deliberate and open promotion of murder.
Enough.
We are a country of laws. We are a country of laws with reasonable limits on what people can say. Just as it is a crime in Canada to threaten, kill or harm another person, it is also a crime to incite hatred.
Section 319 of the Canadian Criminal Code states that one cannot intentionally promote hatred against an identifiable group such as Jews. Section 318 makes it a crime to promote genocide against an identifiable group. Like Jews.
Article content
Recommended by Editorial
WILLIAMS: Israelis and Palestinians must rise above cruelty and coexist

GOLDSTEIN: The West will only support Israel for a limited time

LILLEY: Supporters of Hamas' barbaric actions must be avoided
This author was part of a successful attempt to prosecute, convict and jail two Toronto men who intentionally promoted hatred against Jews and women. It was overdue and it was the right thing to do.
We must now do the same to those who advocate for the murderous subhumans that make up Hamas and its ilk. We must make the deliberate promotion and defense of terrorism illegal.
Don't we already have such a law, some people ask? Well, we used to. Previously, there was Section 13 of the Canadian Human Rights Act, which prohibited communications that "may expose any person or persons to hatred or contempt."
Article content
It was a non-criminal sanction that mainly involved fines. It was a sensible law that worked. But Stephen Harper's government stupidly and cowardly abolished it. The only thing left to combat expressions of hate is criminal law.
Following the Tories' abolition of Section 13, there were violent expressions of hatred, particularly online. Justin Trudeau's government has made no serious effort to restore it. And as we have seen in recent days, too many Canadians have taken this as license to espouse terror.
Freedom of expression is precious, yes. However, Sections 318 and 319 of the Penal Code require the consent of the Attorney General to initiate a prosecution. That's a high bar. We could do this for a new law that prohibits the intentional promotion of terrorism and terrorist groups.
This would protect Canadians' constitutional right to freedom of speech and expression. But it would also ensure that we finally have a tool to put an end to expressions of support for terror.
It's time. This has gone on too long and it's only going to get worse.
Enough.