News
KINSELLA: Jews are always aware that a group might try to kill them – again
Love and support from friends "means everything" to the Jewish community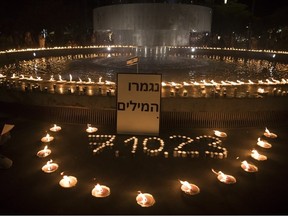 Article content
Josh Gilman is a writer. And the whole world needs to see what he wrote.
Article content
And in recent days, much of the world has done so.
Article content
Josh is Canadian, a father, a communications specialist and previously worked in politics. The party he belonged to is actually irrelevant. What he wrote is relevant because he wrote it from his heart. As a human being. As someone who believes in humanity.
And as a Jew.
His blogged essay titled "Why you may have lost all your Jewish friends this week and didn't even know it" – is simply extraordinary. And as already mentioned, it went all over the world.
Normally, he told me, his blog posts are seen by a few hundred people, mostly family and friends. But this one? The number of views is now approaching a million – half a million in the United States alone and thousands more in countries as far away as Ireland, Sweden and South Africa. And of course Israel.
Article content
Recommended by Editorial
SAPERIA: The Jews are not doing well

KINSELLA: Enough with Canada allowing the open promotion of terrorism

KINSELLA: The debate over whether to call Hamas fighters or terrorists is a waste of time
Unfortunately there isn't enough space here to quote everything Josh wrote. If you are online you will find a link to everything Here. Read it. The core of it can actually be found in these passages:
– "As a Jew, you are always aware that there is a large population in the world that wants to kill you." Even if they don't try now, you read history and see that at least every few generations a group tries to kill all or at least many Jews. We may like your posts that say "Never Again," but we never quite believe it."
Article content
– "Did you know that this is a category of friends that every Jewish person has in mind? Who would I run to? Who would hide me? We don't ask ourselves if; we wonder when. Because we know that it will happen again somewhere, whether it is actually us or whether it is our brothers and sisters in Israel, in France or in Pittsburgh."
– "The greatest comfort to my soul this past week was seeing friends and old colleagues posting notes of support. It really means the world. It is not too late. But think about it carefully because it's not a game. If you read this and choose to get in touch, you are choosing to take a public stand."
Most of us don't ever have to wonder if someone will come to kill us one day. Or wonder who will take us in so we can survive. But Josh did it. Having his family and friends. Jews have.
Article content
Josh and his family have temporarily moved to the US for work reasons – I won't say where – but he agreed to answer some of my questions about what he wrote. He told me that he began writing his essay as a way to "process my own thoughts and feelings." He sent it to Jewish friends. They said it also reflected their feelings.
"The response," Josh said, "was overwhelming. I received messages from all over the world. From grandmothers in Germany to writers in Hollywood, from almost all parts of the world. Jews and non-Jews."
He is proud and he should be. But how is he feeling these days?
"Different waves," he says. "Waves of sadness over what happened. Waves of concern about the ongoing war. Waves of resistance (that) the terrorists and murderers will not win – and we will win and prosper."
Article content
He takes a break. He mentions the so-called "Day of Jihad" last Friday.
"That night, my youngest daughter cried in the middle of the night… I just held her, stared at her beautiful face and thought of every Jewish baby that was murdered. And I was overwhelmed both by gratitude for holding my beloved daughter and by grief for every family destroyed in Israel."
I want to continue quoting this amazing young man, but I've run out of space. I ask him if he has any final words, something he would like to share with non-Jews.
"To my non-Jewish friends, you simply have no idea how meaningful your words of love and support are," he mused. "It's never too late to reach out, and that means everything."
So here we go, friends of Israel and the Jewish community.
Listen to Josh Gilman – and get in touch.