Kyle Walker-Peters wants more to be done to prevent racist attacks on social media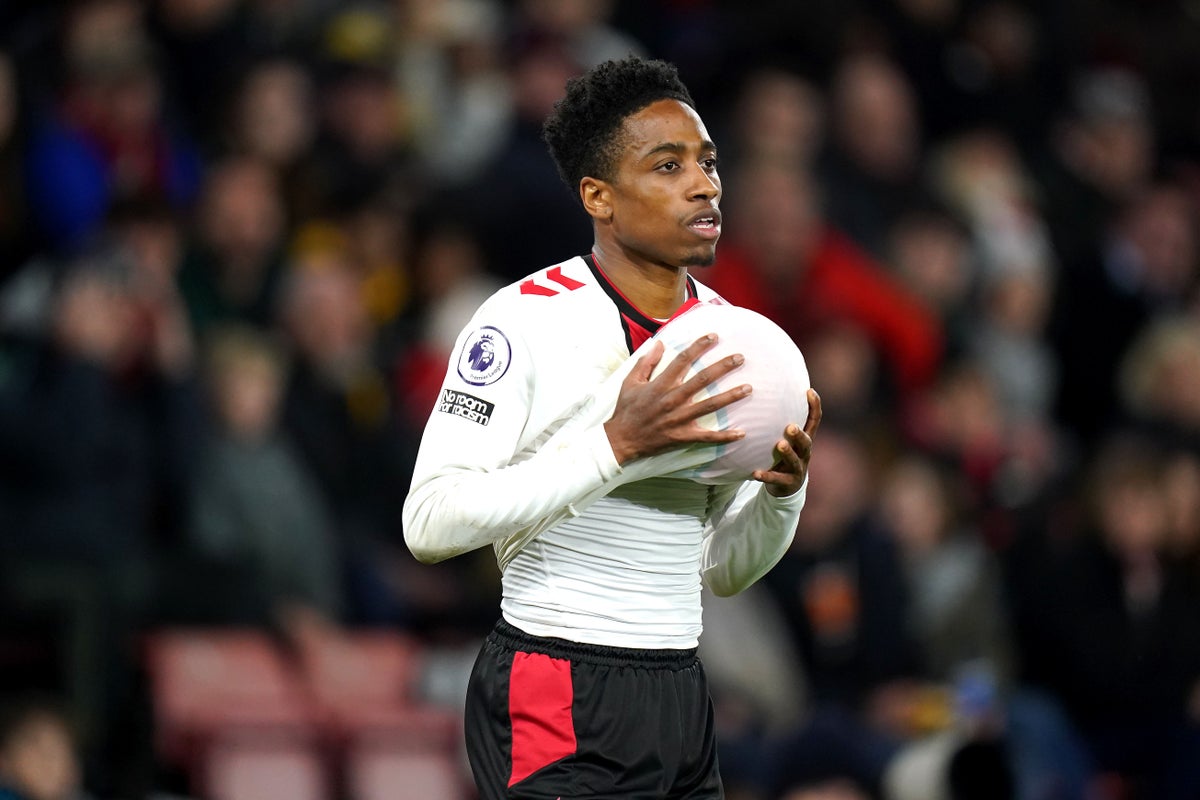 Kyle Walker-Peters says more needs to be done to prevent racial abuse online.
Southampton called for action from social media platforms after calling the police after the defender was abused online.
The full-back was attacked with a series of attacking replies, including monkey emojis, to an Instagram post after Sunday's 0-0 Premier League draw at Manchester United.
A racist term was used in relation to United substitute Alejandro Garnacho, who was left writhing in pain after a challenge from the Saints player late in the game.
https://www.instagram.com/p/CpvQZzfNaAi/?igshid=MDJmNzVkMjY=
Taking to Instagram, Walker-Peters said: "Proud of a hard-earned point in a tough game at Old Trafford. Especially since we feel we could have had a bit more.
"It was a great effort from everyone. Most of all, thank you to the traveling supporters who made the journey to keep us moving forward.
"On a personal level, the racial abuse I have suffered is something that no player or person should ever experience.
"We have to get better and that's more than just football. More needs to be done to prevent this from happening again.
"Thank you to everyone who has since sent messages of support. I appreciate each and every one of you.
"Finally to @garnacho7, it would never be my intention to hurt a fellow worker. I wish you a speedy recovery and hope to see you back in action as soon as possible."
An official statement from the Saints read: "In February 2021, the club issued a statement regarding one of our young players who was subjected to heinous racial abuse following a game against Manchester United.
"More than two years later we find ourselves in exactly the same position: disgusted and disappointed by the behavior of those who deign to abuse gamers online because of their skin colour.
"Equally frustrating is the lack of meaningful action in these two years from the social media platforms that allow such hatred to spread and fester.
"As we have said before, Southampton Football Club fights every day to remove such people from our sport and our community to protect our players, our staff, Southampton fans and those football fans around the world who value diversity recognize and celebrate what makes football special.
"We have passed the messages in question to Hampshire Police in accordance with our normal processes in dealing with these cases.
"We also reported these posts to the social media platforms involved.
"We can only hope that they will finally draw attention to what remains a major problem and that we will not repeat those words in two more years."
Southampton's stance was backed by the Football Association.
A statement on the FA's official Twitter account said: "We strongly condemn the online racist abuse that continues to target players throughout our game.
"We urge social media companies and government agencies to take the utmost action, and we will not stop challenging this issue until tangible changes are made."
Meta, which owns Instagram, is in contact with Southampton over the matter and has removed the offensive comments from Walker-Peters' account.
A spokesman said: "We don't want any racist abuse on Instagram and have removed a number of comments for violating our rules.
"Over the past few years, we've introduced several ways to protect people from abuse, including our Hidden Words feature, which allows people to filter offensive comments and DMs – and we've recently started enabling this by default for people with Creator Accounts.
"No one will fix this overnight, but we will continue to work to protect our community from abuse and respond to valid legal requests to assist law enforcement investigations."
However, anti-discrimination organization Kick It Out has urged social media companies to go further in the fight against racist abuse.
A statement said: "We are appalled to hear reports of online abuse following Southampton FC's Premier League game at Manchester United this weekend.
"Last month we reiterated our call for social media companies and the government to act quickly to introduce meaningful reforms that protect those who play, watch and work in football. And yet the silence on these platforms remains deafening.
"Social media companies urgently need to implement meaningful reforms to protect people online, including a default option for hate filters to be 'on', meaning people will only see that content if they turn the filter 'off'. We know social media companies have the technology to implement these measures, and yet they don't seem ready to act. Until then, the sad reality is that online abuse will continue to run unchecked through the game.
"Kick It Out will continue to work closely with our partners across football to support victims of discrimination and ensure perpetrators are held accountable for their actions."
Meanwhile, Hampshire Police confirmed they had been asked to investigate a complaint from the Saints.
A spokesman said: "We are working with Southampton FC following a report of racial slurs directed at a player following his game against Manchester United. We are in touch with the club and investigations into this matter are ongoing.
Southampton took similar action in February 2021 after midfielder Alex Jankewitz, then 19, received offensive messages online after being sent off in a 9-0 mole against United in his first Premier League start.
https://www.independent.co.uk/sport/football/kyle-walkerpeters-southampton-alejandro-garnacho-meta-instagram-b2300097.html Kyle Walker-Peters wants more to be done to prevent racist attacks on social media