LACKIE: Bank of Canada holds interest rate, Canadians breathe easier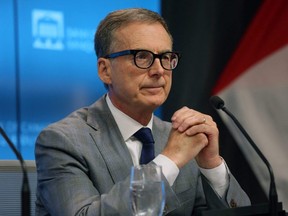 Article content
The number of people holding their breath ahead of the Bank of Canada's latest interest rate announcement was both surprising and somehow not surprising at all; in fact, it was completely enlightening.
Article content
Even if you had asked people on the street a few years ago, chances are few would have even batted an eyelid at the name, let alone been able to tell you who Tiff Macklem was .
Article content
What a difference a few years make.
Fast forward to the present and I was literally listening to the Starbucks baristas making my coffee and placing bets on what would happen last Wednesday while chatting as they made their way through the morning lineup.
All eyes were on the Bank of Canada's Governing Council, awaiting news on whether the pain and pressure would continue to mount.
The premiers wrote letters to put public pressure on the bank, citing the magnitude of what Canadians are currently struggling with. Armchair economists turned to X, formerly known as Twitter, to argue why or why not another rate hike is a sure thing. And across the country, even those of us who had given up trying to predict what was next were waiting for news.
Article content
When the news broke that interest rates would remain unchanged for the time being, you could almost hear the collective sigh of relief.
"Given recent signs that excess demand in the economy is easing and given the delayed impact of monetary policy, the Governing Council has decided to keep the key interest rate at 5%," the bank said in a statement.
Those who had hoped that the rate hike campaign was finally over would have been disappointed as the bank left the door open for further rate hikes in the future, citing concerns about inflationary pressures.
But should that have been a surprise? We saw what happened after the conditional hiatus was announced last winter. Even if the Governing Council had decided that future hikes carried more risk than benefit, it would be pointless to say so, otherwise it would further fuel the inflation we are battling.
Article content
When the housing market recovered last spring, it was in no small part due to improving consumer sentiment following news of the conditional pause. Add to this the decline in mortgage rates due to the prospect of a banking crisis in the US, and the situation came to a head again, stunning us all.
The bank certainly wouldn't make that mistake again – a hawkish tone was to be expected.
LACKIE: Quotation dates nowadays promise more risk than profit

LACKIE: All mortgage holders should plan to renew
It's hard to imagine what's next if the climbs continue – it looks like there are cracks everywhere, and of course that's the point. But how families are going to make it to the other side if this goes on much longer is a real question.
While we're still miles away from the 18% mortgages that baby boomers could endure, as our home prices are astronomical and debt levels are absolutely staggering in comparison, Canadians probably can't take much more.
https://torontosun.com/opinion/columnists/lackie-bank-of-canada-holds-rate-canadians-exhale LACKIE: Bank of Canada holds interest rate, Canadians breathe easier