LACKIE: May brought some momentum back to the real estate market
But we're still stuck in a housing crisis, and governments at all levels are showing little sign of anything big changing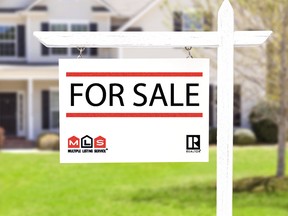 article content
Welp, that wasn't a mirage – May was truly a buoyant month for Toronto real estate.
article content
Look no further than the Toronto Regional Real Estate Board's May market statistics, released Friday, to confirm what many of us on the ground were saying this spring: Buyers are back.
article content
While prospective buyers waited most of a year, and probably hoped to wait out the uncertainty surrounding interest rates and falling home values, this spring brought them back in significant measure.
With 9,012 sales reported through MLS, May saw a 24.7% increase in transactions year-over-year. This seemed particularly notable given that May 2022 wasn't all that bad – last year's decline in transactions largely started as the summer market got underway (and buyers saw their pre-authorizations expire due to low interest rates).
article content
But there's business out there, even though new listings are down 18.7% over the same period. Nothing creates more competition than scarcity, and it's still frustratingly difficult to get hold of a good product.
Prices were up a seasonally adjusted 3.2% month-on-month at an average selling price of $1,196,101.
LACKIE: Busy springtime in Toronto real estate

LACKIE: The gap between the haves and have-nots is widening as the government shrugs

LACKIE: Make room for multiplexes in Toronto
Anecdotally, of course, we all heard stories about bidding wars, aggressive bids, and bargain bids for any homes. In some cases, we observed behavior consistent with the peak of the market. I've seen it myself with first time buyers who have faced fierce competition trying to get a home for their family in Markham.
article content
I'm not exaggerating when I say that almost overnight, shabby townhouses with horrible layouts and zero staging suddenly fetched prices akin to single-family homes with two-car garages.
It was confusing.
How is it possible that in a matter of months things have gone from a buyers market we've been seeing lately to utter madness?
According to TRREB chief market analyst, "condo demand has increased significantly in recent months." Many homebuyers have recalibrated their housing needs in the face of higher borrowing costs and are returning to the market. In addition, strong rental growth and record-breaking population growth due to immigration have also fueled an increase in home sales. The supply of deals has not kept pace with sales so we saw upward pressure on sales prices in the spring."
article content
Of course, the incipient cut in five-year fixed rates has certainly given those fearing the proverbial falling knife some confidence, and the subsequent surge in activity signals the notion that the worst may now be over.
And now that those same interest rates are rising again, as bond yields price in a rate hike at the Bank of Canada's summer meetings, some of that fire is sure to subside. I brace myself for the strong possibility of another slow summer.
But make no mistake, we're still in the midst of a housing crisis, and governments at all levels are showing little sign of anything big changing. Wringing of hands and platitudes are all we can expect.
Housing remains scarce and deeply unaffordable, and there is no threat of total economic catastrophe. There's no good reason to think that's going to change any time soon.
https://torontosun.com/opinion/columnists/lackie-may-brought-some-heat-back-to-housing-market LACKIE: May brought some momentum back to the real estate market