LaLiga boss Tebas 'ashamed' of Barcelona corruption allegations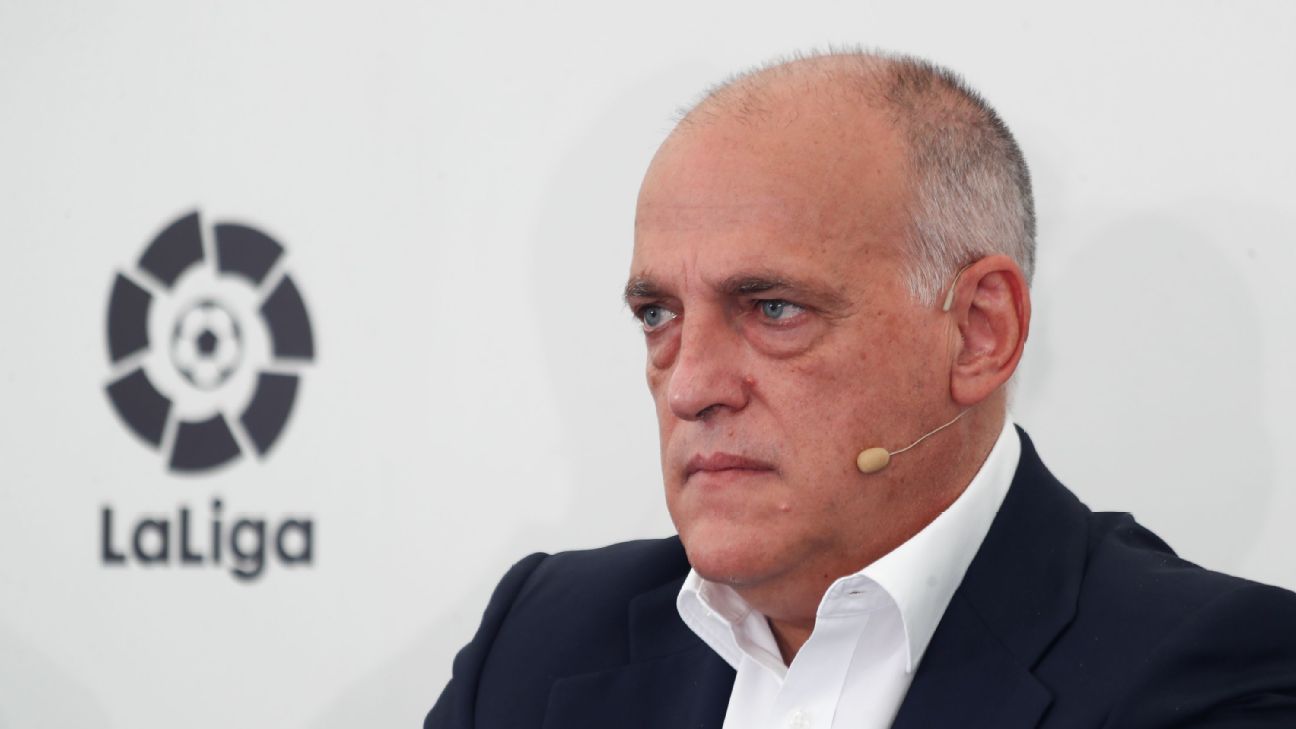 LaLiga president Javier Tebas is ashamed of "the worst reputation crisis" he can remember in Spanish football as Barcelona face corruption charges over payments to the former refereeing committee vice-president.
Prosecutors claimed last week that Barca had requested preferential treatment from match officials as part of an agreement in which they paid around €7m to Jose Maria Enriquez Negreira between 2001 and 2018.
– Stream on ESPN+: LaLiga, Bundesliga, more (US)
The case has raised tensions across Spain as supporters across the country protested matches over the weekend and threw counterfeit banknotes onto pitches.
Barca say they paid Negreira for 'technical reports on refereeing' but Tebas is unconvinced by their reasoning and says the Catalan club and its president Joan Laporta are not handling the situation well.
"I am ashamed that we still do not have a convincing explanation from them," This was announced by Tebas Movistar on Monday. "In fact, we don't have any statement from Barcelona and it will take some time to sort that out.
"I don't remember a time with such a reputational crisis as this. We have to see this through to the end. Payments have been made and Barcelona have recognized that. It's unusual."
"It is understandable the tensions that have arisen. We are not only risking Barca's reputation, but also that of the competition.
"What we have is an initial statement from Barcelona saying that everyone [the other clubs] did and it is now clear that that was not the case.
"Every time I read or hear something, I get even more worried. I don't think Barcelona's position is appropriate. They play the victim and I don't think that's the most appropriate way to resolve this situation."
– Lowe: Laporta's relative silence speaks volumes
– Marcotti: Barca's La Liga title quest has been marred by problems off the pitch
Meanwhile, Spain's Higher Sports Council (CSD) confirmed that they will join the prosecutor's lawsuit against Barca over the payments to Negreira.
Real Madrid announced on Sunday that they would join the case 'in defense of our legitimate interests' after becoming the only top club not to sign the first LaLiga teams' statement condemning Barca's actions.
At an event on Monday, Barca boss Laporta continued to protest his innocence and vowed to crack down on those trying to tarnish the club's image.
"Barca are a club of values," he said. "We don't use that word to look good, but because values ​​are an integral part of our sporting excellence. That's why Barca are admired and recognized around the world.
"It also means that others, motivated by envy, are trying to undermine our reputation with malicious campaigns. There have been a series of fierce attacks aimed at tarnishing the club's image that have nothing to do with reality.
"You can be sure that the board will defend the club with all their might. I really want to face all these shameless people trying to tarnish the club's image."
https://www.espn.com/soccer/barcelona-espbarcelona/story/4900445/laliga-president-javier-tebas-ashamed-of-barcelona-corruption-charges LaLiga boss Tebas 'ashamed' of Barcelona corruption allegations