LEDREW: Trudeau's super ego personality party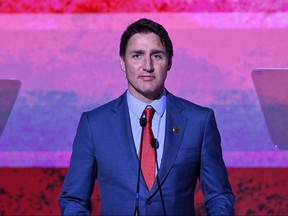 Article content
As Justin Trudeau continues his eight-year mantra of creating a strong economy, successfully fighting climate change, helping the middle class get richer, creating a better society, more and more Canadians are realizing that it's all just a lot of nonsense, Columnists and pundits are beginning to suggest that SOMEONE should tell the Prime Minister that he has to go, for the good of Canada, his party and himself.
Article content
There's a good chance that Mr. Super-Ego will ever take such advice and resign, but there's even less chance that anyone will tell the Emperor that he's not wearing clothes.
Article content
Trudeau has built a party based solely on personality politics and has had very little success. He has surrounded himself with sycophants and obsequious advisers who would never dare tell the Prime Minister the truth, even if they themselves knew it.
The former Liberal Party, which Justin largely disbanded, was just the thing to tell a leader when it's time.
Iona Campagnolo did the job for Justin's father in the early 1980s.
And I did it with Jean Chretien after he had three successful elections and nine years of solid and credible government.
Article content
On July 16, 2002, I went to Ottawa to meet with the Prime Minister.
After a few very hearty minutes of political gossip, I reminded the Prime Minister of my duty as set out in the party constitution to call a party conference, and at the party conference there would be one question on the ballot paper – whether the party wanted a leadership convention.
RECOMMENDED VIDEO
I told the Prime Minister that he would lose such a vote.
Well – the fat was on fire.
I won't go into the details, but the Prime Minister vigorously defended his record, which I disagreed with, but simply set out my prediction of such a vote, province by province, and stated that it was time.
I suggested to the Prime Minister that he discuss this with his political advisers, of which I was not one – I was the elected president of the party.
Article content
As I drove back to Toronto, I spoke on the phone with Senator David Smith, who had orchestrated Chretien's election victory. He knew in advance about the nature of my visit and had agreed.
Others in the PMO knew about the purpose of my visit to the Prime Minister and I also informed them about the discussion.
In August, Jean Chretien knew it was time to resign and told me so (why it took more than a year for the Congress is up to the book).
Like an ancient mythological lesson, the proud Justin rejected and offered blunt advice to those with the courage and wisdom that would normally serve as a leader. He should be so lucky now.
– Stephen LeDrew is a former president of the Liberal Party of Canada and host of the LeDrew Three Minute Interview
https://torontosun.com/opinion/columnists/ledrew-trudeaus-super-ego-party-of-personality LEDREW: Trudeau's super ego personality party