News
Letters to the Editor, October 20, 2023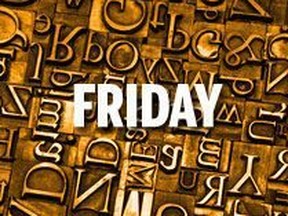 Article content
ALBERTA STRONG
Article content
On "Trudeau rebukes Smith over retirement debate, vows to defend CPP stability" (The Canadian Press, Oct. 18): Justin Trudeau wants to continue the institutionalized injustice of a CPP system in which Albertans pay disproportionate contributions and other provinces benefit from the hard work of Albertans like pigs at a feeding trough. While Eastern Liberal voters urged the prime minister not to let their prized Alberta cash cow escape, Trudeau has now attacked Alberta's plan to end this injustice by keeping Albertans' money for Albertans in Alberta. He stated: "We will not stand idly by while anyone tries to weaken pensions and reduce Canadians' retirement income." I believe this is a declaration that the Prime Minister will allow all Albertans to continue to work in economic slavery to other Canadians want. Albertans, roll up your sleeves, throw down your chains, because our days of working as economic slaves for other Canadian provinces must end!
Article content
Chris Robertson
Stony Plain, Alta.
(Alberta Premier Danielle Smith makes a compelling argument and isn't intimidated by Trudeau's insults.)
NO DISTRACTIONS
That all the columnists at the Sun newspaper chain are denouncing Hamas and blaming Palestinian supporters while at the same time somehow being supporters of Hamas is beyond strange, just a day or two before Israel unleashes an even larger military attack on Gaza. We can't do anything about the dead now, but we can still try to save the living. The Sun's columnists seem to be deliberately trying to divert people's attention from what is really important: finding a path to lasting peace in the Middle East. Everyone should now focus on saving the innocent and not on a small number of people expressing hateful views.
Article content
Karlis Poruks
Edmonton
(We're covering the reality of what's happening here in response to the war. Would you like us not to?)
Release the hostages
If Hamas wants the power back on, water and food available to reach civilians in the Gaza Strip, all it has to do is release the hostages. Israel has made this clear. Remember, we don't negotiate with hostage takers or terrorists, unless your Biden then give them $6 billion for a few Americans.
Robert Skinner
Uxbridge
(We pray for the safe return of all hostages. And how should Israel negotiate with a murderous terrorist group that wants to wipe them out?)