News
Liberals, NDP and Bloc shield CBC leaders from questions about terrorism
Liberal MPs join forces with NDP and Bloc to prevent committee from asking CBC executives why they aren't naming Hamas terrorists.
Get the latest from Brian Lilley straight to your inbox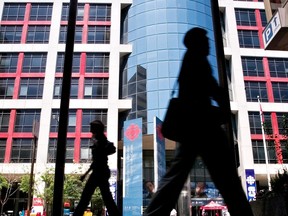 Article content
A coalition of political parties came together Tuesday to protect the CBC from scrutiny over its policy of not designating Hamas a terrorist group.
Article content
Conservative MP Melissa Lantsman condemned Liberal, NDP and Bloc Quebecois MPs who voted to bar CBC executives from having to appear before the Public Accounts Committee to face tough questions posed by their reporters politicians.
Article content
The Conservatives had sought to hear from CBC President Catherine Tait and George Achi, the Crown corporation's director of journalistic standards. It was Achi who issued the memo to all CBC journalists in the early hours of the shocking Hamas terror attacks that began over Thanksgiving weekend.
"Despite the brutality of Hamas' crimes, Canadians were shocked to learn that the CBC has discouraged its journalists from using the word 'terrorist' when referring to Hamas. "The CBC refuses to do this, even though Hamas has been recognized as a terrorist organization by the Canadian government for over 20 years," Lanstman said after the Coalition of the Unwilling ensured CBC was protected from unpleasant questioning.
Article content
Hamas was designated a terrorist group in 2002 under the liberal government of Prime Minister Jean Chretien. No government has changed the designation since then, but CBC refuses to use the term to describe Hamas for what it is – a terrorist group that killed babies, the elderly, unarmed concertgoers, raped women and took hostages.
Recommended video
"Do not refer to militants, soldiers or anyone else as 'terrorists.'" "The concept of terrorism remains highly politicized and is part of history," Achi told CBC journalists as the attacks were still ongoing.
"Even if we quote/excerpt a government or source that refers to fighters as 'terrorists,' we should add context to ensure the audience understands that this is an opinion and not fact. This includes statements from the Canadian government and Canadian politicians."
Article content
Hamas is a terrorist organization under Canadian law. If you support them you will be prosecuted. Is this an opinion or a fact for Achi?
That's the kind of question MPs can't ask Canadian state broadcaster executives, thanks to the work of the Liberals, NDP and Bloc.
Some might argue that politicians shouldn't tell the media what to do. This is the point that some MPs made when trying to justify the Conservatives' blocking of this move.
But considering that the total cost to taxpayers for CBC is nearly $1.5 billion per year, our elected officials should be able to ask questions of their leaders. This was not a call to put journalists in the hot seat, but an attempt to put well-paid and highly political executives like Tait in the hot seat.
Article content
Liberal, NDP and Bloc MPs were pleased to call the CEO of energy company Suncor to Parliament this week. They grilled Suncor CEO Rich Kruger about coal on Monday because they didn't like his comments on sustainability and his decision to invest more in the oil sands.
This was fun for the coalition of the unwilling, they enjoyed upsetting the CEO of an oil company just as they enjoyed being tough on grocery store CEOs. But asking the CEO of CBC, who earns a public salary of more than $400,000 a year, is going too far.
Recommended by Editorial
LILLEY: Supporters of Hamas' barbaric actions must be avoided

LILLEY: The NDP's ongoing problem with anti-Semitism is resurfacing
CBC Editor-in-Chief Brodie Fenlon issued a lengthy statement of their policy last Monday, saying they would not use the words terror, terrorism or terrorist without attribution "because these words are so full of meaning, politics and emotion that they can." . "ultimately be an obstacle to our journalism."
He even explained that CBC's style guide urges calling the terrorist attacks of September 11, 2001, simply attacks.
Brazenly attacking civilians and tracking them down to further your political agenda is the definition of terrorism. It's simple, it's visible to everyone except the CBC and their protectors in the Liberal, NDP and Bloc parties.