LILLEY: The Johnston report wants us to ignore the reality of China
Trudeau says CSIS never told him what to do, but that's not their job
Get the latest from Brian Lilley straight to your inbox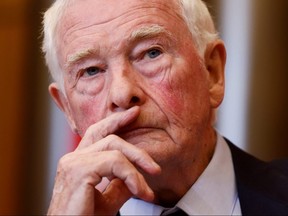 article content
Is it the job of the CSIS to tell the government what to do when they are briefed on the latest intelligence? One might think so based on David Johnston's report earlier this week.
article content
It has also been a line used by the government and its defenders. CSIS didn't tell us what to do, so no action was taken.
article content
So that we understand each other. It is not CSIS' job to tell the government how to act on the latest information, it is the government's job to make that decision. Trudeau said so himself when allegations surfaced that China had interfered in the nomination of former Liberal MP Han Dong.
"In a free democracy, it is not the job of an unelected security official to dictate to political parties who may or may not run," Trudeau said in February 2022.
What the Prime Minister said there is correct. It is not the job of security officials to tell politicians what to do, it is their job to inform those politicians. What the politicians do with this information afterwards is up to them.
article content
Now, however, Trudeau, based on Johnston's report, is trying to say that they did not have to act because they did not make "specific recommendations" when CSIS raised concerns about Dong's nomination.
"Irregularities were observed in Mr. Dong's nomination in 2019 and there are reasonable grounds to suspect that the irregularities were related to the Consulate of the People's Republic of China in Toronto, with which Mr. Dong has ties," Johnston wrote in his report.
Johnston also wrote that he had no evidence that Dong "was aware of any irregularities or possible involvement of the Chinese consulate in his nomination," but that was not the allegation either. The allegation was that CSIS communicated this to the Prime Minister or his office and did not use this information.
article content
"The Prime Minister has been informed of these irregularities, although no specific recommendation has been made. He concluded that there was no basis for ousting Mr. Dong as a candidate for Don Valley North," Johnston's report said.
So the intelligence said there were irregularities and most likely the People's Republic of China was involved, but Trudeau didn't act because the CSIS didn't tell him what to do.
Didn't he say that unelected security officials shouldn't tell politicians what to do?
CSIS collects information and makes it available to politicians. They don't tell politicians what to do. After scolding the CSIS earlier this year for not being his boss, Trudeau wants to make it seem like he couldn't act because they didn't tell him what to do.
article content
SNOBELEN: Canada must take the threat from China seriously

GOLDSTEIN: Johnston's report proves that we need a public inquiry
Johnston, the former governor-general and academic, seems to readily accept this line of reasoning. Johnston may have spent much of his career with politicians, but this account clearly shows that he has no idea how politics works.
As globe and mail Reporter Steve Chase said on CBC earlier this week he will take his sources' word for someone who has completed a two-month "crash course" in national security.
We should all follow this approach.
China's meddling in Canada has been raising alarm bells since the Sidewinder Report in the late 1990s, which details Beijing's targeting of all parties and all levels of government. Since then, there have been mounting reports of Beijing's attempts to "conquer" the elite, a process to ensure that Canada's elites stand with Beijing, even if it meant Chinese-Canadians who opposed the regime were left out in the cold to permit.
Successive governments have ignored the warnings, ignored the reports and tried to pretend nothing happened.
We have seen the evidence and the results and we must act, but to do so we must look beyond the Johnston report, which requires that we adhere to the status quo view.
This is simply untenable at this point.
https://torontosun.com/opinion/columnists/johnston-report-wants-us-to-ignore-reality-on-china LILLEY: The Johnston report wants us to ignore the reality of China