Lineker dispute threatens BBC's reputation, regulator warns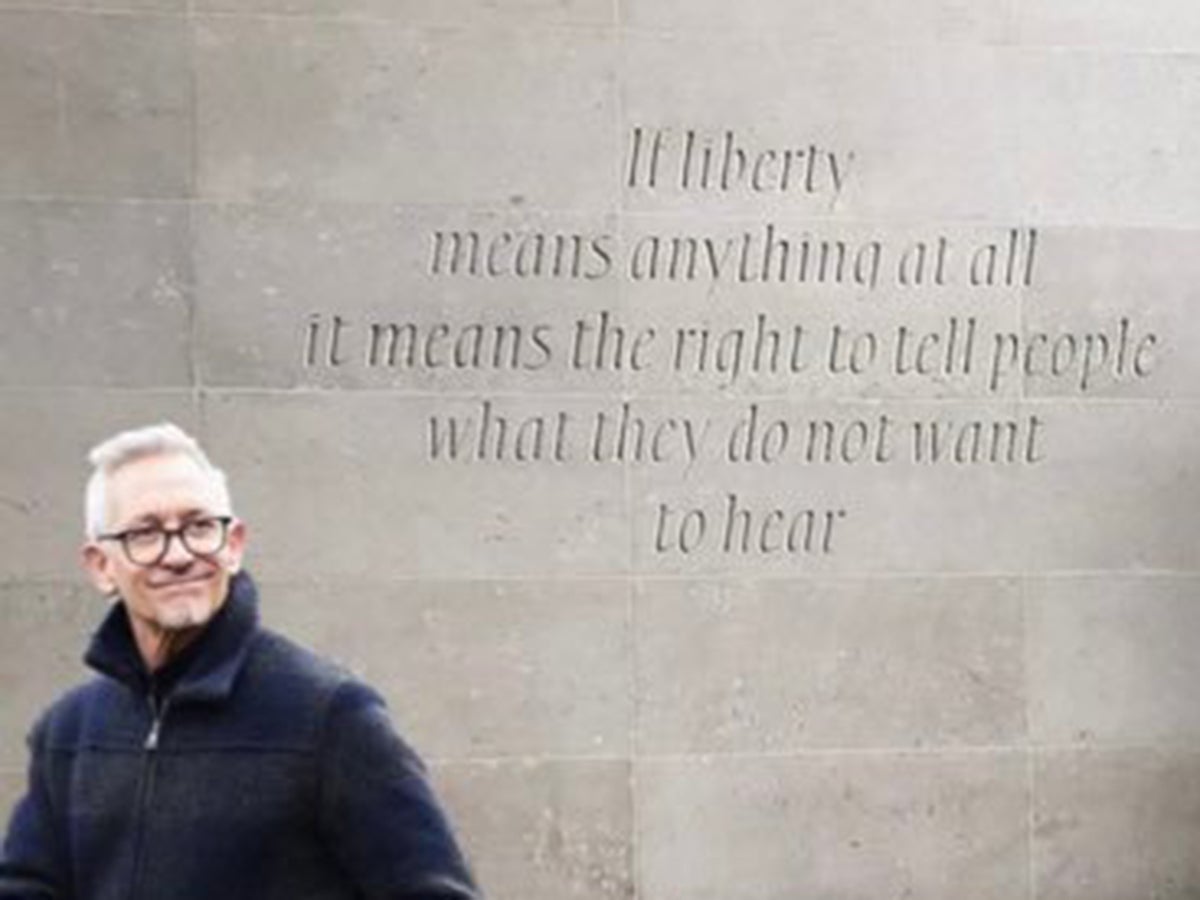 Trust in the BBC is on the line as it struggles to resolve the Gary Lineker controversy, the head of the broadcasting regulator has warned.
Melanie Dawes, Chief Executive of Ofcom, said the dispute over impartiality had "gone straight to the heart of the BBC's broader reputation, beyond its news and current affairs coverage".
The warning came as Mr Lineker appeared to taunt BBC bosses just a day after he and the BBC reached a temporary truce with a new Twitter image promoting free speech.
His profile on the social media site now features a photoshopped image of himself standing next to a George Orwell inscription outside the BBC's headquarters.
It read: "If freedom means anything at all, it means the right to tell people what they don't want to hear."
He also retweeted a speech by former Prime Minister Theresa May in which she criticized the government's crackdown on small boats and warned that the new asylum law "closes the door" on genuine victims of modern slavery.
The BBC's football coverage over the weekend all but collapsed after the presenter was suspended from the match of the day for his criticism of the politics, prompting pundits, presenters and commentators to pull back in solidarity.
He was reinstated on Monday and did not apologize for his tweet comparing the government's language to 1930s Germany – immediately tweeting about the plight of the refugees again when announcing his return.
Tory MP Sir John Hayes said: "It would be better for everyone to move on. And Gary would be best advised right now to eat a humble pie and realize that what he said was not good for the BBC and he has a responsibility for impartiality."
Giving evidence to MPs, Ms Dawes warned that the BBC must balance freedom of expression with impartiality when reviewing its policies following the "difficult episode" with Lineker.
On Monday, BBC Director-General Tim Davie apologized for "the potential confusion caused by the gray areas" of his social media guidelines and confirmed a review would be carried out.
Ms Dawes told the Commons Digital, Culture, Media and Sport (DCMS) selection committee it was up to the station's board to "draw that line" to protect the BBC's reputation.
"There's some ambiguity there. I think this was probably designed to provide some level of flexibility. I think it's fair to say it didn't achieve what they wanted," she told MPs.
She added: "But I think this is a tough issue for them, I don't think this is going to be easy and to some extent it's going to be about a level of trust, especially with their staff."
When it came to freelancers and actors, "It's a slightly different issue, and I think they have to balance freedom of expression against the broader reputation they have for impartiality."
But she said the impartiality dispute with Lineker would not feed into the royalty debate, and confirmed a "new operating licence" for the BBC will be released next week.
During the session, she also declined to answer questions about how the BBC can operate with a "compromised" chairman after it emerged Richard Sharp was involved in providing an £800,000 loan to then-Prime Minister Boris Johnson .
Meanwhile, a separate row erupted after Labor's culture secretary, Lucy Powell, accused Tory ministers and MPs of organizing a "demolition campaign" that saw Lineker cut the air and compared it to Vladimir Putin's regime.
She asked how "it looks to the outside world that a well-loved sports presenter is being taken off the air for tweeting something the government doesn't like? To me that sounds more like Putin's Russia."
Tory culture minister Julia Lopez said any comparison to Moscow's authoritarian regime was "disgraceful" and "absurd". The BBC has been contacted for comment.
https://www.independent.co.uk/news/uk/politics/bbc-trust-lineker-row-ofcom-b2300866.html Lineker dispute threatens BBC's reputation, regulator warns