News
Lower food inflation alone will not alleviate the crisis of confidence in the food industry
Trust in the sector is fragile and it is important that everyone involved works diligently to restore it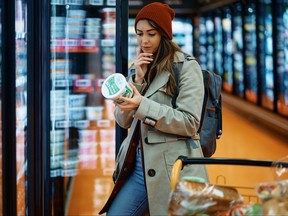 Article content
Food inflation in Canada fell to 5.9%, down nearly 1% since August. On the surface, this seems like a cause for celebration, as going to the grocery store is now a little less taxing on our wallets.
Article content
However, the pressing question remains: Do Canadians really believe the data released by Statistics Canada?
Article content
A quick look at comments on social media shows Canadians' skepticism about the numbers Ottawa is putting out. Confidence appears to be at an all-time low and many are relying on gut feeling rather than official statistics. Although data suggests food inflation has reached its lowest level since January 2022, the gap between general inflation and food inflation has narrowed to 2.1% and several foods have become more affordable, Canadians remain unconvinced.
Interestingly, Canada has the second lowest food inflation among G7 countries, trailing only the United States at 3.7%. But it seems Canadians want none of it, no matter how reassuring those statistics may be.
Article content
Skepticism and cynicism have come to dominate public sentiment toward the food industry, and it's not hard to see why. Recent events such as the legal disputes between major grocery chains Metro, Loblaw and Weston only increase public distrust. Metro has taken legal action against Loblaw and Weston, claiming they "falsely" implicated the company in a bread price-fixing conspiracy. This scandal, known as the "Bread Cartel", reportedly lasted for 14 years between 2001 and 2015, but the Competition Authority's investigation, which began in 2015, is still ongoing.
While one company, Canada Bread, admitted guilt and paid a significant fine this summer, the power struggle between grocers continues. This ongoing turmoil is damaging the industry's image and further eroding consumer confidence.
Article content
With this in mind, the Canadian Center for Food Integrity released its annual Public Trust Report, a survey designed to measure Canadians' trust in the Canadian food industry. While the report addresses critical issues such as inflation, food affordability and sustainable industry practices, it overlooks pressing concerns affecting public trust today.
In particular, it says nothing about perceived profiteering, persistent agricultural waste, particularly in the dairy industry, trust in data provided by Statistics Canada, or possible collusion within the industry. This omission is regrettable as these issues are central to restoring public trust.
There is currently no concrete evidence of profit-making by grocers, manufacturers or other industry players. Yet, according to a recent survey, 82% of Canadians believe profiteering is somehow linked to rising food prices. This perception presents a significant challenge that the industry must address immediately.
Article content
The legal battles between grocers, coupled with a public trust report largely funded by the industry, only increase Canadians' skepticism about the food industry. Trust in the sector is fragile and it is important that everyone involved, from government agencies to industry leaders, work diligently to restore it.
Ottawa's efforts to stabilize food prices by encouraging grocers to offer lower prices are laudable, but the real issue is trust. The food industry can no longer take the trust of Canadians for granted. Restoring trust requires transparent communication, greater accountability and a commitment to addressing public concerns, whether these concerns perceived profiteering, agricultural waste, trust in data sources or possible industry collusion.
It's time for the food industry to not only deliver quality products, but also to prove that it is worthy of the trust of Canadian consumers. Food inflation may be falling, but restoring confidence in the industry is the true measure of success.