News
Machine gun earrings, terrorist flags – anti-Semitism is rampant
Get the latest from Joe Warmington straight to your inbox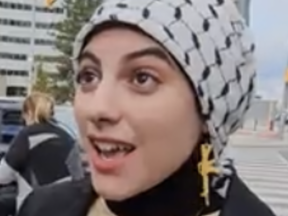 Article content
Sometimes you can't believe your eyes.
Article content
First, there was a shocking show of support for Hamas terrorists in Mississauga by a protester sporting gold machine gun earrings.
Article content
Then a pickup truck arrived whose occupants were flying Taliban flags.
Even some who approved of the cries of "From the river to the sea, Palestine will be free" knew it was too much and asked men in a truck to load them up.
While Peel Regional Police said "the protest remained peaceful," some messages from terrorist sympathizers were not peaceful.
And the message was sent.
Those who support heinous acts of terrorism are free to say so – even as Jews mourn their dead and Canadians reflect on the fact that the Taliban murdered 158 Canadians in Afghanistan.
A woman wearing a headscarf with Palestinian colors, a martyr T-shirt that read "Don't give up the gun" and large gold AK-47 earrings said Hamas was right to slaughter more than 1,300 civilians and 199 to kidnap.
Article content
"Everything they did is justified" a woman named Essra Karam told Rebel News reporter David Menzies in Celebration Square at City Hall.
Karam, who The Toronto Sun could not reach, declared: "Hamas is not a terrorist group," but "a resistance that has been simmering for 75 years of colonialism, occupation, murder, rape of small children and women."
She said the terrorists were kind to their victims.
Article content
"There is evidence that Israeli women said, 'They gave us water, they gave us food, they gave us a place to sleep comfortably, they gave us clothes' – they made them cover themselves out of respect," said she . "These are real women doing interviews and talking about what they were like as hostages or how Hamas members came into their house. At one point, a Hamas fighter even said to one of the women, "Can I have a banana for dinner?" He asked if he could have a banana at her house. Does that sound like a terrorist to you?"
It does.
Recommended video
"Over the last ten days, we have seen hate demonstrations and public statements attempting to justify Hamas' actions," said Prime Minister Doug Ford. "There is no justification for the kidnapping and slaughter of innocent Israeli citizens, including children and the elderly People. Celebrating these actions is disgusting and has no place in Ontario. Ontario will always stand steadfastly with Israel and the Jewish people."
Article content
What does Mississauga Mayor Bonnie Crombie say about this and the anti-Israel narratives that emerged at the "Gaza Plaza" protests on Eglinton Ave. and Ridgeway Dr. to be spread? Because I was on leave during my Northern Ontario Liberal leadership campaign, I held back this column for a day to give her a chance to respond.
Crombie said Monday: "I condemn in the strongest terms the recent terrorist attacks by Hamas and any action or gathering, clothing or paraphernalia that celebrates the murder and kidnapping of civilians," and that "any action that glorifies Hamas or any other listed terrorist organization , is completely unacceptable in our country." Province."
Article content
Councilman Chris Fonseca said she is representing her as acting mayor Their position is clear: "Any gatherings or protests aimed at dividing our city and promoting hatred or violence will not be tolerated."
Fonseca also wrote: "Mississauga City Police officers and Peel Regional Police are aware of recent activity at this square, including rallies, some of which celebrated violence in the Middle East. "We condone violence or glorify the loss of innocent lives as a result of this conflict."
There's just too much going on in the GTA at the moment.
For example, there were graffiti attacks on a mosque in east Toronto, a Hamas flag at last Monday's Toronto protests, and an anti-Semitic slogan over the weekend that read "Attack the Jew" on a building in Etobicoke's Centennial Park. Police have made an arrest in the first case and are investigating the other two incidents.
Article content
This is of course worrying.
"The continued presence of the flags of listed terrorist organizations at rallies across the country shows that these rallies are not what was announced," said B'nai Brith research manager Richard Robertson. "They do not serve to promote peace, but rather serve as meeting places for those who want to promote hatred."
As Mississauga saw on Saturday.