News
Meat and dairy alternatives could cut emissions by almost a third: study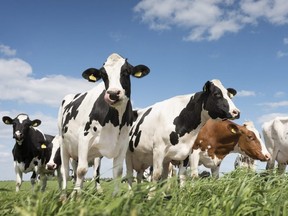 Article content
Are you ready to try more plant-based burgers to help the environment?
Article content
Halving global consumption of pork, chicken, beef and dairy products could help reduce global greenhouse gas emissions by 31% by 2050, according to a new study.
Article content
The study, published in the magazine Nature communication last month also suggested that the diet change would virtually stop the loss of forests for agricultural purposes.
Currently, animal-derived foods make up less than 20% of the world's food energy supply, but are "responsible for the majority of negative impacts on land use, water use, biodiversity and greenhouse gas emissions in global food systems," the study notes.
Livestock farming involves cutting down forests to grow crops for animal feed that produce methane, a far worse greenhouse gas than carbon dioxide.
Article content
"Methane has more than 80 times the warming power of carbon dioxide in the first 20 years after it reaches the atmosphere." according to the Environmental Defense Fund. "Although CO2 has a longer-lasting effect, methane sets the pace for warming in the short term."
If animal product consumption is halved by mid-century, agricultural land would also decline by 12%, rather than continuing to grow with global population growth. Nitrogen use in agriculture would also decrease, along with a 10% reduction in water use.
Researchers said the impact of increasing plant-based diets in the global diet would mean fewer people would go hungry and estimated that an additional 31 million people would be better fed by 2050.
The study found that interest in plant-based products has increased in recent years.
"Despite their novelty, they are already enjoying widespread popularity in 2020, with plant-based alternatives accounting for 15% of the dairy market in the US and 1.4% and 1.3% of the meat market in the US and Germany, respectively," the authors wrote.
Recommended by Editorial
Are you a vegetarian? It could be in your genes

Why many highly processed foods are unhealthy

Is it chicken? This is what the first bite of "cell-cultured" meat tastes like